Deciding where to travel this year? If you're like us you love to travel. But, with so much beauty in the world it's not easy deciding where to go next.  Guidester has been looking to the year ahead to pick some of the best destinations worth visiting in coming months. Whether you're after secluded beaches, a close-up look at history, a breathtaking landscape, or the perfect meal, these are the 17 best places to travel in 2018.
Malta
You may have seen Malta before, but this year presents a particularly great time to travel. The European Commission has named Valletta, the capital, a European Capital of Culture in 2018, and there are over 400 celebratory events planned throughout the year. Cruise ships are increasingly adding Malta to their itineraries, so you'll want to hurry and get there before Valletta becomes as packed as Venice.


Located between Italy and Tunisia, Malta exists at a crossroads that makes for a fascinating history.  Malta has a greater density of historic sights than any other country. Starting with its unique prehistoric temples, some of the oldest stone buildings in the world, it also has Roman catacombs, medieval towns, and the extraordinary architectural and artistic legacy of the the Knights of Malta.
New Orleans
NOLA's 300 year anniversary will be one of the books. Not that you need an excuse to visit New Orleans, but if you haven't been in a couple years now is this time with the huge milestone and all its accompanying fun.


New Orleans is also famous for its cuisine, music (birthplace of jazz), and its annual celebrations. The epicenter of the night and entertainment district is Bourbon street. Bustling from dusk till dawn, the 2-mile stretch has no shortages of bars, restaurants and party goers soaking up the lively atmosphere.
Porto, Portugal
Porto, Portugal is awash with historical buildings and world class museums. In fact, a large section of the city's historic center is a UNESCO world heritage site. Much of the city is built on a steep hillside over looking the river Duoro, with large overgrowth giving it an almost third world feel.


Historic beauty is in abundance in Porto. The food and connection to Port Wine is one of the city's lasting foundations. Nicknamed the City of Bridges, Porto is home to numerous iron bridges including the Dom Luís I Bridge designed by a student of Gustave Eiffel (the mastermind behind the Eiffel Tower).
Great Barrier Reef
If you want to visit the Great Barrier Reef you might not have much time left. Large amounts of coral bleaching, caused by rising ocean temperatures, threaten to destroy this massive marine life habitat, so plan your visit soon to see this natural up close and personal.


You cannot find the amazing array of marine wildlife and exotic coral reef colors anywhere else in the world. Cairns offers the ideal departure point for day trips to see the outer Great Barrier Reef. Some of the most exotic and rare scuba diving and snorkeling spots in the world are a short distance from the city of Cairns and Port Douglas, courtesy of dozens of reef tour companies.
Related: Cairns: The Gateway to the Great Barrier Reef
Šolta, Croatia
Croatia is a nature-lovers dream with crystalline waters and breathtaking scenery. The island of Šolta is no different, but tourists had difficulty experiencing in the past due to a lack of transportation. That has changed thanks to the spread of UberBOAT, an app from the ride-sharing company that currently exists only in Croatia. Now visitors can easily ferry to the island and take in the quaint medieval villages, buzzing nightlife, and local wines.

Seoul, South Korea
Take your mind off the North Korea dominating the news cycle, and instead focus on South Korea, where PyeongChang will host the 2018 Winter Olympic Games. South Korea has been making huge strides in recent years in the tech, automotive, and entertainment sectors. Korean brands like Samsung and Hyundai are globally recognized brands. People worldwide watch K-dramas and listen to K-pop and Korean food is loved worldwide. Needless to say, South Korea is booming, and at the center of all that excitement, is Seoul.

Colombia
For decades the country was torn apart by a drug war and political conflicts. Today, travel to Colombia is safe and extremely rewarding. A famous slogan that ran a few years ago says it all "The only danger is not wanting to leave." This one of the most beautiful countries in the Western Hemisphere and one of the most affordable.


Home to a traumatic but rich history, stunning scenery and some of the continent's most welcoming and sophisticated people, Colombia is a natural draw for adventurous travelers. The only country in South America to border both the Pacific and the Caribbean, Colombia offers a huge range of ecosystems, from the Amazon rainforest to the snowcapped mountains, and the tropical islands.
Jordan
One of the most visitor-friendly countries of the Middle East, Jordan still remains unseen by many. Yet there are spectacular things to see here. Ancient and awe-inspiring Petra, the Roman city of Jerash, the Dead Sea, the Red Sea, great desert landscapes offering overnight stays in a traditional Bedouin camp.


With ongoing turbulence across the Middle East, Jordan has seen its visitor numbers plummet in recent years. While the U.S. State Department has placed a travel warning on Jordan, similar warnings have also been issued for more popular countries like Germany. Jordan is still a safe place to travel,  rich with ancient monuments that date back to the Greeks and Romans.
Turks & Caicos
Normally, travelers often find find cheaper flights to the South Pacific for a world-class dive vacation than to the crystal-clear waters of the Turks and Caicos, thousands of miles closer. But, late in 2017 Southwest Airlines began service to Providenciales, and now flights that were once upwards of $750 can be found for under $300. Suddenly the white sandy beaches of Turks & Caicos are more available than ever!


Providenciales, or more commonly known as "Provo", covers an area of 38 miles and is the most developed island in Turks and Caicos. World class hotels, spas, and restaurants await, as do spectacular stretches of uncrowded beaches and vibrant coral reefs. Surrounded by beautiful white sand beaches, Provo has been ranked "Best Beach" by Conde' Nast magazine and by the World Travel Awards for several years running. And don't miss your fair share of breathtaking nature explorations or the opportunity to taste delicious local cuisine.
Key West, Florida
You might be thinking the Florida Keys aren't a great place to visit right now after the recent
devastating hurricanes
. Relative to other places in the keys, Key West remained untouched. You would hardly know a storm passed through, yet the major areas have a refreshing amount of breathing room. Also, the silver lining of all the destroyed vegetation is an unobstructed ocean views for nearly all of the three-hour drive from Miami to Key West.
Located closer to Cuba than to Miami, Key West is Florida's southernmost subtropical paradise. It is a unique confluence of history, natural beauty, cultural diversity, architecture and romantic appeal. If you have never been here before, you are in for a real treat.  Key West is one of the most unique and dynamic places in the United States. Though a small island, there is plenty to keep you entertained.
Ireland
The Emerald Isle is always beloved, but there's an extra reason to add it to your travel list this year. Flights are cheap, craft whisky is exploding, and the restaurant scene is booming. There has never been a better time to discover the green blood running through your veins!
It sometimes feels impossible to decide on things to do in Ireland since there is beauty around every corner. There are certainly sights that are more famous than others, but how do you decide between all these amazing places? Check out our Ireland blog below to find your inspiration!
Related: 11 Places You Can't Miss When Visiting Ireland
Chefchaouen, Morocco
Chefchaouen known as the "Blue City" is situated in the beautiful Rif Mountains in northwest Morocco. This small city is renowned for its beautiful streets made up of Moroccan blue paint. Besides the blue streets, Chefchauoen is a popular tourist destination for its hashish, grown prolifically all over the region. We went to Morocco's blue city to get away from the hustle and bustle of the bigger cities in Morocco.


Why is the city painted blue? There are a number of theories. History suggests that during the Spanish Inquisition thousands of Jews fled Europe so they were not forced into Christianity. They ended up settling in Chefchaouen and painted all the walls blue, the color of divinity in Judaism. The locals told us that the blue color repels mosquitoes, I guess they mistake the blue for clear blue water and stay away.
Cassis, France
This gorgeous seaside town is the best-kept secret in southern France. Enjoy Cassis' picturesque harbor, impressive cliffs rising on both sides of the town, and the access to popular local attractions.


Located along the French Riviera, between Marseilles and Toulon, Cassis has the appeal of a coastal fishing village and the relaxed feel of a local beach without the massive crowds. The town falls within the boundaries of the recently created Calanques National Park. The local wines from Cassis, especially the white wines, are also very highly regarded and the town is known as the home of the famous dish bouillabaisse.
Serengeti National Park, Tanzania
Serengeti National Park offers an unparalleled experience for travelers. Located in northern Tanzania, the 5,700-square-mile wildlife park is home to The Great Migration – the annual movement of millions of animals in search of food and breeding grounds.


Keep your eyes peeled for herds of zebras, gazelles, baboons and spotted hyenas, just to name a few. Increase your chances of catching a glimpse of wildlife by visiting the southern part of the park during the wet season (December to June) or staying along the northern Seregenti during the dry season (July to November).
Related: Tanzania Safari: The Ultimate Bucket List Experience
Prague, Czech Republic
Visit the capital of the Czech Republic to step back in time. Gothic structures from Old Town Square to Prague Castle will make you feel like you're in a fairy tale. (Prague Castle is the largest coherent castle complex in the world!) You'll also want to walk across the Charles Bridge and make time to marvel at the Prague Astronomical Clock. (Don't forget to rub one of the 30 saint statues on the bridge for luck!) What's more, you're more likely to score better discounts and travel deals in Prague than neighboring European hot spots.

Iceland
Yes, the secret is out about Iceland. Enjoy spectacular waterfalls, quaint seaside towns, breathtaking glaciers and wild black sand beaches year round. Iceland points of interest are many.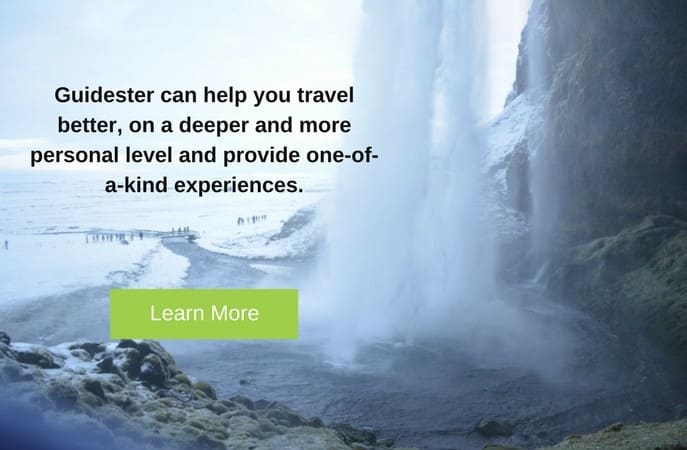 In 2016 this country of 330,000 inhabitants hosted something like 1.7 million tourists, more than triple the visits of 2010.  Seeing the Northern Lights is something adventurous travellers will find easier to do than in the past. Until recently, it's always been difficult and expensive to access many of the regions where they're at their brightest and most beautiful. Now it's easier than ever.
Fiji
If you somehow needed convincing before to experience Fiji's crystal clear beaches, now consider the crop of luxury resorts that have opened on the island or are about to in 2018. Private islands, beaches, villas, and more are available if you're willing to pay the price. Next year, Nihi Fiji — a resort from hoteliers James McBride and Christopher Burch — will open on the island. McBride and Burch also opened Nihi Sumba Island, which Travel + Leisure readers named the world's best hotel in 2017.


https://guidester.wpengine.com/wp-content/uploads/Traveler-Checklist-cover-pic2.png
You can't go travel abroad without reading this – get the FREE ebook now!
Enter your email to see what you must do to prepare for any international trip. You'll get actionable steps that will ensure you're fully prepared and avoid unnecessary mishaps!