Glenwood Springs sits at the confluence of the Colorado and Roaring Fork rivers. The historic resort town is famed for its Glenwood Hot Springs Resort, thrilling rides at Glenwood Caverns Adventure Park, snow sports at Sunlight Mountain Resort, world-class fishing and rafting and miles of scenic paved recreation paths. No matter what your sport — hiking, biking, golfing, whitewater rafting, kayaking, horseback riding, paragliding or fly-fishing — you can enjoy it in Glenwood Springs.
1. Play at the Whitewater Activity Area
The first whitewater feature built on any stretch of the Colorado River; Glenwood Springs Whitewater Activity Area has become a destination for paddling enthusiasts. The Area's signature feature is a standing wave, also known as a G-wave. Depending on the time of year, flows can range from 4,000 to 22,000 cubic feet per second.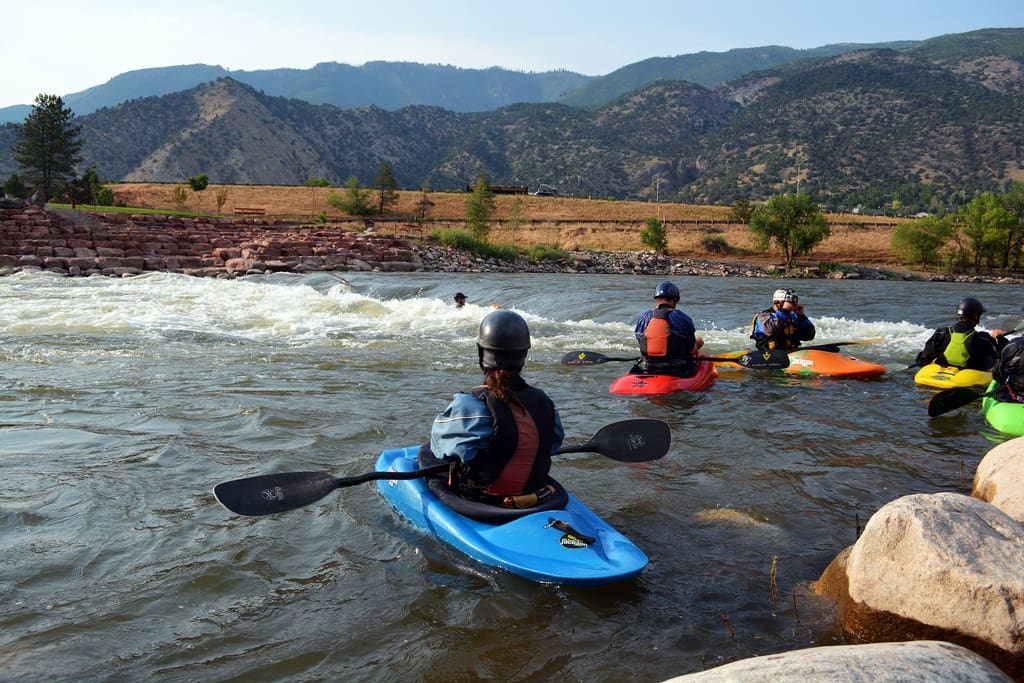 2. Go on a Rafting Adventure
The Colorado River in Glenwood Canyon is among the state's most spectacular and dramatic settings for a river rafting trip. Bound by cliffs, the river tumbles and glides its way through the canyon. Highlights include paddling Class IV and V rapids, stopping at riverside hot springs and floating the flats where there are plenty of places to swim and splash.

3. Have a Blast at Glenwood Caverns Adventure Park
Take adventure to new heights at this Western-themed park where a scenic tram ride to the top of Iron Mountain kicks off a day of fun with incredible views, amusement rides, cave tours, and more!

4. Take a Hike Around Hanging Lake
Hanging Lake is a crystal-clear, travertine lake located high atop the cliffs of Glenwood Canyon. The mile-long hike is steep and rigorous, but rewarding. One of the most popular hikes in the state, the trailhead for Hanging Lake and its impossibly blue-green water is just a few miles east of Glenwood in the stunning Glenwood Canyon.

5. Try Out a Duckie
Inflatable kayaks, also known as duckies, are Ideal for one or two people. The ducky experience is more physically challenging than rafting, but forgiving and easy to maneuver, making them ideal for recreating on Glenwood's rivers.

6. Soak it Up at Iron Mountain Hot Springs
Located on the mighty Colorado River, enjoy incredible views of the Colorado and Roaring Fork river valleys to surrounding sandstone cliffs and beyond to magnificent Mt. Sopris. Iron Mountain Hot Springs features 16 smaller, naturally shaped pools filled with iron-rich mineral waters that range from 99 to 108°F.

7. Laugh Out Loud at Glenwood Vaudeville Revue
This dinner-theater comedy show consistently gets rave reviews for its hilarious Vaudeville-style skits performed by a cast of professionally trained actors, singers and musicians.