The Mediterranean has always been the best choice for couples and with good reason! There is a certain intrinsic charm to it that just has to be experienced in your lifetime. Given the myriad gems that the Mediterranean has to offer, it is likely that you will keep coming back for more. Picking just 7 honeymoon destination spots in the Mediterranean is a tough job, but here is a list as good as any other you will find:
1. Santorini, Greece
What can possibly be a better honeymoon destination than the land of Aphrodite, the Goddess of love, desire, and beauty?! With its magnificent history, breathtaking architecture, fine islands, picturesque sunsets and amazing people; Greece is the perfect honeymoon destination.
Santorini in Greece is arguably the most famous honeymoon destination in the country. Some would argue that Mykonos deserves that accolade, but I believe Santorini just about takes it.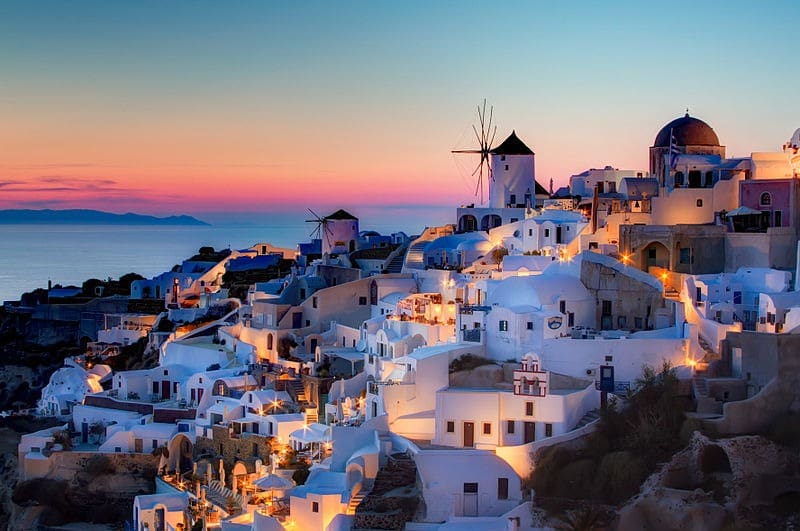 Located in the Aegean Sea, this dream island offers just about everything you could possibly think of. Enjoy yourselves at the world famous Kamari Beach. Take a trip to the Red Beach,  it gets its name from the reddish volcanic sand in case you are wondering. Enjoy a glass of "vino" at the Boutari Winery or maybe a beautiful sunset hand-in-hand with your partner would be even more appealing.
I would suggest walking around this beautiful island to fully experience what it has to offer. It is generally safe, and while you may want to take the precautions you would anywhere else, crime is extremely rare. Just relax and enjoy. It is the place to be!

2. Dubrovnik, Croatia
In European circles, it is sometimes referred to as the "Mediterranean romance". To be honest, that's a no surprise to me. It is undoubtedly one of the top outdoor destinations in Europe. 
Countless are the activities and places to see here. You can relish a walk with your loved one at the City Harbour, explore the historic Ancient City Walls and Minceta Fortress, or maybe take the cable car and also take the cruise with Karaka. There is just so much to do in Dubrovnik.
Related: Top 10 Things to Do in Croatia
If your adrenaline needs a kick, go for some of the best adventurous trips with Adventure Dalmatia to some of the most breathtaking activities, like canoeing, rock climbing, jeep safari and so much more.  You name it, they have it!

There is also an island that is a must visit if you are in Dubrovnik. It is called the Island of Lokrum, located less than a mile away from city's port. With a monastery and a fort to explore, it will take you the better part of a day to explore this.
Tip: As in the case of Santorini, I believe the best way to experience Dubrovnik with your partner is to walk. Places are not far from each other, and walking is by far the best way to immerse yourself and experience the place.
3. Ljubljana, Slovenia
You cannot possibly go wrong as a couple on a honeymoon with a country that has "love" as part of its name. Ljubljana is sandwiched between Austria and Italy, which means that couples could easily consider going to Italy and/or Austria once Slovenia has been enjoyed to the fullest. Actually, you'll probably want to go to Slovenia via Italy (Venice would be a good choice) for logistical reasons.

You should also set aside a few hours for the Old Town, and if you have time to spare you should also check out the Museum of Illusions. It is not the biggest museum you will see, but the illusions are good. Preseren Square and Tivoli Park are also places you must see in Ljubljana. Tivoli Park, in particular, is ideal for couples.
Tip: The Triple Bridge should definitely be on your list. The structure is an engineering marvel, and there are some bars around the place. It would be ideal to visit the bridge in the evening and later head off to a bar of your choosing.
The capital of Slovenia is an ideal honeymoon destination. If you are undecided about where to go for your honeymoon, just close your eyes and pick Ljubljana. (Check out these few tips before making that decision though) You will not regret it!
4. Nicosia, Cyprus
There is so much to do in Nicosia that you might get overwhelmed trying to choose. The Town Center in Downtown would be a good start. Stroll down the picturesque lanes with the love of your life, take them shopping and make sure to check out the central market there which has excellent and unique local produce.
The Cyprus Museum should also be on your list. It is the national museum of Cyprus with collections spanning the history of Cyprus in its entirety. Buyuk Han is a spectacular place to relax and immerse yourself in the history and culture of Cyprus. Handcrafted souvenirs are available here for you to take home, evidencing your wonderful honeymoon.

Finally, walk the Venetian City walls which extend about 3 miles around the city. These walls were built to counter attacks against the city in the 16th century. All in all, Nicosia is one of the best places you can visit as a honeymoon couple.
5. Monte Carlo, Monaco
Some of you might think Monaco is a rather unusual choice for a honeymoon destination, particularly compared to others on this list. It is true that Monaco is unlike the other countries that I have mentioned here in that it is more a playground of the rich. Therefore, be warned – if you are planning to go to Monaco, be ready to spend a lot. And by lot, I mean A LOT!
Monaco is situated on the French Riviera and has great climate all year long. The Prince's Palace of Monaco is one of the preeminent tourist destinations in Monte Carlo, as is the Oceanographic Museum. Make sure to check both these places out to get some perspective on the history of Monte Carlo.

No mention of Monte Carlo would be complete without mention of the casinos. The Casino de Monte Carlo (French for the casino of Monte Carlo) is the most important place you are going to visit with your loved one in Monaco. If you are short on time and are unsure of what to see, go to the casino. It embodies Monaco, and it has a ballet and theater inside. 
The beaches of Monaco are also world famous. As a bonus, you might also get to see Novak Djokovic if your significant other is into tennis and is a fan! If your idea of a perfect honeymoon is beaches, cruise, party, music and gambling, then there are few better places than Monaco.
6. Montenegro
If lakes, parks, and mountains are your idea of a perfect honeymoon, then Montenegro has to be on your must visit list. The Lovcen National Park is a Balkan beauty. It is ideal for a walk, and the views are absolutely stunning. The Crno Lake is only a short stroll from the center of Zabljak. The mountain and lake scenery here is breathtaking, unlike any you will see in most places.

The City Walls are worth exploring; the view from the zenith is marvelous. The Kotor Old City has been extremely well preserved and is full of history. There are some restaurants and shops around the place to relax from time to time with your loved one. It is also one of the best places you will see for selfies! Finally, the Bay of Kotor has to be visited. There are not many better places for an excursion, I can guarantee! What are you waiting for then?! Go ahead and book two tickets to Montenegro right away!
7. Gibraltar
Located very conveniently on the coast of southern Spain, the island of Gibraltar is as good a honeymoon destination as any!  Walk together on the Mediterranean steps and enjoy the fabulous view.  St Michael's Cave is another place that has attracted young couples since time immemorial. The myth of the "bottomless cave" is believed to have originated from here. The Cathedral Cave is now open to visitors and has ballets, concerts and dramatic plays.

The fabled Rock of Gibraltar is pure bliss. Once you are there, you will not have the heart to leave at all. There might be a few friendly monkeys at the top so make sure to keep your food safe! You might also want to check out the Europa Point Trinity lighthouse at the southernmost point of the Rock of Gibraltar. Last but not least, the Great Siege Tunnels have a historical touch to them and must be visited. To date, they are seen by some as unparalleled regarding effective defense systems.
Related: Make your honeymoon stress-less with these packing tips!