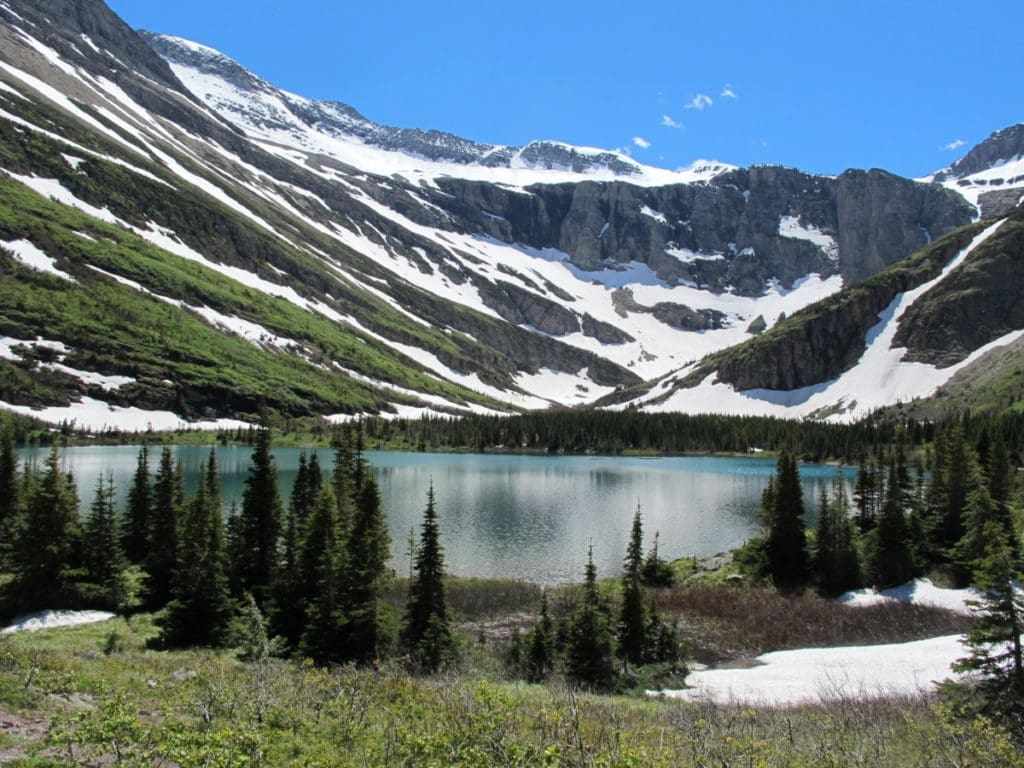 Glacier National Park is a glorious US Park that is best seen and experienced with pre-planning and during peak season.  Take it from me; I had it in my mind from year one that our 5th wedding anniversary would be spent in Glacier National Park.  Even though the destination was set in my mind years in advance, I didn't start planning the actual trip until 6 months prior.
What you will learn in this post: 
How to plan a great experience in Glacier

 

Must see highlights
What to include in your day-pack for hiking
How to avoid my mistakes

 
Book as far in advance as possible
After starting to look at the lodging options, I fell in love with the historic Many Glacier Hotel located on the East side of the park.  I called in for a reservation and my dreams started to fall flat.  The reservationist on the other line almost chuckled at my request for the 3rd weekend in June.  While she was confirming her hunch of being fully booked, she filled me in that the major lodges in the park fill up one year in advance (heart sinking)!  Sure enough, she confirmed their sold-out status.  I asked to be placed on a waiting list and was told there was no such list and my best chances were to call in asking if there had been any cancelations.  You got it, I thought – I was not going to let this first step of my planning shut me down.  I took on the mission of calling every other day and eventually someone canceled their trip and I snagged up a room. 
I wish I could say it was really that easy; it wasn't.  My reservation for the 3 nights was split between 2 different rooms and I was told that we would need to move rooms.  Still, I had my heart set on this lodge, this view, this location, and this experience.   
  
Fast forward to our arrival, travel angels were watching out for us and the reservation was perfect.  We had a room on the backside of the lodge overlooking Swiftcurrent Lake and I couldn't have been more pleased.  To top it all off, we didn't have to move rooms and the hotel manager was a delight at check-in.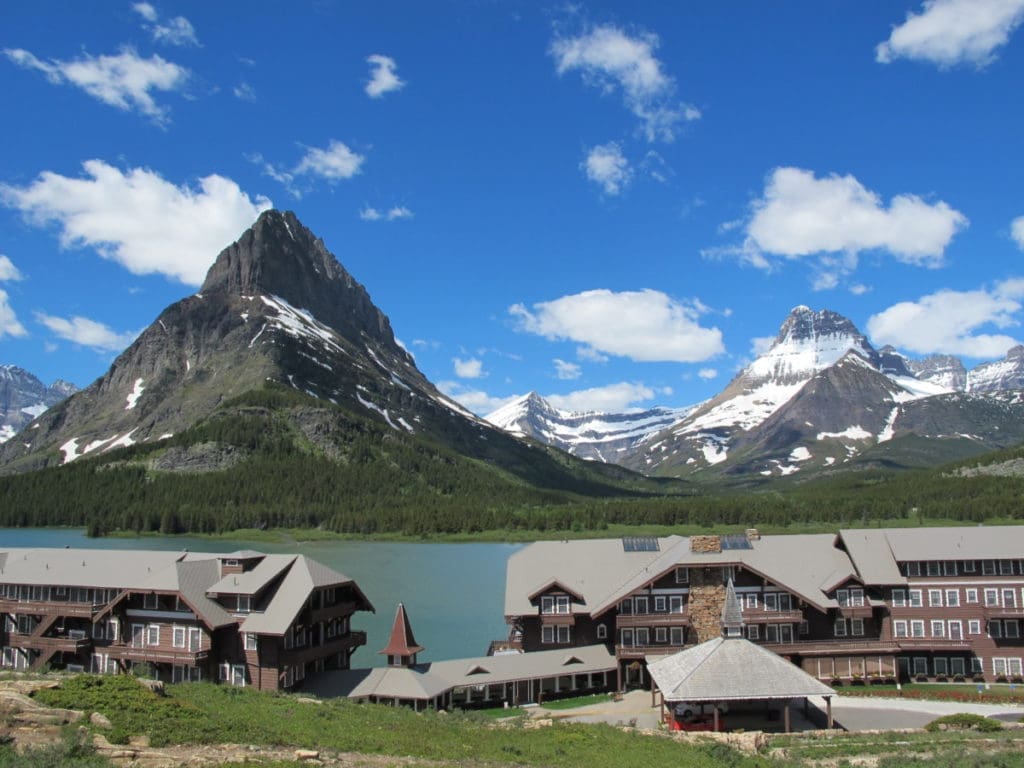 Understanding Shoulder Season
There are some destinations that visiting in the shoulder season and avoiding the crowds is really a good idea.  Shoulder season is either just before or just after the prime-time to be in a destination.  However, Glacier (aka Crown of the Continent) is not one of those locations. 
If Glacier is on your radar, I'm sure you have heard of the famous Going-to-the-Sun road.  The road is normally closed October through late-June due to weather and snow.  My favorite weekly activity leading up to this highly anticipated anniversary trip was checking the snow removal activity.  Each week, I hopped onto the Glacier National Park Services Flickr account posting their snow removal progress.  I was constantly thrilled and entertained with the quantity of snow and equipment used to open this magnificent scenic roadway.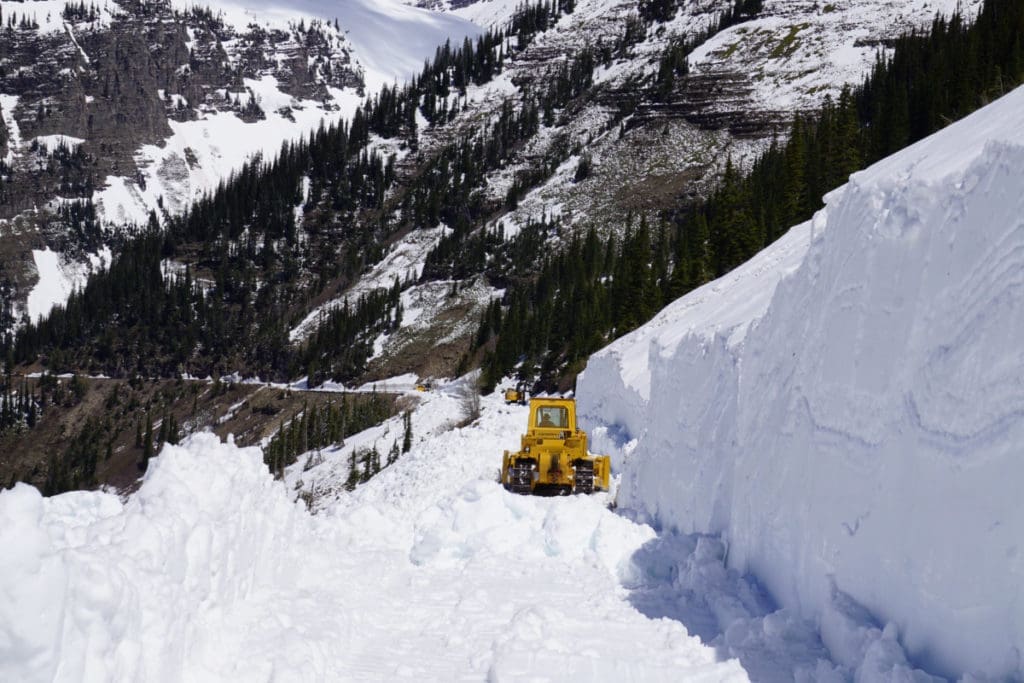 The National Park Service does not give an official date for the road to be open due to late spring snowfall and having to replow parts of the road.  My anniversary fell at the start of the season (late-June), and I chose to chance it.  I studied the past years opening dates and thought it was worth the risk. 
In hindsight, I would not suggest this; there was a small section (1/2 mile) of the road that still was not plowed allowing us to connect all the way through.  We saw the majority of the gorgeous sights but had to take the long route around the park to drive the western section of Going-to-the-Sun road.  Usually, the road is open until late September, but again the snow dictates the accessibility.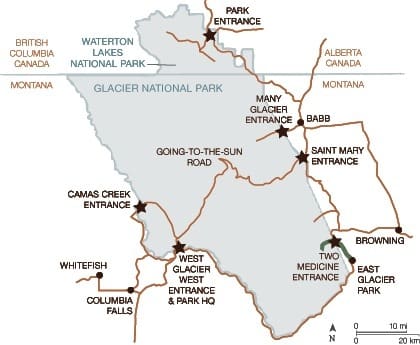 By looking at the map and mileage you may think getting around is quick.  However, like most other popular National Parks traffic slows things down.  NPS quotes the following times between popular destinations and is good to realize that driving the Going-to-the-Sun road can take between 2 and 2.5 hours without stopping.  There are many beautiful places to pull over, grab photos, visit a waterfall, or take a hike; don't rush yourself. 
 
Driving Times
Times within and around the park are estimates and will vary with construction and time of day. 
St. Mary to Many Glacier Valley: 20 miles, 30-40 minutes
St. Mary to Two Medicine Valley: 34 miles, 1 hour
St. Mary to Waterton Lakes National Park: 50 miles, 1 hour plus customs
West Glacier to East Glacier: 56 miles, 1 hour
West Glacier to St. Mary (Going-to-the-Sun Road): 50 miles, 2 to 2 1/2 hours
West Glacier to St. Mary (US Hwy 2 to Hwy 89): 90 miles, 2 to 2 1/2 hours
West Glacier to Many Glacier: 70 miles, 2 1/2 to 3 hours
West Glacier to Polebridge: 28 miles, 1 hour 
Courtesy of NPS.gov 
Getting around
As an alternative to driving Going-to-the-Sun road yourself, there are options such as taking a tour on the Red Buses known as the Red Jammers which have removable canvas roofs making them a convertible top bus.  The park has a free shuttle service with stops all along the famous road and allows you to do a combination of hiking out and shuttling back or transportation through the park.  Lastly, biking this famous stretch is also possible during non-peak summer hours (before 11am and after 4pm).
Glacier is full of wildlife, history (from the railroad to Native American settlers), landmarks, engineering wonders, natural phenomenon; some of the best ways to absorb this information is through a tour.  Tour types: boat, bus, guided hikes, horseback, rafting, and ranger talks.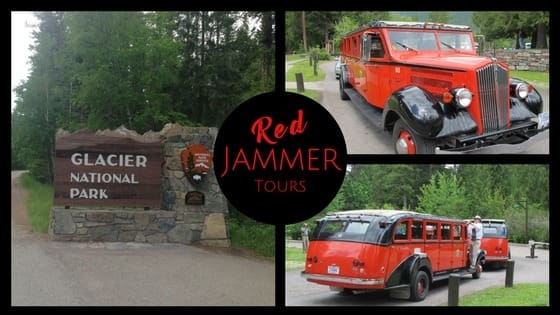 Lodging
The three major lodges for the park include Lake McDonald Lodge,  Many Glacier Hotel,  St Mary Lodge & Resort.  Two of which are historic landmarks and have celebrated over 100 years of hosting guests seeking adventure and sights of the Montana glaciers.  The lodges are full of history and are marvelous examples of early architecture and grandeur.  Each deserves a visit, and consideration for either overnight accommodations or a dinner reservation.  Due to the remoteness and short season (peak: July – September) prices reflect the demand.   
There are other lodges, campsites, motels, chalets, and even a tiny house village to choose from.  It's important to understand what historic means and to set your expectations; the walls can be thin, the beautiful antique hardwoods creek, and the bathrooms have some original fixtures.  I found that any historical nuance melted away when taking in Many Glacier's location and view.  Plus, we were out and about much later because of its northern location and summer-time daylight hours.


Must see highlights
During our stay, we ventured up to the Canadian side of Glacier National Park called Waterton-Glacier International Peace Park.  The short drive north is well worth it.  Remember to pack your passport and check the hours that each border crossing is open; not all crossings are manned 24-hours a day.   
 
We had a dinner reservation at the Royal Stewart Dining Room, the restaurant at the Prince of Wales Hotel which overlooks the Upper Waterton Lake. Sitting on the back patio looking at how the mountains meet the water resembled the fjords of Norway; absolutely stunning.  This is the kind of view that a cocktail or glass of wine is almost mandatory to savor the experience.  The quaint town of Waterton has nice amenities and Cameron Falls (in town), is a lovely waterfall and worthy of a stop.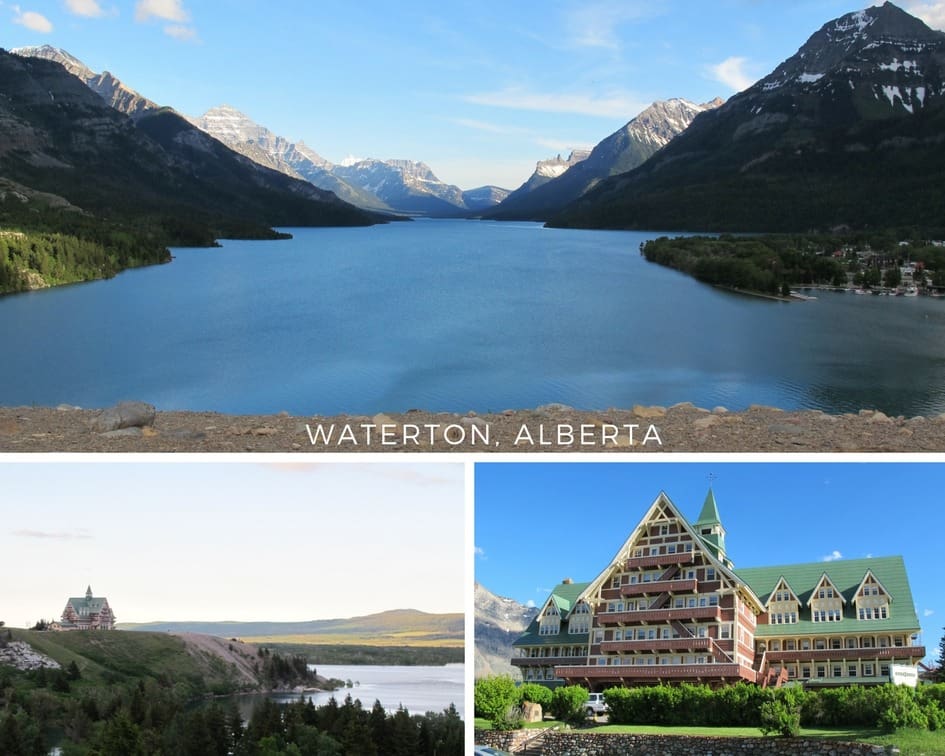 Views upon the bluffs where the Prince of Wales Hotel sits; dinner reservations recommended.
Next, this combo pack excursion cannot be missed.  Step aboard the Chief Two Guns boat located on Swiftcurrent Lake and glide across the beautiful water capturing incredible photographs.  On the opposite side of the lake take a short (less than ½ mile) hike uphill to Lake Josephine.
Lake Josephine has a resident wooden boat that travels across this fabulous blue water to the other side where you will have  multiple hiking trail options.  Spend the day or just a few hours picnicking here before making your return journey across these pristine waters.  The scenery and moose sightings during this adventure put this activity at the top of my list.   
 
Experiencing the mountains and glaciers on a boat is not to be overlooked.  The perspective and photo opportunities are lovely, all the while relaxing.
Plan Ahead
Planning ahead goes a long way when you enter remote and wilderness type areas.  Making a stop at the local Kalispell outfitters for outdoor gear is a great idea.  And stocking up on your favorite trail snacks and lunch ingredients in town will save you some cash and the selection will be much better.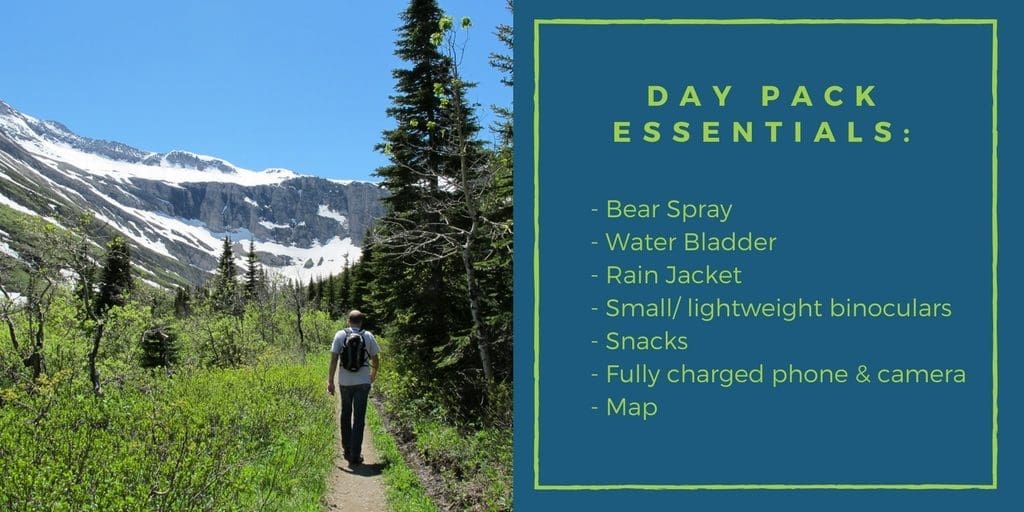 Bear spray pointers
Most sporting goods shops and outfitters in Kalispell and Glacier area sell bear spray.  It is highly recommended to have a can in your day pack.  The outfitters we purchased ours from had a return policy; the store credited us 50% for our unused can.  We chose this instead of throwing it away at the airport since this is a TSA banned item.  


Final tips
It's best to visit this marvelous park between early July and early September.  Outside of this time period, you are susceptible to snowy/ wet/ closed hiking trails, road closures due to plowing, and limited service offerings from restaurants and camp stores.  I would recommend splurging on a high-priced dinner at one of the lodges to enjoy the breath-taking views and lounge on the patio.
Whether you are planning a trip to Glacier to celebrate like me or for your annual summer vacation, the natural beauty of Glacier will inspire you.  There is a reason this treasure draws many visitors each summer and packing a little extra patience will go a long way.