At Guidester, our mission is simple:
We create custom travel guides so self-guided travelers can experience personalized, stress-free travel.
Guidester is like a great stew – we're a little bit travel adviser, a little bit tour guide, and a little bit well-traveled best friend. We bring our unique perspective and experience to customize a travel guide just for you. We'll handle the research, giving you all the information you need to have the trip of a lifetime (and you'll experience your destination just the way you want to).
At Guidester, we love travel. And we want you to love it too.
After countless hours of international travel (74 countries and counting!), we realized how easy it was to be overwhelmed and under-prepared for a trip.
The joy of travel was missing.
The personalized approach for travel was missing.
Guidester was created to bring a customized, memorable experience back to travel.
We're here to make travel enjoyable again.
We understand travel is more than the iconic locations – it's the culture and people and experience you have along the way. We're here to make sure you're prepared for your entire vacation – not just the most popular attractions (though we'll be sure you know about those, too!)
Curious about the faces behind Guidester?
Meet our founders.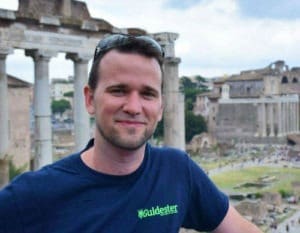 Most Recent Trip
England, Spain, and Portugal
Favorite Trip Experience
Playing with monkeys atop the Rock of Gibraltar!
Jack has traveled frequently since he was a child, which sparked a passion for adventure, history, and cultural exchange. It was from this love of culture and adventure that brought Jack to the U.K. to study for his Masters in Ancient Greek and Roman Archaeology. He traveled solo around Europe often, and it was here that the idea for Guidester was born. Like most travelers, he found himself overwhelmed and frustrated with the countless hours spent researching each destination.
Most Recent Trip
Playa del Carmen
Next Trip
Dominican Republic
Favorite Trip Experience
Any and all experiences had in Rome!
Born and raised in St. Louis, MO, Beth's relocations and travels nurtured a love for discovering new and exciting places. After earning her M.S. in Geosciences in 2008, Beth spent the next few years in academia and growing her family. In 2014, she decided to take the plunge and join her brother to develop a solution for travelers with the same woes she experienced first hand.