Northern Ireland + Scotland
Enjoy the best of Northern Ireland and Scotland on this immersive 11-day tour through rich history, spectacular landscapes, and lively local culture.
Experience a land of mysterious lochs, fairytale castles, unspoiled scenery, and fascinating historical characters like the legendary freedom fighter William Wallace and fictional characters from famous shows like Outlander.

Enjoy the bustling city of Belfast and the stunning coastal treasures of Northern Ireland before boarding a ferry over the Irish Sea to explore the heart of the Scottish Highlands, including the Isle of Skye, Eilean Donan Castle, a cruise on Loch Ness, Culloden Battlefield, a local whiskey tasting, and so much more. Then finish your fun-filled tour in Edinburgh, the capital of Scotland known as the 'Athens of the North' for its centuries old architecture and cobblestone streets.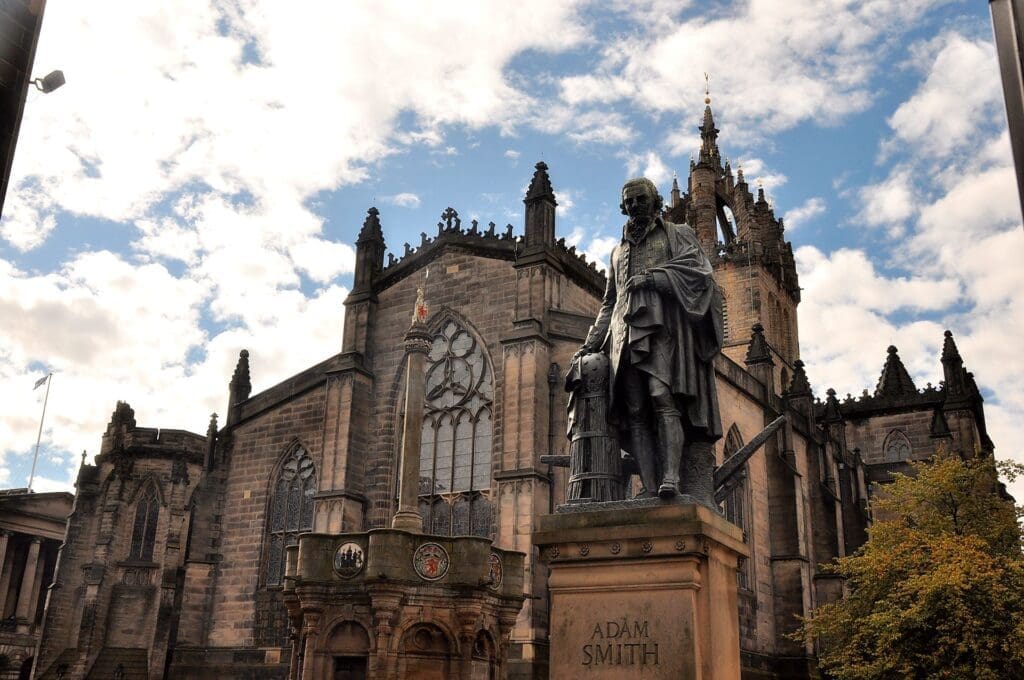 Day 1 | Fitzwilliam Hotel, Belfast
Belfast City
Meet with your tour leader and the rest of the group in the afternoon as you begin your guided tour of Belfast City. Led by a local expert, get to know Belfast on your guided walking tour exploring the city's most valued treasures. Journey through the cultural hub of the Cathedral Quarter, stroll along the famous Lagan river, visit the shipyard where the legendary Titanic was built, and learn about the city's most famous movers and shakers. Enjoy an evening welcome dinner at the 5-star Fitzwilliam Hotel, our home for the next two nights located right in the heart of Belfast. D
Day 2 | Fitzwilliam Hotel, Belfast
Giant's Causeway
Take the famous Coast Road to the iconic Giant's Causeway, with a stop at Carrickfergus Castle en-route. Clinging to Ireland's rugged northern coastline between Belfast city and Derry, the Atrium coast is a glorious mix of remarkable geology, pristine beaches and exhilarating cliff top walks. The 40,000 basalt stone columns that make up the spectacular Giant's Causeway are one of Ireland's most recognized landmarks. Visit the historic Carrickfergus Castle, a Norman stronghold that remains one of the best preserved medieval structures in Ireland. B
Day 3 | Highland Hotel, Stirling
Stirling Castle
Today, take the ferry from Belfast to Cairnryan across the Irish Sea and begin the journey north to the highlands of Scotland. Enjoy breathtaking scenery along the two coastlines and stops along the way including a chairlift above Fort William and a stop at the Glenfinnan Viaduct, before arriving at Stirling Castle, a pivotal stronghold in the Scottish Wars for Independence and setting for breathtaking scenery. B,D 
Day 4 | Dunollie Hotel, Isle of Skye
Glencoe and Glenfinnan
After a hearty Scottish breakfast we depart north through the haunted valley of Glencoe to Fort William with a Gondola ride to Aonach Mor boasting spectacular views. After lunch we take one of the most scenic routes from Fort William to Mallaig with a stop at Glenfinnan Viaduct and the Jacobite monument over Loch Shiel before taking a ferry over to the Isle of Skye. Transfer to hotel.  B,D
Day 5 | Skeabost Hotel, Isle of Skye
Dunvegan and the Fairy Pools
Today, we enjoy a full day exploring the breathtaking sites and landscapes on the stunning Isle of Skye. We begin with a visit to the famous Fairy Pools, a naturally occurring phenomenon of translucent mountain spring water fed by a series of waterfalls set in a dramatic landscape. On the sleepy shores of Skye's Northwest coast lies the islands most famous fortress, Dunvegan Castle. Looming majestically over the 42,000 acres of wild and windswept land of the MacLeod Estate, Dunvegan is the seat of the chief of Clan MacLeod, who still own and operate the castle. Explore what's believed to be Scotland's longest continuously inhabited castle by one family and a veritable treasure trove of fascinating artefacts. We then stop at the Quiaraing and the Old Man of Storr, an otherworldly geologic landscape considered to be the most beautiful scenery in Scotland. B,D
Day 6 | Craigellachie Hotel, Speyside
Eilean Donan and Loch Ness Cruise
Cross the Skye Bridge to Lochalsh stopping at the famous Eilean Donan Castle – the ultimate Scottish legend. Situated on a tiny island where three great sea lochs converge, and surrounded by the most breathtaking scenery, you'll visit the castle originally built by the Macrae Clan in the 13th Century to defend against hordes of marauding Vikings. The castle was razed and rebuilt several times before being fully restored in the early 20th century by Colonel John MacRae. Travel to Fort Augustus for a 1-hour cruise on Loch Ness to try and catch a glimpse of the allusive Nessie. Visit legendary Urquhart Castle on the banks of Loch Ness on the way back to your hotel in Speyside. B
Day 7 | Craigellachie Hotel, Speyside
Culloden Battlefield and Glen Moray Distillery
Drive to Culloden Moor and Visitor Center to experience the famous battlefield that defined a nation and ended a way of life with stories of the Bonnie Prince Charlie and the Highland attempt to overthrow the English Crown. After lunch we travel to Elgin to visit Glen Moray Distillery for a guided tour and whiskey tasting. B
Day 8 | Hilton Carlton Hotel, Edinburgh
Blair Castle Estate and Gardens
After another hearty Scottish breakfast we say goodbye to the Highlands and head toward Edinburgh, with a visit to the imposing Blair Castle en route. Blair is one of Scotland's premier stately homes and serves as the ancestral home of the Clan Murray, which was historically the seat of their chief, the Duke of Atholl. Afterward, we make our way to Scotland's beautiful capital Edinburgh where we unpack at the Hilton Carlton Hotel in the old town just steps away from the Royal Mile. B
Day 9 | Hilton Carlton Hotel, Edinburgh
Edinburgh City Tour and Royal Yacht Britannia
Today, explore the highlights of the Scottish capital, known to many as the Athens of the North for its architectural marvels and well preserved historic city center. Discover the old town with a visit to the imposing Edinburgh Castle that houses the Scottish Crown Jewels and St Margaret's Chapel (the oldest church in Scotland), and the Palace of Holyrood House, official home of the British Monarch in Scotland. Also, visit the Royal Yacht Britannia – Her Majesty's former royal yacht of the British monarchy that was in service from 1954 until 1997. B
Day 10 | Hilton Carlton Hotel, Edinburgh
Free Day in Edinburgh
Enjoy the entire day at leisure to explore Edinburgh at your own pace. Your hotel is just steps away from the High Street where you can visit one of the many museums, cultural attractions, city parks, or get some shopping in at one of the many local shops. Tonight, revel in a fun night of song and dance at an authentic Scottish caleigh for our farewell dinner at the Spirit of Scotland show. B,D
Departure
After breakfast transfer to Edinburgh airport for your flight home, full of memories you'll cherish for a lifetime! B
*Included B=Breakfast, D=Dinner
Tour Dates:
September 10-20, 2023
Pricing:
Double – $4,500 per person
Single – $5,800 per person 
Deposit: $250 per person 
To reserve your place please follow the link below to signup. The tour manager will then contact you to complete your reservation and tour deposit.
Highlights and Inclusions
10 nights hotel at premium, centrally located accommodation
A small group of just 15-20 people
Full-time services of expert tour host Jack Baumann with over 15 years of travel experience.
Private Transportation by luxury motor coach with driver and tour director
Personal Guidester travel guide that will help you explore in your free time
Airport transfers to and from hotel on arrival and departure
15 meals (10 breakfast and 5 dinners)
Guided city tour of Belfast
Guided tour of Giant's Causeway
Full day tour on the Isle of Skye
Tour Dunvegan Castle and Fairy Pools
Visit to Eilean Donan Castle
Cruise on Loch Ness
Visit Urquhart Castle
Tour Culloden Battlefield
Guided tour of Blair Castle
Local whiskey distillery tour and tasting
Guided walking tour of Edinburgh
Entrance into Edinburgh Castle
Entrance into Holyrood Palace
Evening dinner show at Taste of Scotland
Hotels
Hand selected, beautiful accommodations perfectly situated in each destination, and private transfers to and from the airport to your hotel are all included in your tour experience.
Nights 1-2: Fitzwilliam Hotel, Belfast
Located in the heart of the city center, this beautiful 5-star property offers a very warm Irish welcome with two restaurants and an ideal base for exploring the heart of Belfast.
Night 3: Highland Hotel, Stirling
Set within the historic city of Stirling this charming Victorian building perfectly reflects the rich heritage of Scotland, and even boasts a unique observatory on its roof that guests can visit.
Night 4: Duisdale House, Isle of Syke
Duisdale House Hotel is a luxury, family run boutique hotel on Skye's southern Sleat Peninsular with breathtaking views over the nearby sea loch.
Night 5: Skeabost Hotel, Isle of Skye
Set in its own private grounds, just 10 minutes from the town of Portree, this elegant white washed Victorian Mansion enjoys stunning views across Loch Snizort.
Nights 6-7: Craigellachie Hotel, Speyside
This stunning and historic property nestled in the valley of Speyside in the heart of Whisky country offers a fun atmosphere where guests can enjoy the on-site pub offering great meals, an, excellent selection of local craft beers and over 800 different types of Malt Whiskies.
Nights 8-10: Hilton Carlton Hotel, Edinburgh
The Hilton Carlton's historic hotel is located in the Old Town on North Bridge only five minutes' walk to the Royal Mile, where you'll find many of the city's most beloved landmarks.
Flights
Tour guests will fly into Belfast and out of Edinburgh — unless you decide to do a pre or post stay. The tour will begin at 2pm on September 10th from the hotel in Belfast, and end with a transfer to Edinburgh airport the morning of the 20th. Optional Flights - To allow for maximum flexibility your flight arrangements are not included. Your tour host can assist with booking airfare upon request. We will shop the best rates and flight schedules for your convenience.
What Our Guests Say
We take pride in giving our tour guests the best experience. Read what they have to say.
"This was our 2nd trip to Europe. We definitely didn't want a cookie cutter trip, on a tour bus, that took us past 7 cities in 8 days. Jack plans his tours very carefully and he is very knowledgeable regarding the sites we visited. The groups are small so you have a chance to get to know your fellow travelers. And, Jack is a lot of fun, he makes everyone feel at ease."
"There is no way I could have put together the adventure that Jack organized for us on the taste of Italy tour. To pack so much in, not feel rushed, have amazing place to stay just would not have happened I have always been a do it yourself person no matter what it is on this occasion at a friends advice joined Jacks tour. The experience exceeded my expectations fro the first hotel to the last day of departure. The advice on what to see when to see where to eat what sights to prioritize was invaluable in using my vacation time in the best way possible. Jack I also appreciated the personal time you were able to give everyone and the individual attention to their interest. Well done and thank you!"
"Jack did an amazing job organizing and leading our tour of Ireland. We enjoyed it so much that we're going to Scotland with him next year."
"Jack did a fantastic job preparing our trip plans so all we had to do was go, have fun and no stress. All sightseeing was well organized. I would highly recommend Jack for your next adventure."
"Jack provided a very personalized 10 day tour to Italy. It was well thought out from a scheduling perspective and the hotels, restaurants and tours were top-notch. This was easy to say "yes" to and I had to do no planning beyond booking a round-trip flight (and Jack even told me exactly which flights to book). I felt it was value-added is so many ways. Every day was an adventure and a joy and Jack with his calm and friendly nature was right with plenty of guidance. It was a perfect blend of history, culture and just "getting away from it all." I highly recommend Jack and his personalized Guidester tours and look forward to another one in the future."
"Italy was a dream come true for me; especially seeing Venice. I could have never pulled off what Jack did for all of us. The tours were amazing; the food was beyond my expectations and all the different places we got to explore and the amazing hotels made my trip perfect. Jack was so knowledgeable about Italy and shared all his wisdom with us which made everything just fall into place so perfect. I recommend if you want to take a trip to Europe or anywhere go with Jack and he will make sure your trip is memorable."