Called the most "unvirgin" of the Virgin Islands, St. Thomas is for those who want to be active.  St. Thomas is the most commercialized of the Virgin Islands, with cruise-ship traffic and big resorts galore, but it's also full of fun and adventure.  Though it's only 32 square miles in size, St. Thomas has a million miles worth of things to do. Take a couple beach days, go snorkeling, scuba diving, windsurfing, a day charter, kite boarding, sailing, fishing, kayaking and parasailing. On land you can play a round of golf, take an island tour, check out some attractions, take in the historical sites downtown and do some world-class shopping. In the evening you can hit happy hour at a bar or restaurant, catch some live music and have dinner with a picture perfect view!
The island is largely mountainous. Many roads around the island offer terrific panoramic views of the island and ocean. Amongst the hills on St. Thomas and along the beaches you will find an assortment of accommodations; resorts, historic inns, guest houses, vacation homes, villas and condos.  St. Thomas is also home to the capital of the U.S. Virgin Islands, Charlotte Amalie. It has been the heart of St. Thomas' activities from colonial times to present.

Top Things to See and Do
Blackbeard's Castle
Visit one of St. Thomas's most famous historical sites. Situated on a hilltop, these 5 acres are known as "The Williamsburg of the Caribbean". You will see several National Landmark Properties and historical manor houses dating as far back as the late 1600's.  From here start your historic walking tour at your own pace and visit at your leisure. Tour guides are located throughout the property and are there to answer your questions.  The watchtower, originally named Skytsborg (Sky Tower) by the Danes, was built in 1679. According to legend, the infamous pirate Edward Teach, nicknamed Blackbeard, used the tower to watch for ships entering the harbor.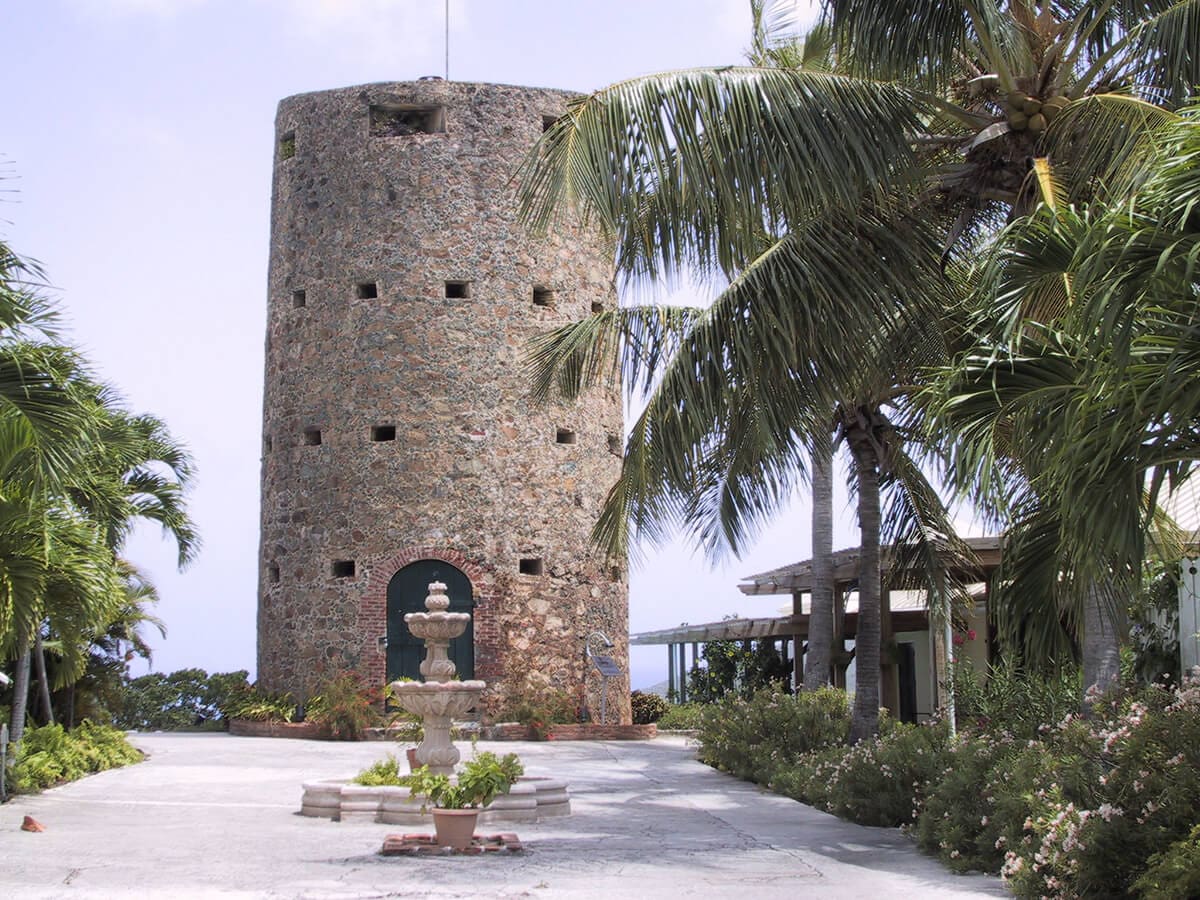 99 Steps
These steps were built by the Danes in the mid-1700s who found "step-streets" to be the easiest way to climb up and down the steep hills of Charlotte Amalie. The bricks used to construct the steps were originally brought from Denmark as ballast in the holds of trading ships. The funny thing is there are actually 103 steps.

Coral World Ocean Park
One of St. Thomas's greatest attractions, Coral World has long been a favorite among visitors and residents. Park goers can swim with sea lions, Sea Trek along the ocean floor, encounter turtles, sharks and stingrays, feed the lorikeets, snuba and more. Other highlights include the Undersea Observatory Tower built 30 feet underwater and the Marine Gardens gallery of 21 aquariums.

Magens Bay

Magens Bay is St. Thomas' most popular beach. The beautiful one mile stretch is a public park and was donated to the people of the Virgin Islands by Arthur Fairchild. It is the only beach on St. Thomas that has an entry fee; funds are used to maintain the facilities and the beach. The Magens Bay concession is comprised of the bar, snack bar and boutique. The water is usually very calm with no waves or current, great for floating along and for swimming, but not so much for snorkeling.

Drake's Seat
One of the island's best lookouts, Drake's Seat offers a panoramic view of Magens Bay and the U. S. and British Virgin Islands to the east. Explorer Sir Francis Drake is said to have kept watch on his fleet from this vantage point, marked by a seat across the road from the parking area.

Swim with Dolphins
The Royal Swim program is unique because it includes the famous Foot push; when two dolphins push you by your feet soles as you hold the Superman position, they raise you up the water surface.  You will need to take a ferry over to the neighboring Tortola island in BVI to experience the dolphins.  You can take an easy water taxi over to the island.

Snorkel and Scuba
The quality of Virgin Island snorkel and scuba diving attracts people from all over the world.  You will enjoy crystal-clear waters, gorgeous coral reefs teeming with fish and other life, and wonderfully varied underwater terrain. Popular dive sites include wrecks like the Cartanser Sr., a beautifully encrusted World War II cargo ship sitting in 35 feet of water and reef dives like Cow and Calf Rocks, where you'll discover a network of coral tunnels filled with caves, reefs, and ancient boulders encrusted with coral.

Honeymoon Beach
Located on Water Island just off the coast, Honeymoon Beach is a pretty, white sand beach with a shore lined with palm trees.  The island beach is only accessible by boat offering great snorkeling and calm shallow waters.



Coki Beach
Located on Coki Point, this white sand beach with crystal clear water offers excellent snorkeling and diving. Beachside eateries serve picnic table fare including burgers, sandwiches and some local dishes. There is a dive shop, jet ski rental and several vendors renting snorkel gear, beach chairs and floats. Right next to Coral World Ocean Park, it's easy to make a day of visiting both attractions.

Lindquist Beach
One of St. Thomas's most beautiful and pristine beaches, Lindquist Beach is situated on the east end of the island. The water is crystal-clear and typically calm. The left side of the beach is great for snorkeling.