Barcelona, the second largest city in Spain, is a vibrant, dynamic, and modern city, which passionately guards its heritage. The cosmopolitan city offers everything from Gothic treasures and traditional dances to trendy bars, innovative architecture, and world-class food.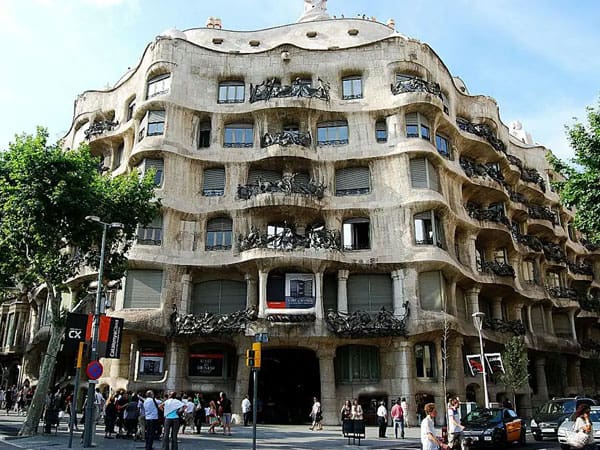 Casa Mila
Another of Gaudi's architectural masterpieces, this Catalan art nouveau style structure is now used to hold exhibits and musical events.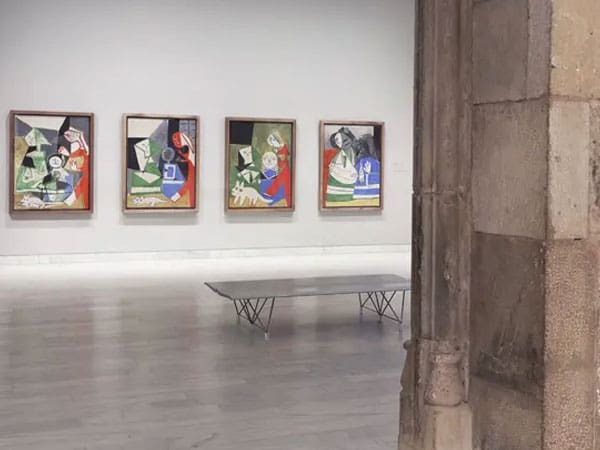 Picasso Museum
The famous twentieth century artist Pablo Picasso was an important Spanish creative who produced a variety of work during his life. Much of his work can be found at this museum – the permanent collection alone has over four thousand pieces. The city of Barcelona had an important influence on his life; visitors can learn more about this element of his life at the museum.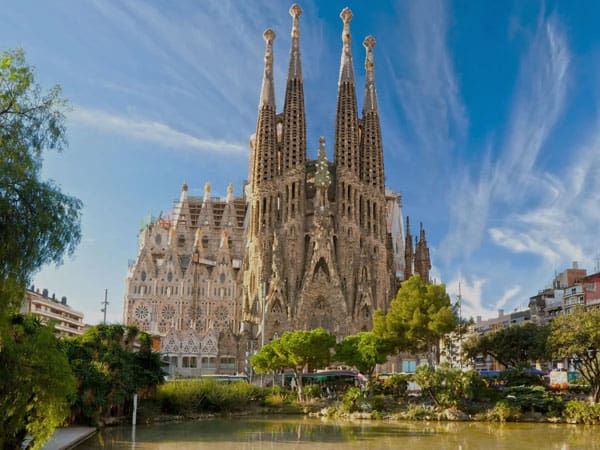 Sagrada Familia
This is the most well known structure in the whole of Spain. This Catholic Basilica was conceptualized by Antoni Gaudí with work beginning in 1882; unbelievably work continues to this day with several sections yet to be completed! It is the best example of modern architecture in the Catalan style. Not to be missed, but plan your trip.2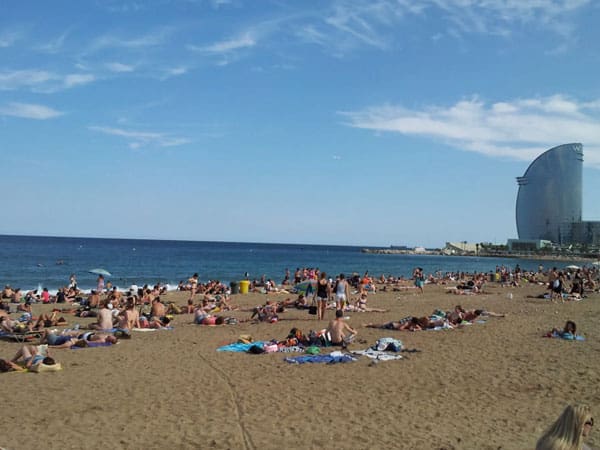 Playa de Sant Sebastia
Together with Barceloneta, these are the city's oldest and most traditional beaches. With more than a mile of sand and sea and within walking distance from the city center, locals and visitors come here to catch some sun and relax.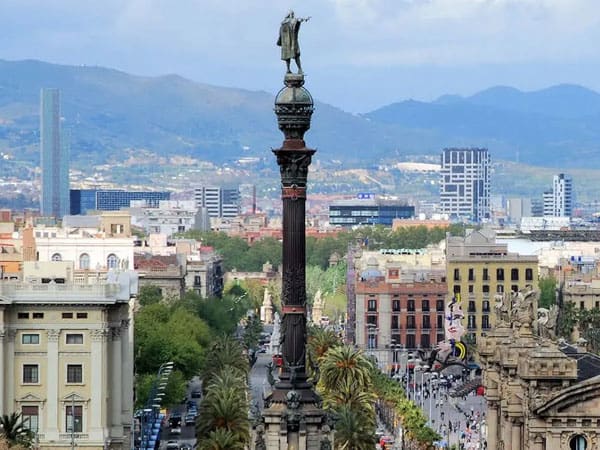 Columbus Monument
City views spread from the top of this ornate 1888 Corinithian column topped with Columbus' statue. It was constructed for the Exposición Universal de Barcelona in honor of Columbus' first voyage to the Americas. Make sure to go to the top where you will have a full 360 degree unobstructed bird's-eye view of Barcelona offering you some exciting and unique photo opportunities.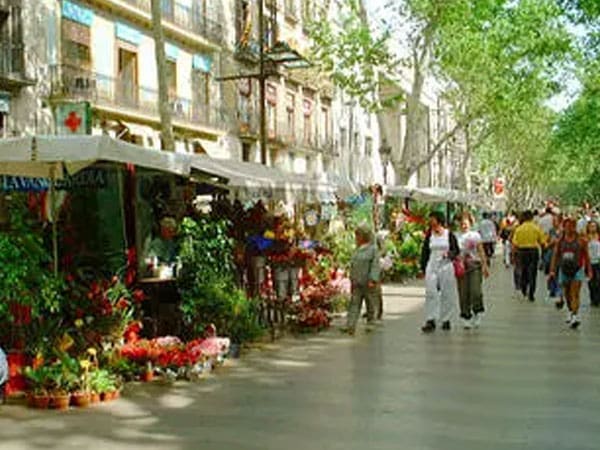 La Rambla
La Rambla is the street that will be visited by most tourists to Barcelona. Here you can find lots of theaters and cultural spots, as well as enjoy a walk and admire the architecture. Whatever the time of day, this wide pedestrian area is packed full of people from around the world.3
Barri Gòtic serves as Barcelona's historic and geographical center. A wonderful maze of medieval streets and plazas, this part of the city has been inhabited since Roman times, and home to the city's Gothic cathedral. This part of the city attracts the most tourist crowds, which is ideal of sightseeing.
On the other side of Barri Gòtic is El Born, another old medieval neighborhood with worthwhile attractions of its own, all the way from Picasso Museum to the Chocolate Museum. There are plenty of tapas bars and boutiques in this area, and a large park.
The Food
Catalan cuisine is a good mix of seafood and meat based dishes due to Catalonia's proximity to both the sea and the mountains.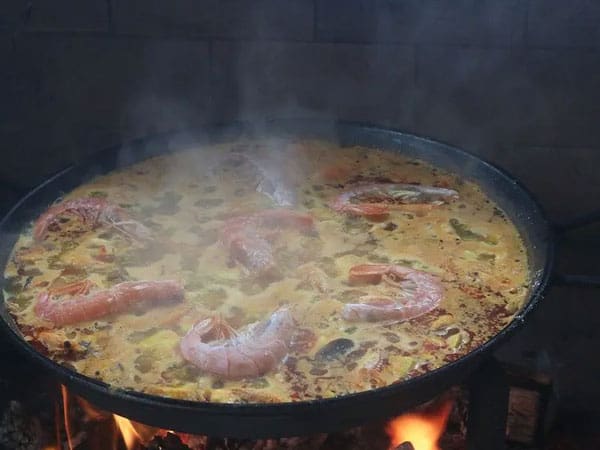 You can't miss…
Fideua (the Catalan version of Spanish paella. Instead of rice a short noodle, similar to macaroni, is used. Sometimes, squid ink is used, leaving the noodles with a dark color and giving the dish a different taste)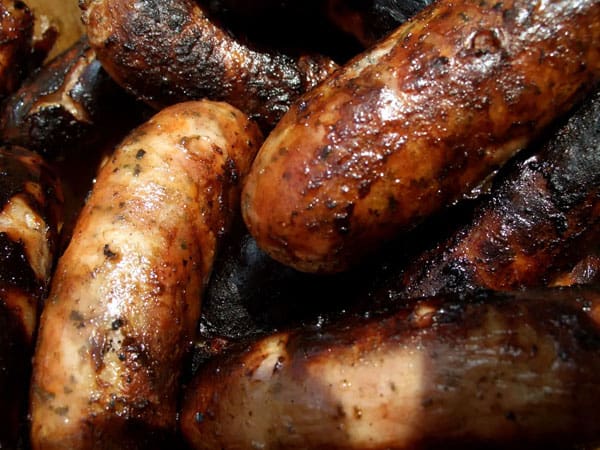 Try…
Botifarra (Catalan spiced sausage. You can get black or white botifarra and it is usually eaten with pan amb tomate or as tapas.)
Barcelona in a Guided VR Tour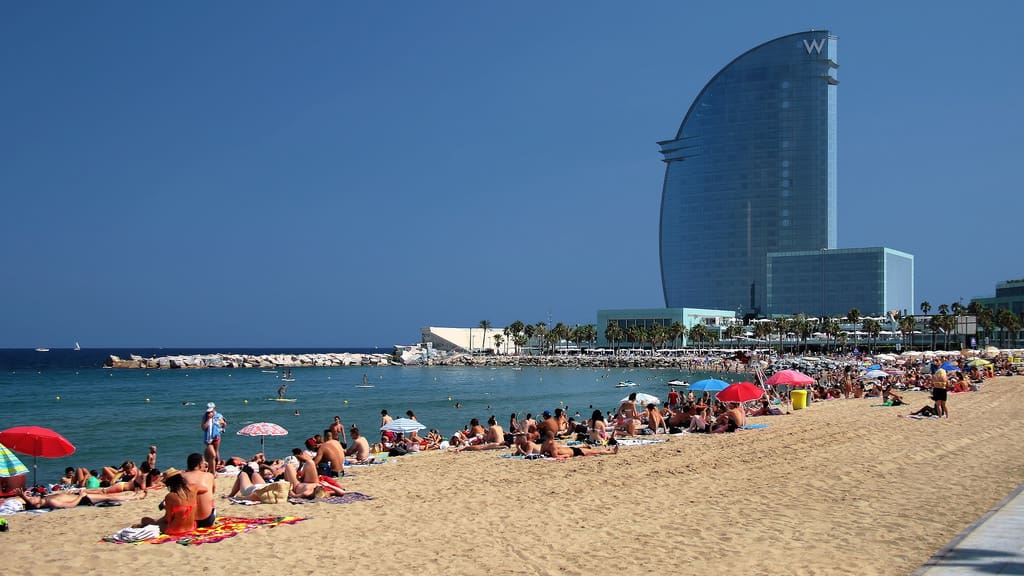 Playing soccer on the beach ranks at the very top of my Barcelona experiences. 
In addition to the abundant history, architecture, and charming neighborhoods, Barcelona is well known for its abundant beach front property. This is one of the many draws of the city as you can experience all that a great European city has to offer while combining sun and sand into the fun.
I found myself roaming the city center late at night a number of years ago in my younger days when I found myself playing soccer or "football" with some locals on the beach.
La Barceloneta is the closest beach to the city center and is free to visit all hours of the day or night, which is quite nice if you're restless looking for something to do. 
Located in the traditional fishing district, this is one of Barcelona's oldest and best-loved beaches. It is thought to have inspired Miguel de Cervantes as the setting for the fight between Don Quixote and the Knight of the White Moon. The nearby beach is a perfect place to pass the time on a hot day in Barcelona, and the clear blue waters were so clean despite the many people who frequent the area.
I was roaming around La Rambla with some friends when we came across a group of locals that seemed lively and entertaining. I've never been bashful in talking to strangers when I traveled and this is just another example of where it paid off. The local Catalonians spoke decent enough English and after we exchanged some pleasantries they asked us to join them for a game of "football" on the beach. Of course we accepted, and we all headed off at midnight toward the promenade. 
There were 6 of us kicking around the ball on the beach when before we knew it there had to be almost 20 people playing a full on match. Soccer really is the sport of Spain and any time a pickup match starts you can bet you'll attract some passerby's that want to get in on that action. 
So, there I was on the beach lit up by the bright glow of the moon with the backdrop of the historic city playing soccer with a few friends and some Spanish locals. These are the moments that I love to travel for!

Explore the Gothic Quarter
Walk Along the Beach Promenade
"My wife and I have worked with Jack at Guidester now on two trips in Europe. One was a self guided adventure in Ireland and the second was a trip to Italy where he personally led the adventure. And in both cases he has put us in the must see places."
"My husband and I spent two weeks in southern England and relied on the Guidebook from start to finish. From what to see, what to eat, and how to get there, the Guidebook was invaluable. We were provided with pertinent logistic information as well as the most interesting pubs and restaurants. We experienced small towns and pubs that we would never have ventured into had it not been for the wealth of information the Guidebook contained. It took all of the guesswork out of enjoying the history and beauty of England. I will without hesitation use its expertise in future travel!"
"This was our 2nd trip to Europe. We definitely didn't want a cookie cutter trip, on a tour bus, that took us past 7 cities in 8 days. Jack plans his tours very carefully and he is very knowledgeable regarding the sites we visited. The groups are small so you have a chance to get to know your fellow travelers."
Choose The Service that Works Best for You!
Guidester provides several options to choose from to best suit your traveling needs. Choose one or choose all!
Get a personalized digital travel guide for Europe, curated by locals. It downloads to your phone and offers top recommendations for each destination.
Guidester simplifies international travel by assisting you with itinerary planning, hotel and airfare bookings, and tours. We also help you avoid errors and common pitfalls.
Join the Guidester Founder on a hand-crafted small group tour, exploring off-the-beaten-path destinations and experiencing unforgettable adventures.