Wales, the land of dragons, is a destination that will truly surprise you. Set off on a 10-day adventure through Wild Wales, known for its beautiful landscapes, lush green valleys, medieval castles (more than any country in the world), rolling hills of sheep, and postcard-pretty market towns.
June 23-July 2, 2024 (10-day land tour)
Cardiff, Tenby, St. David's, The Gower Peninsula, Snowdonia National Park, Caernarfon Castle and much more
From $4000 per person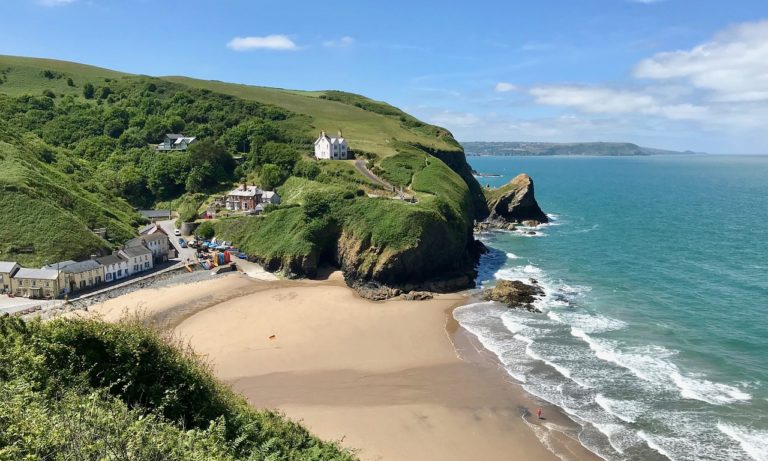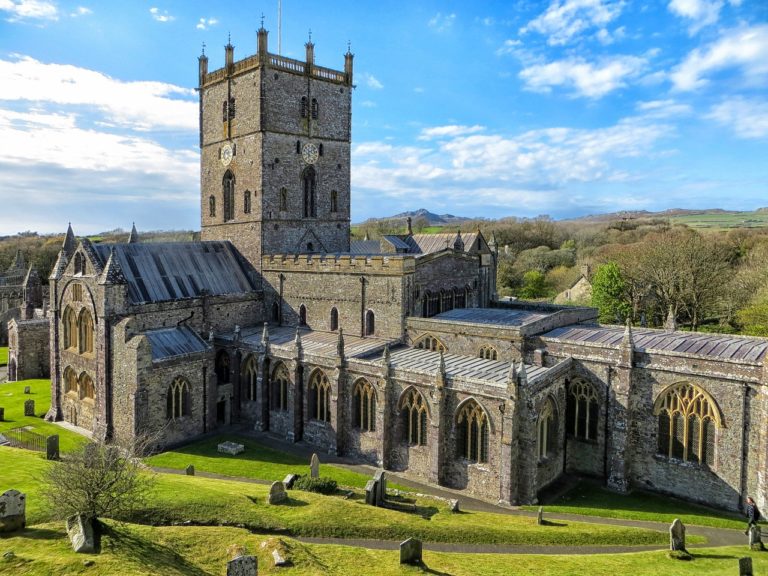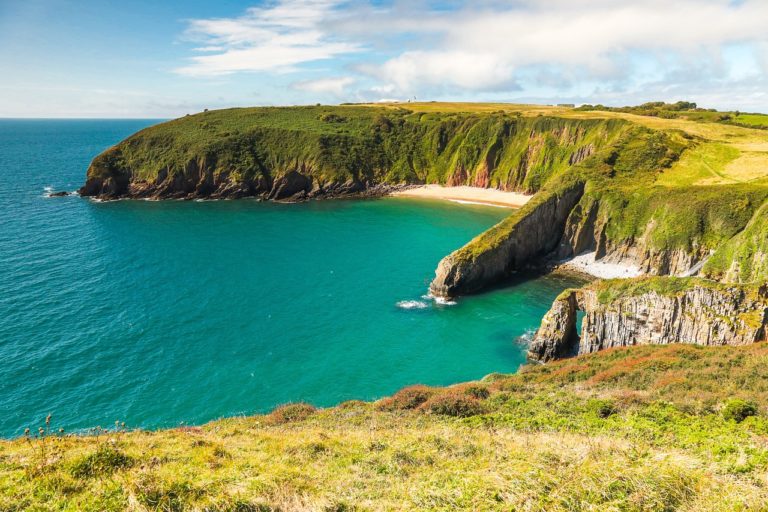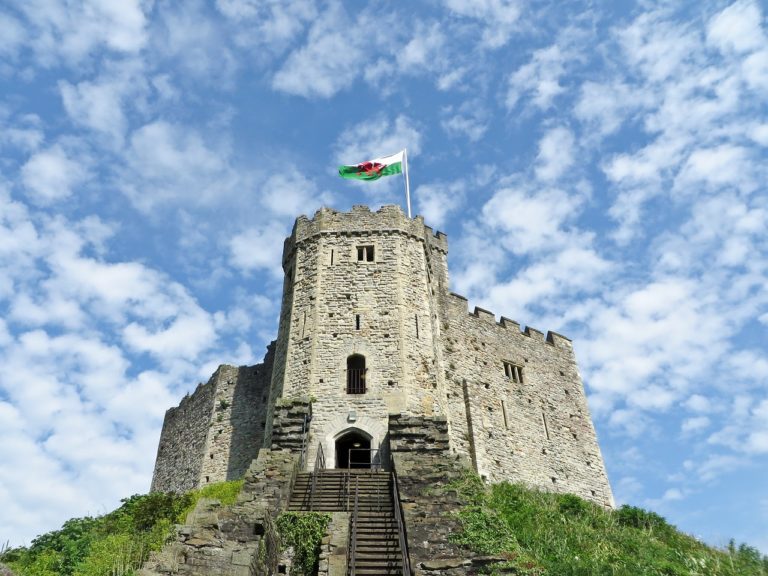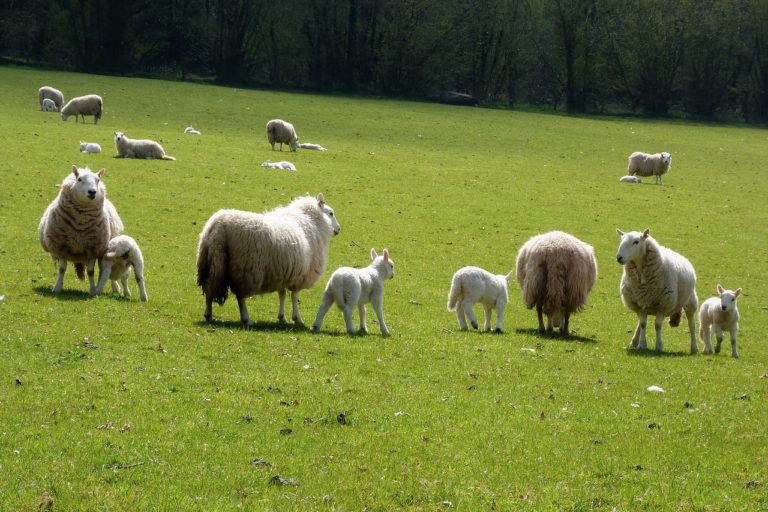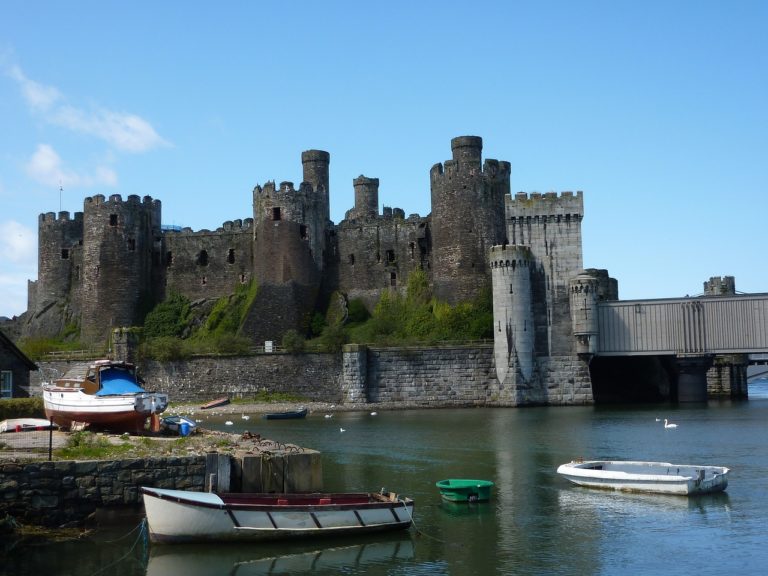 Day 1 | Macdonald Windsor
Arrival and Windsor Castle
Arrive at Heathrow airport where you'll meet your driver at the arrivals hall before setting into your 4-star hotel located next door to Windsor Castle. Take an afternoon tour of Windsor Castle, the oldest and largest occupied castle in the world and the official residence of His Majesty The King. Enjoy a welcome dinner at a Guidester favorite local pub.
Day 2 | Cardiff Coal Exchange
Tintern Abbey and Caerphilly Castle
Have a hearty breakfast before heading to Wales. Our first stop is Offa's Dyke, a 1200-year-old earthwork that marks the ancient border between England and Wales. Visit Tintern Abbey, a stunning ruin of a Gothic monastery on the banks of the River Wye, where we will stop for lunch. Continue to Caerphilly Castle, one of the largest and best-preserved medieval castles in Britain. Arrive in Cardiff, capital of Wales, and check into your 4-star hotel in the city's bustling waterfront area for two nights.
Day 3 | Cardiff Coal Exchange
Cardiff City
Enjoy a morning walking tour through the historic city center of Cardiff, the capital of Wales, including a visit to Cardiff Castle, a 2,000-year-old fortress with a Norman keep and Victorian Gothic revival mansion inside. The rest of the afternoon is yours to explore this wonderful city with plenty of shopping, sightseeing, and cultural sights to enjoy.
Day 4 | Tŷ Milford Waterfront
The Gower Peninsula and Pembroke Castle
After breakfast, check out of your hotel and drive to the gorgeous county of Pembrokeshire. Enroute visit the Gower Peninsula, Britain's first Area of Outstanding Natural Beauty and a popular destination for surfing, hiking, and beach lovers. Have lunch at the Kings Head Inn, a historic pub with a cozy atmosphere. Tour the impressive Pembroke Castle, the birthplace of Henry VII and one of the most impressive castles in Wales. Check into your 4-star waterfront hotel along the Welsh coast, your home for the next two nights.
Day 5 | Tŷ Milford Waterfront
St. David's and Tenby
Drive through Pembrokeshire Coast National Park, Britain's only coastal national park and home to spectacular scenery and wildlife. Visit St. David's Cathedral, a magnificent medieval church set in a lush landscape, and the final resting place of Wales' patron saint featuring many ancient relics. Enjoy an afternoon tour and free time in Tenby, a medieval walled town with colorful buildings, sandy beaches, an old fort, and a quaint harbor.
Day 6 | Ty'n Rhos Country House Caernarfon
Aberystwyth and Harlech Castle
Today, we head to Northern Wales with wonderful planned stops en route. Visit Harlech Castle, a World Heritage Site perched on a cliff overlooking the sea famous for its role in the Wars of the Roses. Stop at Aberystwyth for lunch, a gorgeous seaside town with a Victorian promenade, a ruined castle, and a funicular railway. Check into your beautiful country house hotel situated at the base of Snowdonia, your home for the next three nights.
Day 7 | Ty'n Rhos Country House Caernarfon
Caernarfon and Conwy
Explore the northwest coast of Wales, a bastion of history, natural beauty, and Welsh culture where you'll often hear the ancient native language spoken. Visit Caernarfon Castle, a World Heritage Site and one of the most impressive castles in Wales. The dramatic castle was built by Edward I in the late 13th century as part of his conquest of Wales, and served as the site of King Charles' investiture as Prince of Wales in 1969. Next, head to Conwy, another World Heritage Site that boasts another stunning castle, a picturesque harbor, and the smallest house in Britain. We conclude this splendid day at Llandudno, a Victorian seaside resort that features a wide promenade, a historic pier, and a cable car with spectacular views across the sea.
Day 8 | Ty'n Rhos Country House Caernarfon
Snowdonia National Park
After breakfast, enjoy a full day exploring Snowdonia National Park, the first national park in Wales. This area of outstanding natural beauty boasts dramatic mountains, lakes, forests, and waterfalls. The song "Stairway to Heaven" by Led Zeppelin was written here in the area around Snowdonia. You'll have the option to hike up the wide open rugged terrain, or you can take a train ride to the summit of Snowdon, the highest mountain in Wales and England.
Day 9 | Macdonald Windsor
Stratford-upon-Avon
Check out of your hotel and drive back to Windsor with a visit to Stratford-upon-Avon. Stop for lunch and time to explore the classic medieval market town in England's West Midlands, which was the birthplace of William Shakespeare. Possibly the most famous writer in the English language, Shakespeare is known for his sonnets and plays such as 'Romeo and Juliet' and 'Hamlet'. Arrive in Windsor to check into your hotel next to the castle. In the evening, savor a luscious final farewell meal with the group at a local restaurant.
Depart for Home
Enjoy a final hearty breakfast as we depart for the airport to say our goodbyes with new friends and fond memories of Wild Wales!
Tour Dates:
June 23-July 2, 2024 (land only) 
Pricing: 
Double: $4,200 per person* 4,000 per person
Single: $5,100 per person* 4,900 per person
*Receive the $200.00 off 'Early Bird Special' if booked by November 1st, 2023. 
Deposit: $250 per person
To reserve your place please follow the link below to signup. The tour manager will then contact you to complete your reservation and tour deposit.
What's Included
A small group of just 15-20 people
9 nights premium, centrally-located accommodation
Full-time services of expert tour host Jack Baumann with over 15 years of travel experience.
Private Transportation by luxury motor coach with driver and tour director
Personal Guidester travel guide that will help you explore in your free time
Airport transfers to and from hotel on arrival and departure
14 meals (9 breakfasts, 1 lunch, and 4 dinners)
Welcome dinner at a local pub in Windsor
Tour of Windsor Castle
Entry to Caerphilly Castle
Guided walking tour of Cardiff City and entry into Cardiff Castle
Tour the scenic Gower Peninsula
Visit coastal hamlet of Rhossili
Lunch at King's Head Inn overlooking gorgeous landscape
Entry to Pembroke Castle
Guided walking tour of the walled town of Tenby
Scenic drive through Pembrokeshire National Coastline
Tour of St. David's Cathedral
Visit coastal town of Aberystwyth
Entry to Harlech Castle
Entry to Caernarfon Castle
Tour of walled town of Conwy and entry to Conwy Castle
Full day tour through Snowdonia National Park
Guided walking tour of Stratford-upon-Avon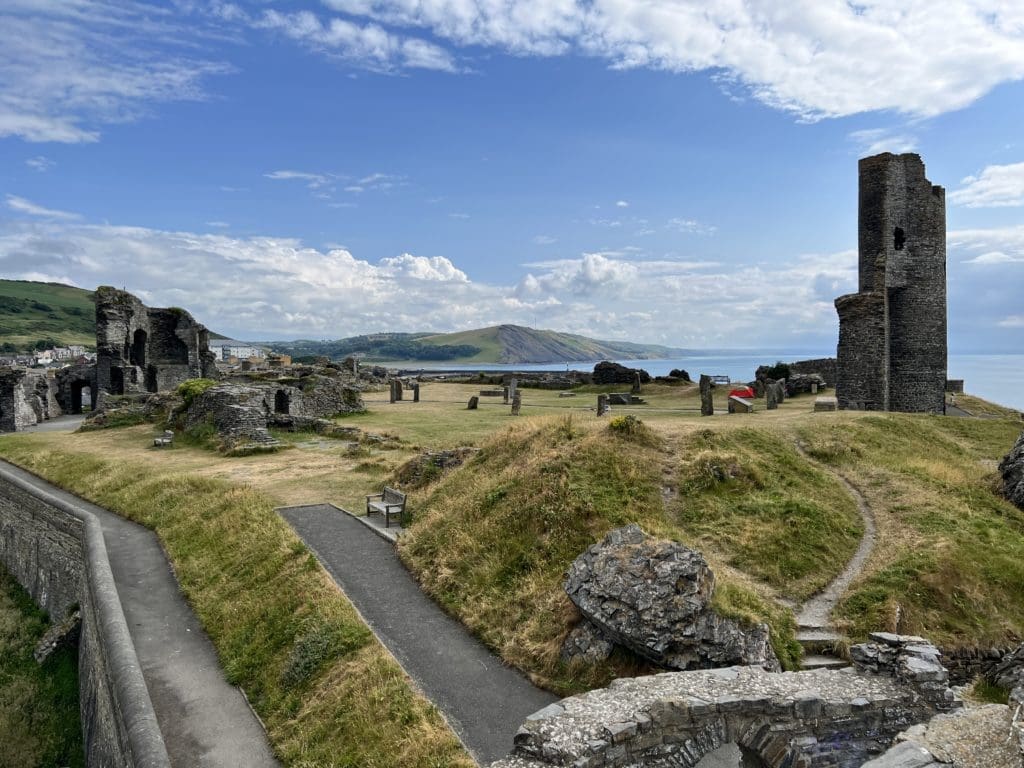 Hotels
All of your premium hotels are included on tour. Hand selected 4-star and 5-star accommodations are perfectly situated in each destination, and private transfers to and from the airport are included in your tour experience.
Night 1: Macdonald Hotel, Windsor
Ideally situated 4-star hotel located just 2 minutes' walk from the gates of Windsor Castle and in the centre of the shopping parade, Macdonald Windsor Hotel.
Nights 2-3: Cardiff Coal Exchange Hotel, Cardiff
The Coal Exchange Hotel is a historic, grade II listed luxury hotel situated 450 yards from Cardiff Bay.
Nights 4-5: Tŷ Milford Waterfront Hotel, Milford Haven
Enjoy a relaxed stay at the stylish Tŷ Milford Waterfront 4-star hotel. Overlooking the marina this stunning location is the perfect base to explore West Wales.
Nights 6-8: Ty'n Rhos Country House, Caernarfon
Set in the tranquil foothills of Snowdonia just outside Caernarfon, the grand Country House is a 5-star guesthouse with the perfect balance of beauty and luxury.
Night 9: Macdonald Hotel, Windsor
Ideally situated 4-star hotel located just 2 minutes' walk from the gates of Windsor Castle and in the centre of the shopping parade, Macdonald Windsor Hotel.
Flights
Tour members will fly in and out of London Heathrow (LHR) arriving June 23rd and departing July 2nd— unless you decide to do a pre or post stay. Optional Flights - To allow for maximum flexibility your flight arrangements are not included. Your tour host can assist with booking airfare as requested, shopping out the best rates and flight schedules.
Spots are Limited...
Reserve Yours Today!
What Our Guests Say
We take pride in giving our tour guests the best experience. Read what they have to say.
Having taken 3 trips with Jack, I always appreciate the attention to detail and quality that Jack has for the trips he leads. Time is balanced between scheduled, group events and free time to explore the city, using the guide we're provided before the trip begins. It's clear that Jack has a love of all things Europe, which he works to impart onto those on the trip.
We had a sensational "trip of a lifetime" with Jack at Guidester traveling to Rome, Tuscany and Bologna. Jack was so knowledgeable and accommodating; he is certainly a "master at his craft"! Because of his insight, we not only saw the sights, we experienced them! We plan to travel with Jack again in the future and highly recommend his services - he knows all the local secrets!
There is no way I could have put together the adventure that Jack organized for us on the taste of Italy tour. To pack so much in, not feel rushed, have amazing place to stay just would not have happened I have always been a do it yourself person no matter what it is on this occasion at a friends advice joined Jacks tour. The experience exceeded my expectations fro the first hotel to the last day of departure. The advice on what to see when to see where to eat what sights to prioritize was invaluable in using my vacation time in the best way possible. Jack I also appreciated the personal time you were able to give everyone and the individual attention to their interest. Well done and thank you!
"Jack did an amazing job organizing and leading our tour of Ireland. We enjoyed it so much that we're going to Scotland with him next year."
Jack did a fantastic job preparing our trip plans so all we had to do was go, have fun and no stress. All sightseeing was well organized. I would highly recommend Jack for your next adventure.
Jack provided a very personalized 10 day tour to Italy. It was well thought out from a scheduling perspective and the hotels, restaurants and tours were top-notch. This was easy to say "yes" to and I had to do no planning beyond booking a round-trip flight (and Jack even told me exactly which flights to book). I felt it was value-added is so many ways. Every day was an adventure and a joy and Jack with his calm and friendly nature was right with plenty of guidance. It was a perfect blend of history, culture and just "getting away from it all." I highly recommend Jack and his personalized Guidester tours and look forward to another one in the future.