Guiding you through unforgettable travel adventures.
The Story Behind
Guidester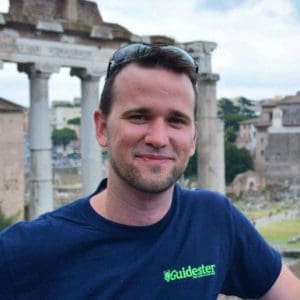 Travel gives us a joyful pause from our daily routine, pushes us to expand our comfort-zone, and enhances our perspective of the beautiful world around us. 
After growing up and spending my formative years in the Midwest USA, I sought to expand my horizons and decided to move abroad. I received my Masters Degree in Ancient Greek and Roman Archaeology from Cardiff University in Wales, and while I was living in the U.K. I spent a lot of time traveling across Europe on my own.
As the birthplace of western civilization, Europe's layered history leaves unique planning challenges for those wanting to explore and get the most from their trip.
From London to Rome to Prague, and everywhere in between, it was clear that the travel planning process was time consuming and antiquated. I spent hours on Google searches, flipping through guidebooks, browsing online reviews, and asking for help on social media.
The outdated modes of planning an international trip was just too time consuming and lacked custom recommendations that pertained to me and my interests. 
In today's fast-paced world, a better service was needed to help travelers get the most from their vacation.
In October of 2014, after years of living and traveling throughout Europe, I decided to create Guidester. The founding principle for the company was dedicated to eliminating the stress of international travel planning while providing an unforgettable adventure. 
We do the hard work for you, so you can focus on enjoying your experience. With so much history, beauty, and culture packed into a relatively small area, Europe truly is the most diverse, unique place on the planet. I wish to help you explore this area that brings out my adventurous spirit each and every time I visit.
Let's get out there and travel!
Can't Travel At the Moment?
Take a Virtual Vacation
If you can't travel to the destination at this very moment, we bring the destination to you.
Keep the flame of wanderlust alive with Guidester's new "Virtual Vacation" experience!
During the pandemic I wanted to create a resource for all of us that were missing the feeling of adventure. Now that we can travel once again, I have decided to keep this free platform live in order to help inspire and educate your next adventure.
Go on a virtual vacation from the comfort of your home –  watch video tours, explore museums and historic sites, browse popular places, learn about the local cuisine, play around with interactive maps, and begin planning your dream trip.