Gimmelwald, tucked into a mountain at over 4,450 feet, is a storybook Alpine village in the heart of the Swiss alps. It serves as one of the last car-free villages in the country. The quiet and easygoing village is only accessible by gondola which adds to its charm and authenticity.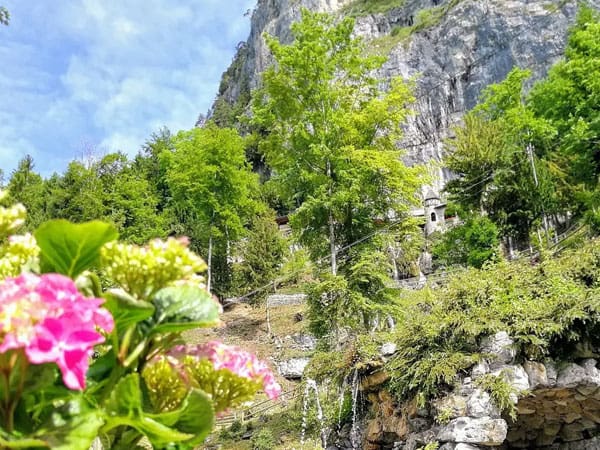 St. Beatus Caves
Hunted by St Beat, a 6th century monk, the story goes that the mythological creature took shelter in this this extraordinary geological site – St Beatus Caves, next to the lakes of Interlaken. Explore deep into the very heart of the mountain along over a kilometre of well-lit walkways, and discover stalactites and stalagmites that have been formed by nature over millions of years.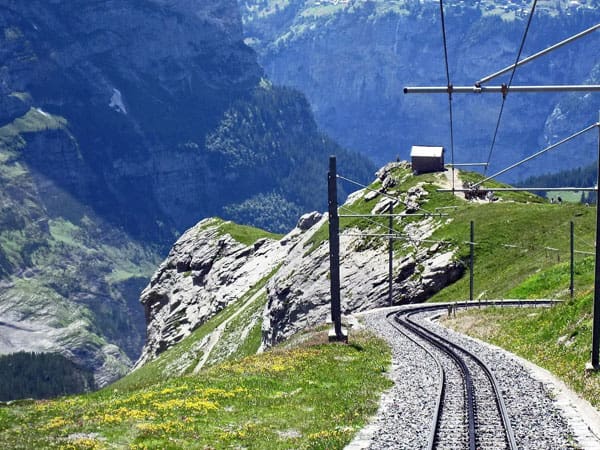 Harder Klum
Take the the funicular to the 1,322 meter high Harder Kulm, where you can enjoy panoramic views of the local area and the Jungfrau mountains. You can choose to hike up if you're adventerous or take the cable car to the top. For views head to Zweiseensteg – the Two Lake Bridges – and take in the scenery for some excellent photographs.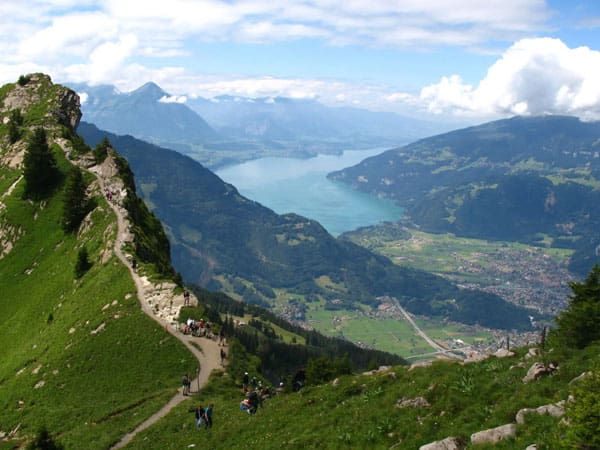 Hike mountain trails
This area has a multitude of varying hikes for the adventurous, from scenic lakeside walks to treks across cliff faces, all through unique landscapes. You can take a railway train or cable car to get to the start of your chosen hike. Popular hikes include the path up to Harder Kulm (2.5 hours) and the route from Interlaken to Lauterbrunnen (3 hours.)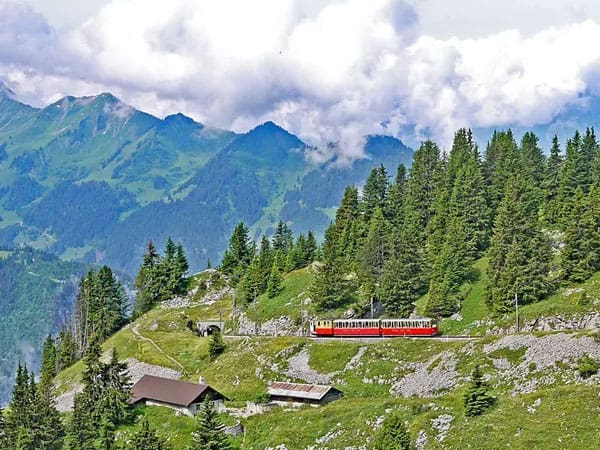 Schynige Platte
Schynige is a plateau in the north of the Jungfrau region that offers stunning views of the Jungfrau and the lakes. Take a journey to Schynige Platte on the heritage cog railway to get there. This vintage train dates back to the 19th century, and the wooden seats and overall design gives passengers a taste of a long-forgotten time.
Nearby Interlaken is the main staging point for visitors wanting to make a trip to Gimmelwald. You can stay a little closer in Lauterbrunnen but you will have more access to amenities and there are more things to do in Interlaken.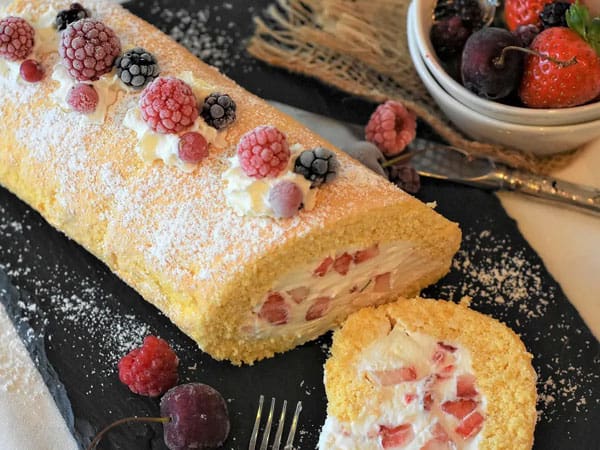 And the special is…
Switzerland's specialty is all things dairy especially in the mountain regions. Enjoy some local cream, milk, yogurt, cheese, and chocolate which take center stage in this region of Switzerland.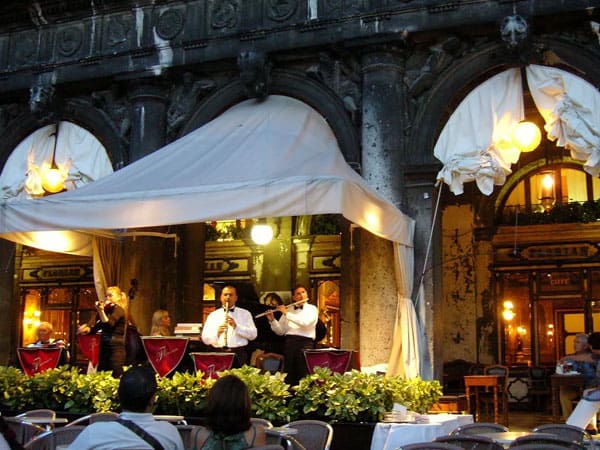 If you're looking for a unique experience
Head to Wine Art – a wine bar, lounge, restaurant, and deli all rolled into one. In addition to fine wines, whiskey rarities and distillates, they offer a selection of delicacies, charcuterie, homemade sauces and chocolate.
Flying over Lauterbrunnen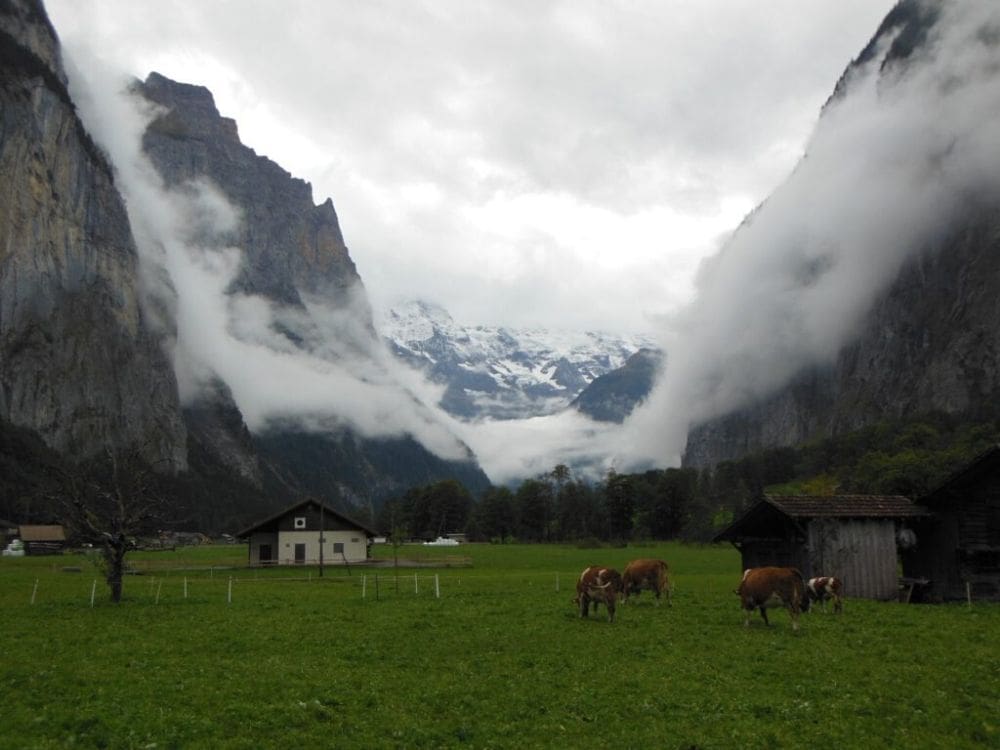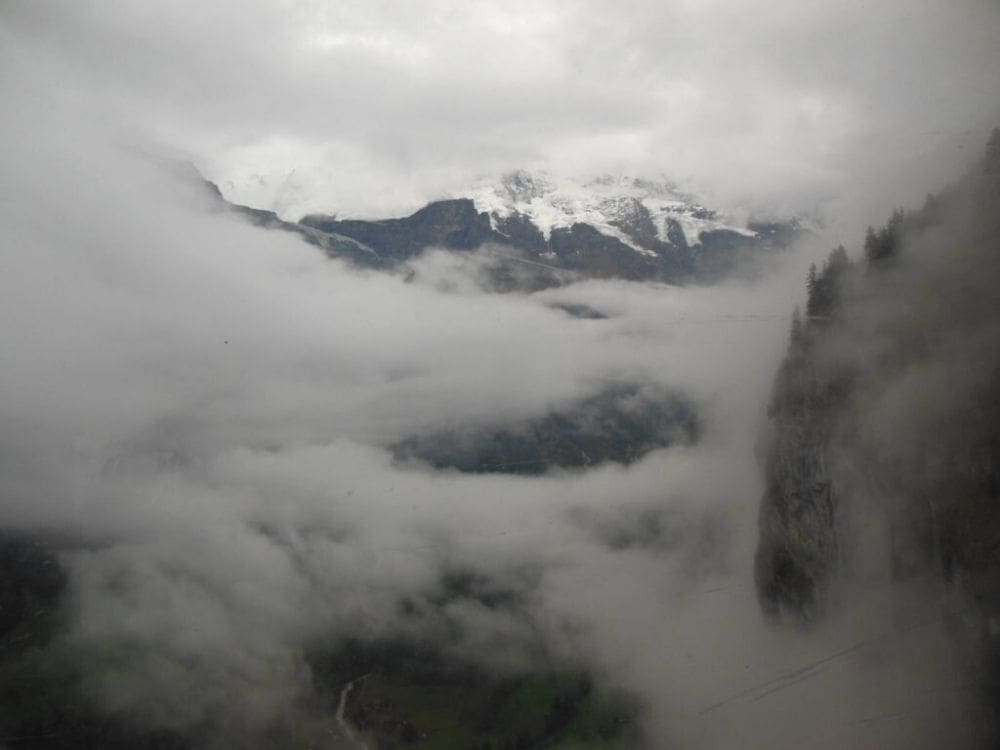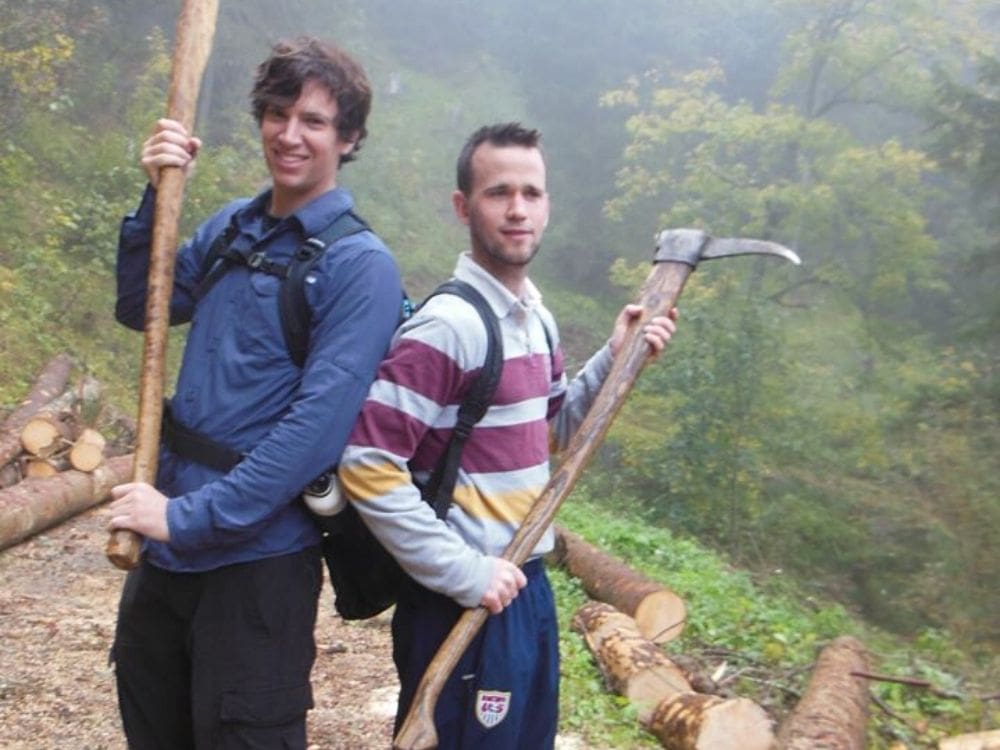 Hiking a Mountain Village in Switzerland
Switzerland's dreamy alps and picturesque landscape make for a perfect hiking experience for just about any skill level. You will find quaint little villages perched on hills and in many cases nestled right into the mountainside itself. One such village is the stunning village of Gimmelwald.
Gimmelwald, tucked into a mountain at over 4,450 feet, is located just south of the city of Interlaken in the center of the country. The Alpine village is like something out of a fairy tale. The approach to the village is spectacular, giving you butterflies in your stomach as the aerial cable car rises up along the cliff walls as you pass magnificent waterfalls. Relish in the seclusion of the car-free village in the Swiss Alps and hike along spectacular mountain trails with the music of ringing cow bells in your ears.
I was currently in Interlaken for sightseeing and skydiving, which was amazing, when I decided to visit the village for myself. The lofty description I detailed above really does say it all and accurately mirrors reality. Even the hike up to the station through the valley itself starts to prepare you for the other worldliness you are about the experience. I took the cable car up the cliffside enjoying the stunning views all the way up. Once at the top, I stepped off into what seemed like a place lost to time. The few buildings that were there echoed from the past as I admired the large wood-beamed, nail free homes overlooking the valley we just ascended.
The main thing to do in Gimmelwald is to simply enjoy the scenery and tranquility, and if you're up for it go for a hike around the mountainside. I had a couple hours to kill before heading back down so I decided to take a hike with a couple friends. The most eerie thing about being up this high in the mountains is the quiet mixed with the thick fog that often comes out of nowhere. I was walking through the fog not being able to see only a few feet in front of me, with faint cowbells off in the distance. The silence broken only by the interspersed ringing of cow bells was weird but kind of peaceful. Switzerland has a large cow population and many of them roam the hills and mountains around the country. We hiked for hours through the mountain passes and fog, and occasionally came across a local going about their daily business.
For those of you that don't know much about Switzerland, gnomes are a big thing in Swiss culture. I don't know exactly why but you will literally see gnome sculptures, statues, and carvings just about everywhere if you are looking hard enough. The funny thing about that is some of the locals seem to have turned into gnomes themselves. We walked up onto one of these local as we were hiking and I have to say he was one of the more interesting guys I've met. He was a small bearded man working in a small wooden hut milking cows as we approached. Wearing what looked like a hat fit for a gnome he proceeded to tell us about his daily life and all the fairy tales he believed in with regard to the local folklore of the area. What an interesting guy is all I can say.
I loved that day spent hiking up through Gimmelwald and while I've done many hikes around Switzerland before and since, the little village perched on the cliffside near Interlaken will forever stand out as one of my favorites.

"My wife and I have worked with Jack at Guidester now on two trips in Europe. One was a self guided adventure in Ireland and the second was a trip to Italy where he personally led the adventure. And in both cases he has put us in the must see places."
"My husband and I spent two weeks in southern England and relied on the Guidebook from start to finish. From what to see, what to eat, and how to get there, the Guidebook was invaluable. We were provided with pertinent logistic information as well as the most interesting pubs and restaurants. We experienced small towns and pubs that we would never have ventured into had it not been for the wealth of information the Guidebook contained. It took all of the guesswork out of enjoying the history and beauty of England. I will without hesitation use its expertise in future travel!"
"This was our 2nd trip to Europe. We definitely didn't want a cookie cutter trip, on a tour bus, that took us past 7 cities in 8 days. Jack plans his tours very carefully and he is very knowledgeable regarding the sites we visited. The groups are small so you have a chance to get to know your fellow travelers."
Choose The Service that Works Best for You!
Guidester provides several options to choose from to best suit your traveling needs. Choose one or choose all!
Get a personalized digital travel guide for Europe, curated by locals. It downloads to your phone and offers top recommendations for each destination.
Guidester simplifies international travel by assisting you with itinerary planning, hotel and airfare bookings, and tours. We also help you avoid errors and common pitfalls.
Join the Guidester Founder on a hand-crafted small group tour, exploring off-the-beaten-path destinations and experiencing unforgettable adventures.