Munich is the capital of Bavaria in southern Germany, and the country's third largest city. The Bavarian metropolis combines a forward-looking cosmopolitan character with a folksy small-town atmosphere. Locals can still be seen wearing lederhosen and dirndl while swaying to the blast of an oompah band and swigging beer from a substantial stein. The city features some of the largest breweries in Germany and remains famous for its annual Oktoberfest celebration.
Hofbrau House
The Hofbrau is primary a beer hall and eatery, but given its prime place in Munich, we feel it warrants a place as an attraction in its own right. Dating back to the 16th century, the Hofbräuhaus is arguably the most famous beer hall in Munich where exuberant patrons flock every day and night of the year to sample some of the best Bavarian beer and traditional food in the city.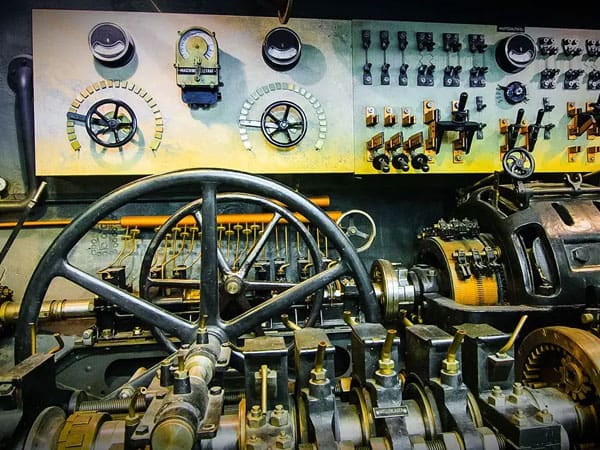 German Museum
For wide-ranging tech and science exhibitions head to the Deutsche Museum. They have information on diverse music instruments, bridges, mining, and transport. There is also a planetarium, a local cafe, and the Kinderreich. The large museum could easily keep you occupied for an entire day so allot plenty of time to explore.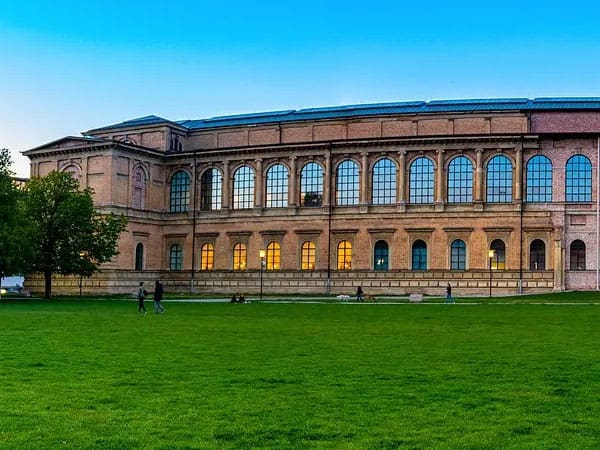 Old Picture Gallery
The Alte Pinakothek is regarded by experts as one of the great art galleries of the world, and it's also one of the oldest. More than 800 masterpieces by European artists bring to life the development of art from the Middle Ages to the end of the Rococo period with walls lined by Titian, Rembrandt, and Rubens.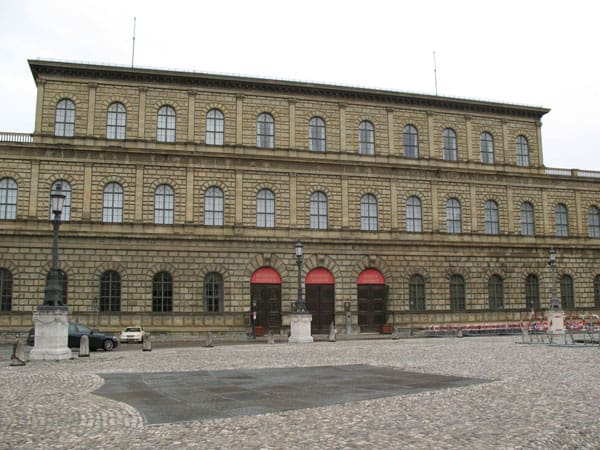 Residenz Royal Palace
During the 14th century the Royal Wittelsbach family commanded the construction of the Residenz Royal Palace as their palace was too small. Today, the building holds the Crown Jewels, the Residenz/Cuvilles Theatre, the State Collection of Egyptian Art, and the Herkulessaal concert hall.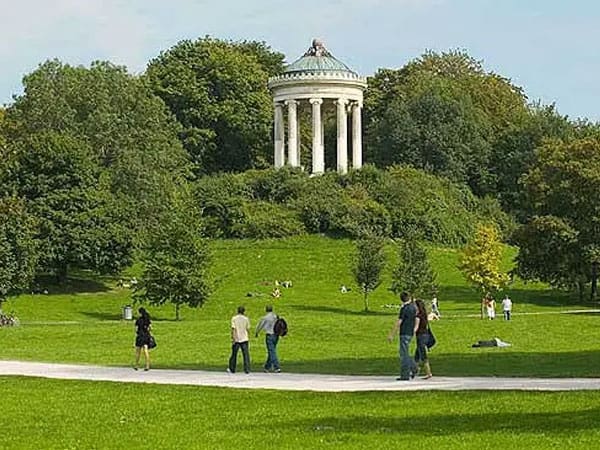 English Garden
The Englischer Garten is well worth a visit for nature lovers. The garden stretches from the center of Munich to the north-east of the city. It has large hills, wide landscaping, biergartens, and unique structures. There is also a lake with boats, and cycling paths for recreational use.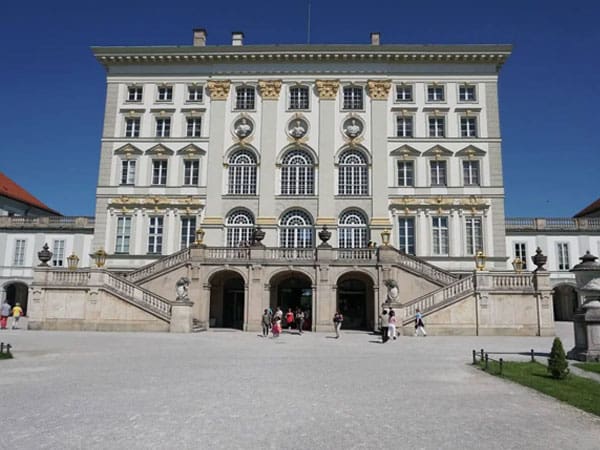 Nymphenburg Palace
With over 500 acres the Nymphenburg Palace, located to the west of Munich, was built to be the summer house of the royal Wittelsbach family. It's a modest building but there are artifacts that are of great interest such as the infamous "Gallery of Beauties"; a portrait gallery with 36 paintings that was commissioned by King Ludwig I in order to showcase the beautiful women at that time.
Altstadt – Munich's Old Town is where you'll find the city's grand past, most impressive buildings, and largest squares. This is the place where history, culture, and shopping all collide in Munich's city center. This is perfect for those short on time and wanting to be in the heart of the historic district.
Maxvorstadt – Home to two universities and many of Munich's world-class museums, the Maxvorstadt neighborhood is a lively hotpot for culture and fun just north of the Altstadt. Perfect for those wanting a more diverse area outside the historic neighborhood.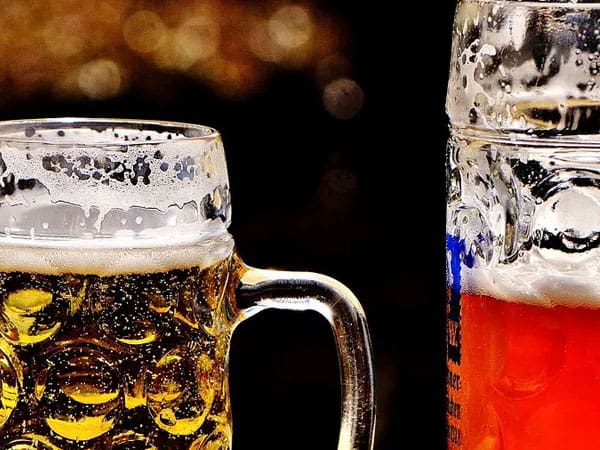 Munich is known for…
Munich is famous for its breweries and beer. Helles, a pale lager with a translucent gold color, is the most popular Munich beer today; however it hasn't been around as long, and is the result of a change in beer tastes. Helles has largely replaced Munich's dark beer, Dunkles, which gets its color from roasted malt. It was the typical beer in Munich in the 19th century, but today it is more of a specialty. Starkbier is the strongest Munich beer, containing 6%-9% alcohol; it is dark amber in color and has a heavy malty taste. It is available, and popular, during the Lenten Starkbierzeit (strong beer season) which begins on or before St. Joseph's Day (March 19).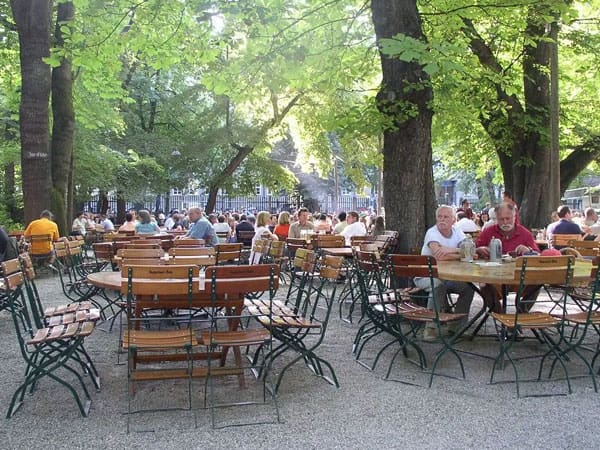 The beer garden…
Biergärtens (beer gardens) are the most famous and popular fixtures of Munich's gastronomic landscape. They are central to the city's culture and serve as a kind of melting pot for members of all walks of life – for locals, expatriates, and tourists alike.
Munich's Famous Glockenspiel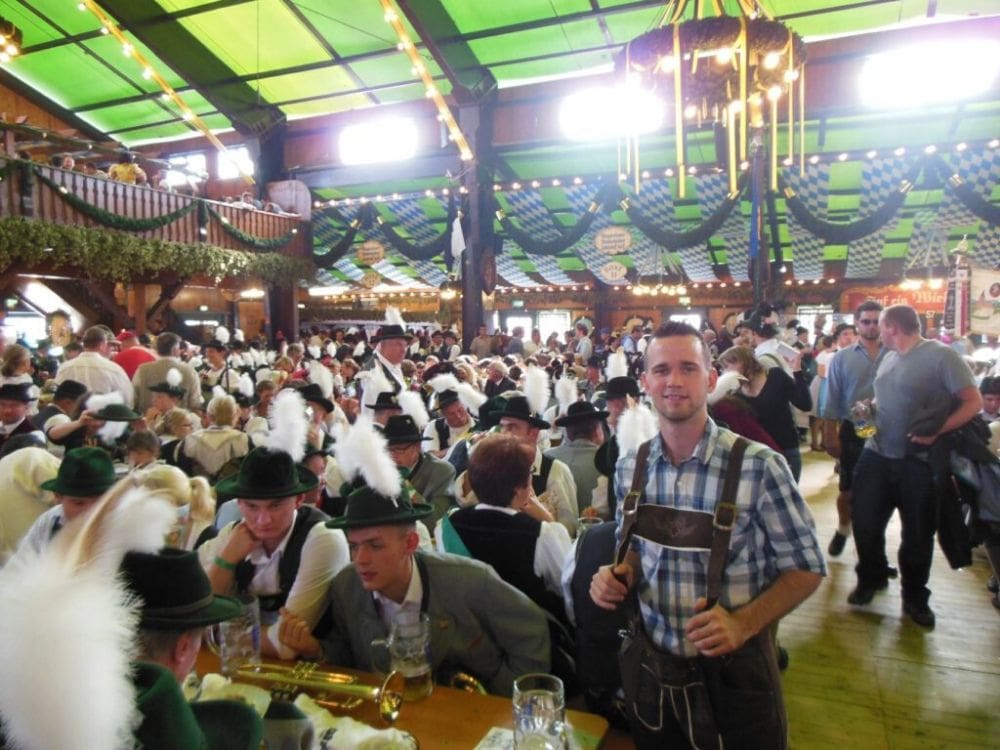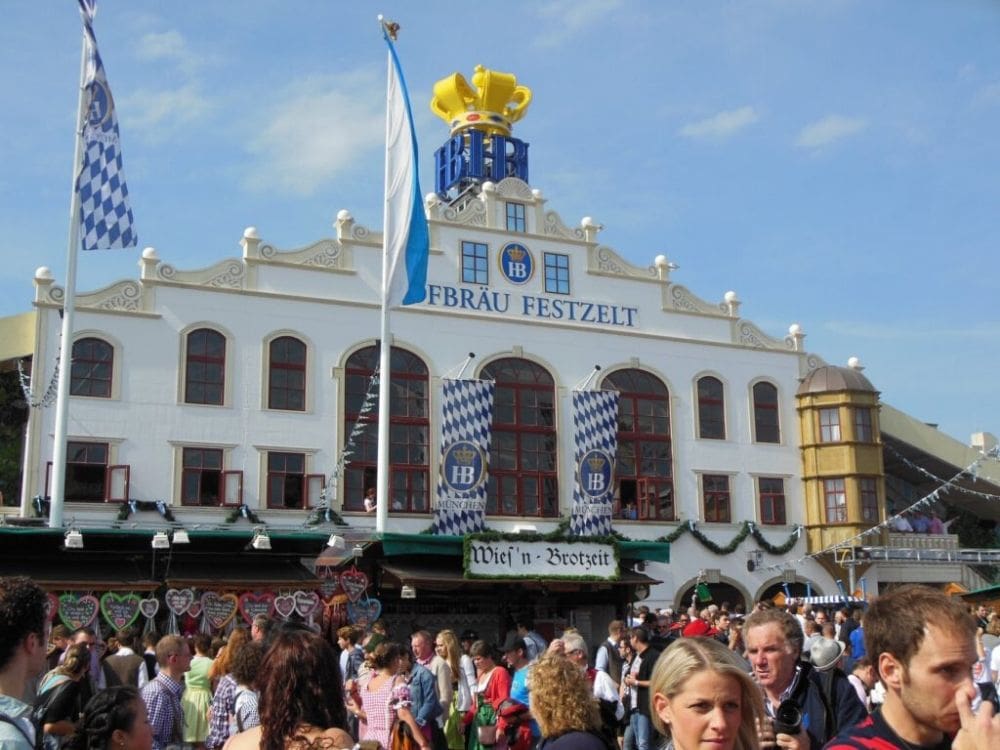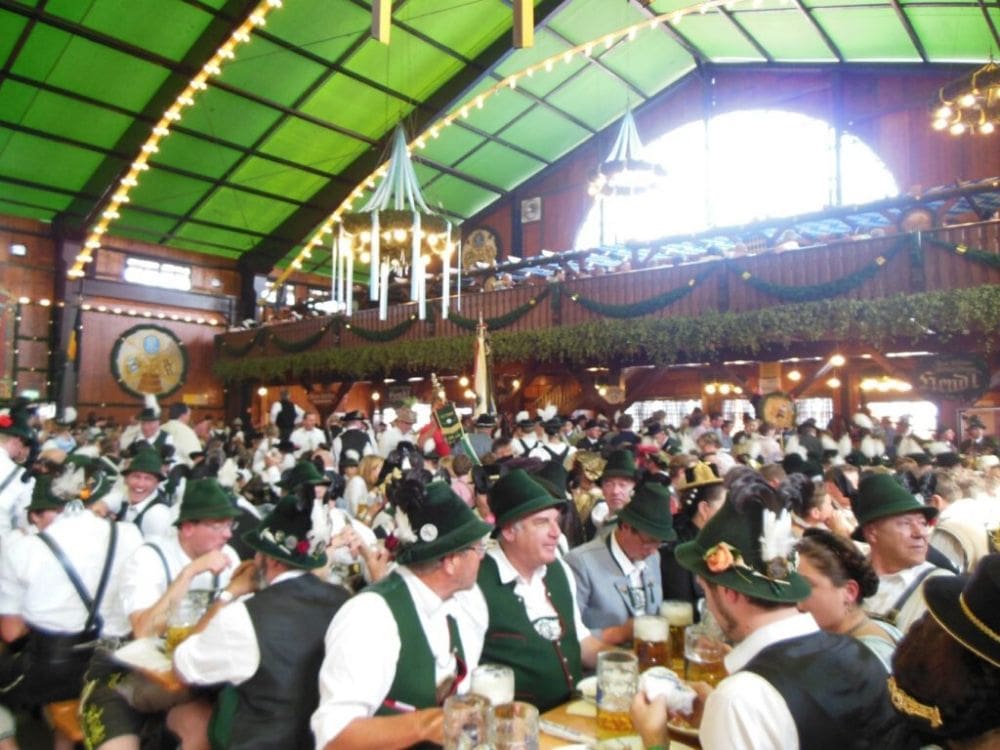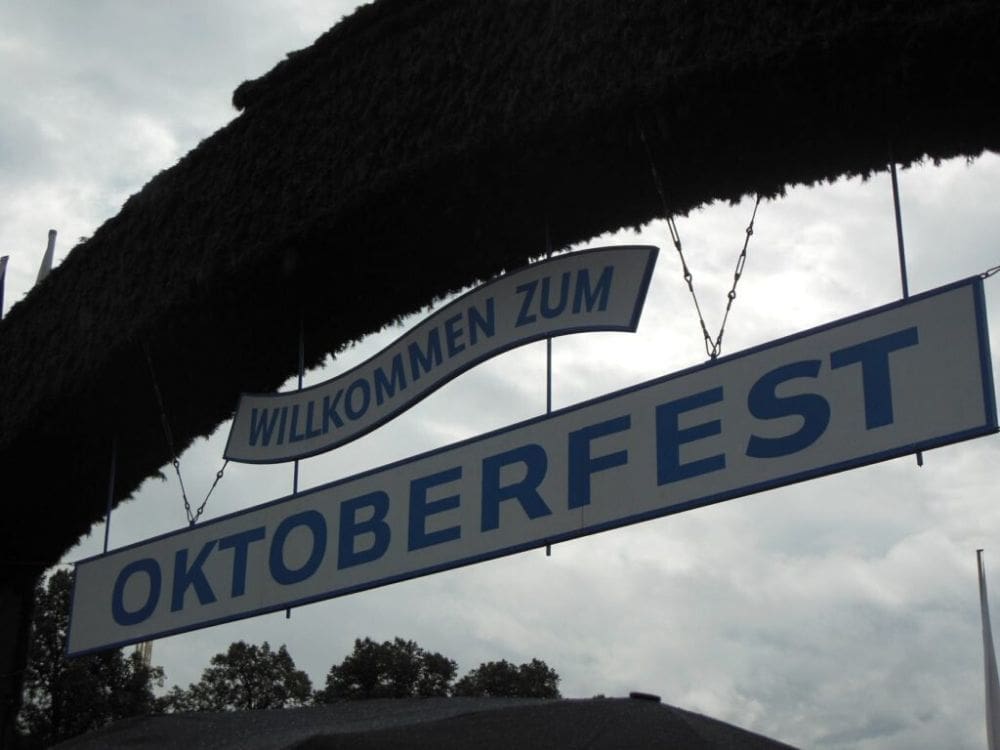 Surviving Oktoberfest in Munich
Oktoberfest in Munich, Germany is officially the largest 'Peoples Fair' in the world. With over six million annual visitors, the festival covers over one hundred acres of ground in central Munich. The origins of Oktoberfest dates back to 1810 with the wedding of Crown Prince Ludwig I, and the massive party that he threw for the Bavarians afterward. Locals decided they should make an annual tradition out of it and every year Bavarians, along with people from all over the world, come down to Munich to put on the biggest party of the year.
I was here in 2012 with some good friends from my studies in Cardiff and we decided to rent a place just a few minutes from the fair grounds. The annual festival is pretty amazing, especially for a single guy it's easy to get sucked into. But, Oktoberfest is not all about booze and brats; it's about good humored frivolity, celebration, and camaraderie. I learned some great tips on how to properly experience and survive the largest beer festival in the world.
One of the most important things you need to know about Oktoberfest are the different beer tents, which look more like permanent buildings than temporary tents. There are fourteen major tents scattered around the fairgrounds mostly along the main strip. Every tent has a different personality and vibe. No two tents are the same with each one serving its own beer, which are the breweries each tent is named after.
If you want a well-rounded experience of Oktoberfest it's recommended to visit more than one tent. Some are rowdy with a younger crowd and some are more mild with an older crowd. The most famous tent, The Hofbrau, is always a good time but it's usually jam packed. I enjoy the smaller tents which often have more locals and less of a crowd to compete with.
The Schottenhamel tent is where the Mayor of Munich taps the first keg to officially begin the festivities. Augustiner is a personal favorite of mine as well with a big space, good beer, and a good mix of people. The best thing to do is wander around a bit to find your own vibe. But, be warned as many of the tents will be overloaded and reservations are recommended to guarantee yourself a spot. Reservations are easy and some you can get just a few days beforehand.
An important thing to remember is that most tents require you to sit at a table to order beer. The best plan, if you're like me and want to free wheel it, is to show up early and get a table at any tent, get your drinks in, then wait to about mid-day until everybody is already drunk and then you can pretty much roam through the other tents freely.
It's difficult not to have a blast at Oktoberfest, but there are a few tricks of the trade to have a little more fun by respecting cultural observations made by previous patrons. Invest in a Lederhosen (for a guy) or Dirndl (for a girl). Some can be quite pricey, but if you look in the right place you will be able to find them at a reasonable rate. Try looking online as well. It's worth the money, trust me.
Know the German drinking songs. The most popular one, which is sung every 20 minutes, is Ein Prosit. This is the famous song you see in videos with Germans standing on table tops sloshing their beers and swaying from side to side with their arms wrapped around each other. You feel more at home if you know the words.
Come prepared with a few basic German phrases. The most important ones are:
-A Beer Please: Ein bier bitte
-Thank You: Danke
-A more polite thank you: Danke schoen
-Cheers: Prost! (with emphasis)
-You are beautiful: Du bis winderschön
-You have nice eyes: Ich mag deine augen
Make a reservation. I've touched on this already but it's worth repeating. Many tents allow you to reserve a night or two before so it's always worth checking. If you don't make a reservation get there early. Tents open at 9am so be on time as it fills up quickly. The best thing to do if you don't have a reservation is to get there early, stay until midday, and wait for the entry lines at other tents to slow down.
I've seen people come to Oktoberfest every year thinking they are going to stay a week or more and do the festival every day. The reality is after a couple full days of drinking with Germans, you are reallllly tired. I would suggest two or three days at Oktoberfest for the festival which should be more than enough to get a full experience, and then leave a day or two for checking out the city itself. Munich on its own is one of Europe's coolest cities.

Wander around the Marienplatz
Wander around outside Hofbräuhaus
Peek inside St. Peter's Church
"My wife and I have worked with Jack at Guidester now on two trips in Europe. One was a self guided adventure in Ireland and the second was a trip to Italy where he personally led the adventure. And in both cases he has put us in the must see places."
"My husband and I spent two weeks in southern England and relied on the Guidebook from start to finish. From what to see, what to eat, and how to get there, the Guidebook was invaluable. We were provided with pertinent logistic information as well as the most interesting pubs and restaurants. We experienced small towns and pubs that we would never have ventured into had it not been for the wealth of information the Guidebook contained. It took all of the guesswork out of enjoying the history and beauty of England. I will without hesitation use its expertise in future travel!"
"This was our 2nd trip to Europe. We definitely didn't want a cookie cutter trip, on a tour bus, that took us past 7 cities in 8 days. Jack plans his tours very carefully and he is very knowledgeable regarding the sites we visited. The groups are small so you have a chance to get to know your fellow travelers."
Choose The Service that Works Best for You!
Guidester provides several options to choose from to best suit your traveling needs. Choose one or choose all!
Get a personalized digital travel guide for Europe, curated by locals. It downloads to your phone and offers top recommendations for each destination.
Guidester simplifies international travel by assisting you with itinerary planning, hotel and airfare bookings, and tours. We also help you avoid errors and common pitfalls.
Join the Guidester Founder on a hand-crafted small group tour, exploring off-the-beaten-path destinations and experiencing unforgettable adventures.