Rome has always been the beating heart of Italy with 2,700 years of history, and a global influence in art, architecture, and culture that is difficult to measure. From ancient ruins to Renaissance palaces, quaint cafes to elegant restaurants, Rome offers mystery and timeless beauty around every corner. There is truly never a dull moment in the Eternal City.
Basilica Santa Maria Maggiore
One of the four Patriarchal Basilicas of Rome, Maria Maggiore was built by Pope Liberio who is said to have seen the Virgin Mary in his dreams on August 5th 356. This is one of the most celebrated and beautiful churches in Rome that brings pilgrims from all over the world.
Palazzo Spada
Palazzo Spada holds the powerful Cardinal Spada's vast collection which includes art by Rubens, Dürer, Caravaggio, Guido Reni, Titian, Jan Brueghel the Elder, Guercino, and Domenichino. Also waiting to be discovered is Borromini's Prospective Gallery, a Baroque masterpiece built in 1652. This is a must-see, off-the-beaten-path attraction.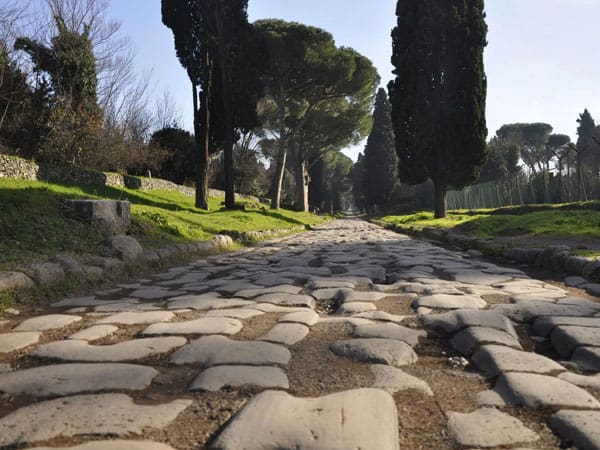 Appia Antica
Located just outside the city center, the Appian Way, or Via Appia Antica, is an ancient Roman road built by Appius Claudius in the 5th century B.C. to connect Rome with southern Italy. Stroll along the 2,500 year old ancient thoroughfare which displays many still-standing burial monuments to the Roman elite families that ruled the Empire over the ages.
Montemartini Centrale Museum
Set in Rome's first public electrical power plant, the Centrale Montemartini Museum presents marble statues from the Capitoline Collection set against the backdrop of preserved turbines, diesel engines, and steam boilers to create one of the most thought-provoking museum spaces Rome has to offer.
Hotel Raphael
Beautiful hotel located at the north end of Piazza Navona with a perfect rooftop terrace overlooking central Rome. Just walk straight past the front desk and you'll see the elevator. Head up the 5th floor then follow the signs to the terrace for lovely views of Roma.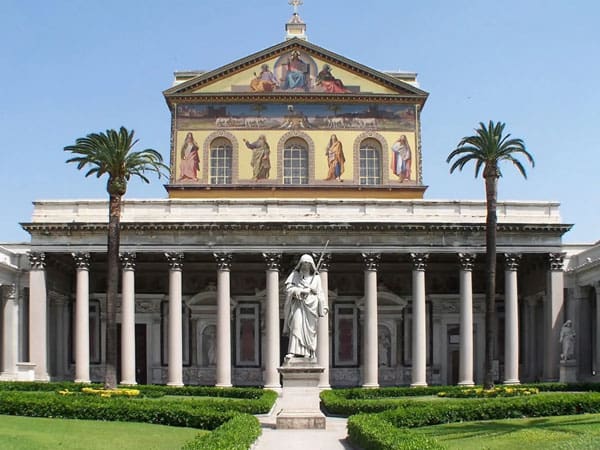 St. Pauls Outside the Wall
Located at the presumed burial place of St. Paul, the basilica lies outside the Aurelian walls of Rome, hence its name. The architecture and famous works of art alone are worth the visit, but you will find on display the traditional chains of St. Paul when he was imprisoned in Rome.
Borghese Gallery
Holding the largest collection of Bernini statues in the world, the famous palace turned art gallery is situated on the grounds of Villa Borghese, and first constructed in the 17th century by Cardinal Borghese to showcase his many collected works of art.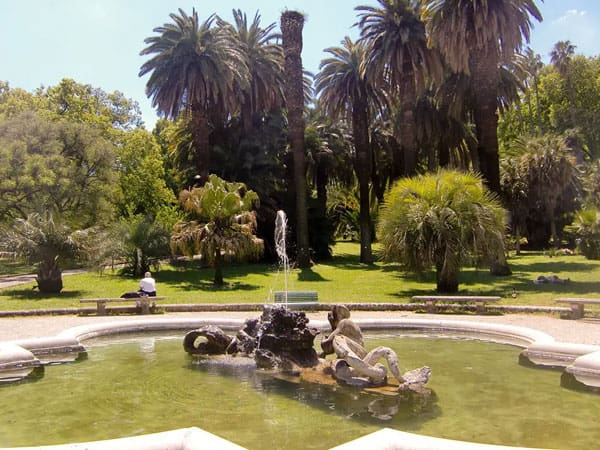 Botanical Gardens in Trastevere
The quiet and shady Orto Botanico in Trastevere is one of Europe's finest small botanical gardens. It was laid out in 1883 over 30 acres and currently run by Rome's University, La Sapienza.
The Centro Storico is the beating historical center of Rome that includes major sites like Piazza Navona, the Pantheon, and the Trevi Fountain. Stay here if you are short on time and want to pack as much of the historical city center as possible. 
Monti is oldest rione of Rome, and today a splendid little neighborhood jam packed with traditional quaint mom-and-pop-style trattoria's and high-end boutiques. Stay here if you want local shopping and prefer a more suburban setting.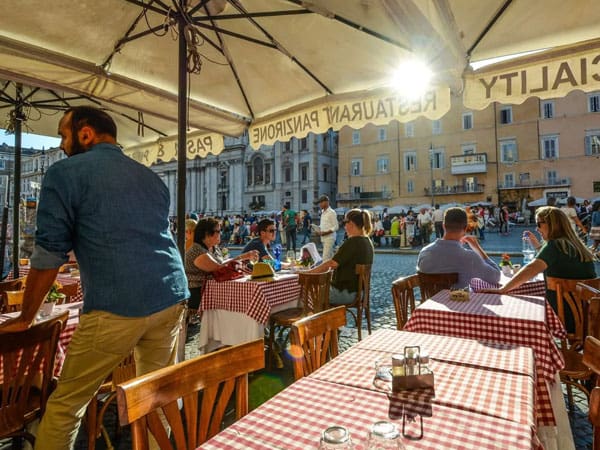 When in Rome…
An outdoor dining experience is a must do in Rome, one of the things the Eternal City is famous for. Although a bit touristy, Piazza Navona is a great spot with a bustling atmosphere filled with restaurants and cafes offering alfresco dining and chairs facing out for the best people-watching, while musicians stroll and play for you. For a more local experience head to Piazza Coppelle, a smaller more secluded square just a few blocks north of the Pantheon.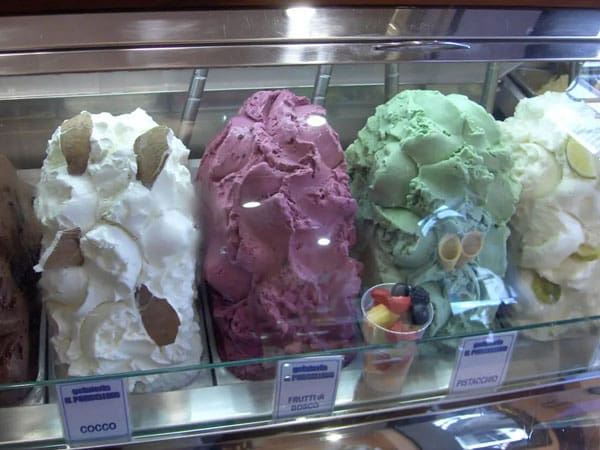 If you're looking for gelato
Giolitti is a famous ice cream shop close to the Pantheon is arguably the best gelato in central Rome! A must visit on your trip to the Eternal City.
What NOT to Miss in Rome, Italy
Colosseum Walking Tour – 4K
St. Peter's Basilica Walking Tour
Ancient Rome Reconstructed
Ancient Rome in 20 Minutes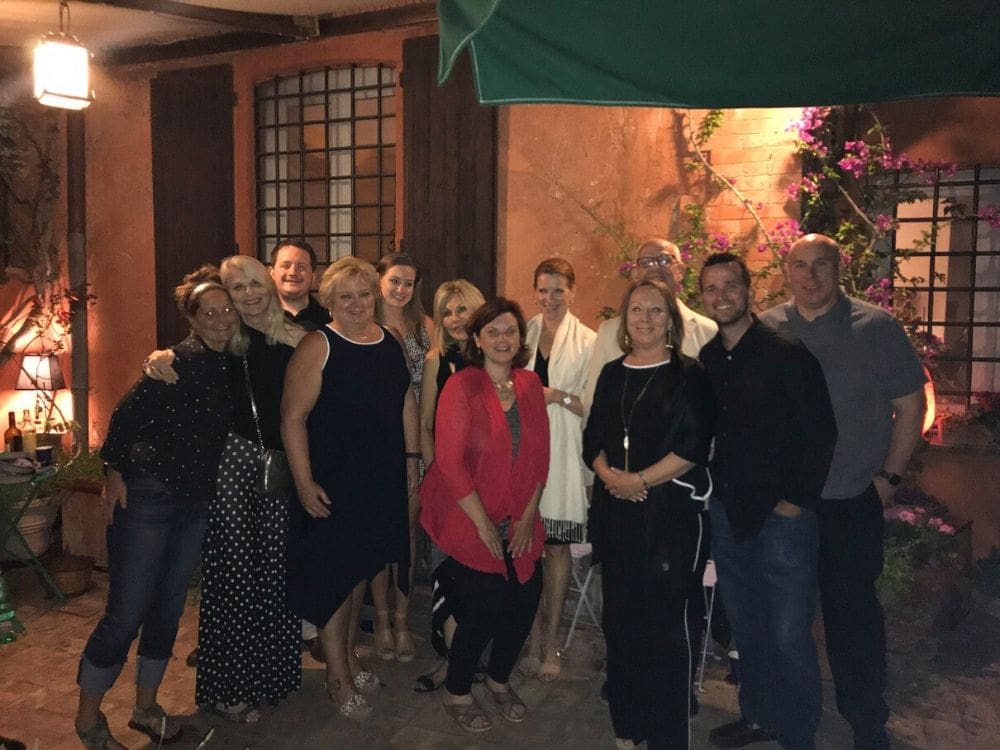 The Appian Way, built by Appius Claudius in the 4th century B.C. was a main thoroughfare in ancient Rome used by traders, merchants, soldiers, and aristocrats; and it's still in use today.
There I was on the oldest road in Rome, and really one of the oldest continuously used roads in the world, taking in the ancient ruins, charming restaurants, old churches, magical flora, and quaint villas that have been in the same family for generations.
Walking down the 2,500 year old ancient road will send chills down your spine as you remember this was the same road Julius Caesar and his adopted son Augustus, the first emperor of Rome, would have walked down.
I absolutely love Rome, and I've been lucky enough to see the Eternal City on six separate occasions. On this particular occasion I was leading a tour group through Italy with three full days scheduled in Rome.
On a prior trip I met a few local Romans and we quickly struck up a friendship. Luckily for me, one of these lovely locals lived on the ancient Appian Way in an old Italian villa. She was kind enough to extend an invite to her villa to experience an authentic Roman meal in the traditional way. This was truly special.
There we were in a 300 year old Italian villa directly on the Appian Way that had been passed down in the family for generations. What an amazing history we were allowed to be apart of for the evening.
We were greeted at the door with hugs and kisses, "baci, baci,", and a beautiful garden setup with tables, chairs, and wonderful little plates of food. We ate the amazing dishes that were prepared for us, drank local Italian wine, and swapped our favorite travel stories.
My favorite part of the night may have been when the host brought out her personal books and artifacts highlighting all that had been uncovered in that area. We were able to physically touch, learn, and be apart of the amazing history that helped shape the western world. What an amazing experience!

Stroll the Ancient Appian Way​
Look inside the Colosseum
Join the crowds on the Spanish Steps
Explore the famous Piazza Navona
Walk around St. Peter's Square
"My wife and I have worked with Jack at Guidester now on two trips in Europe. One was a self guided adventure in Ireland and the second was a trip to Italy where he personally led the adventure. And in both cases he has put us in the must see places."
"My husband and I spent two weeks in southern England and relied on the Guidebook from start to finish. From what to see, what to eat, and how to get there, the Guidebook was invaluable. We were provided with pertinent logistic information as well as the most interesting pubs and restaurants. We experienced small towns and pubs that we would never have ventured into had it not been for the wealth of information the Guidebook contained. It took all of the guesswork out of enjoying the history and beauty of England. I will without hesitation use its expertise in future travel!"
"This was our 2nd trip to Europe. We definitely didn't want a cookie cutter trip, on a tour bus, that took us past 7 cities in 8 days. Jack plans his tours very carefully and he is very knowledgeable regarding the sites we visited. The groups are small so you have a chance to get to know your fellow travelers."
Choose The Service that Works Best for You!
Guidester provides several options to choose from to best suit your traveling needs. Choose one or choose all!
Get a personalized digital travel guide for Europe, curated by locals. It downloads to your phone and offers top recommendations for each destination.
Guidester simplifies international travel by assisting you with itinerary planning, hotel and airfare bookings, and tours. We also help you avoid errors and common pitfalls.
Join the Guidester Founder on a hand-crafted small group tour, exploring off-the-beaten-path destinations and experiencing unforgettable adventures.