Widely considered one of the most attractive towns in Germany, Rothenburg ob der Tauber lies along the 'Romantic Road' tourist route. Picturesquely positioned along the River Tauber, the old city walls and towers have remained untouched since the Thirty Years War of 1618.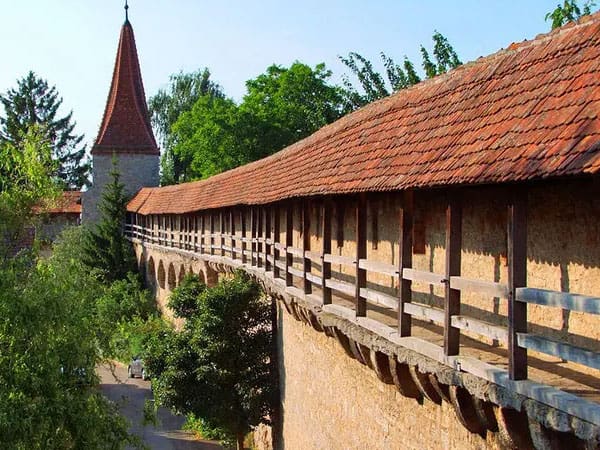 Walk The City Walls
A must-do while in Rothenburg is a walk around the Old Town walls. This fascinating and attractive walk is best started from the Spitaltor, a massive gatehouse built in the 1500s, and heading toward the equally stunning Rödertor, stopping along the way to enjoy the views. English guided tours are available of the town walls at the Visitor's Center.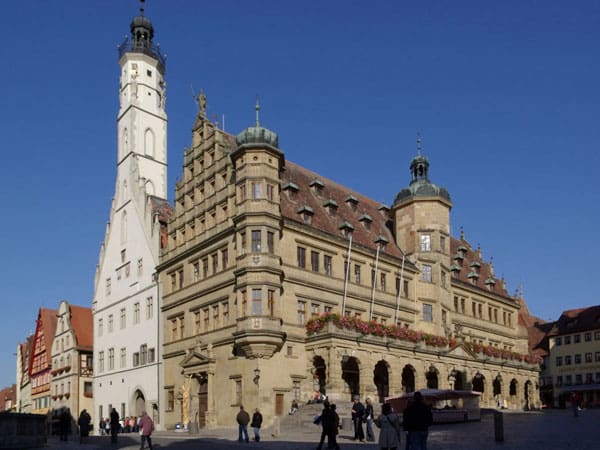 Town Hall
Dominating the town is the imposing Town Hall (Rathaus), one of the finest in southern Germany. The oldest part of this majestic building was constructed in the 13th century and you can climb the town hall's tower to get a bird's eye view of both the town and surrounding countryside.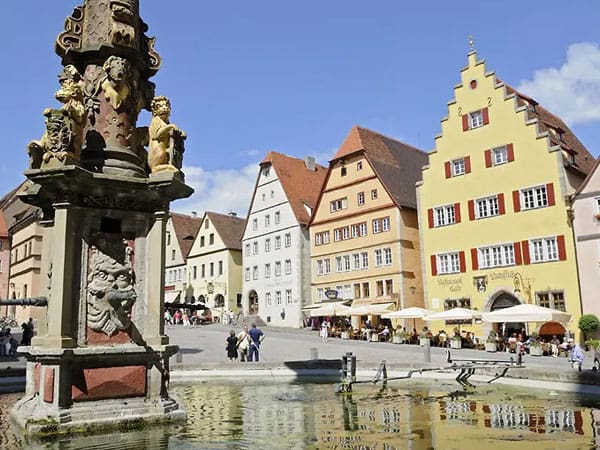 Night Watchman Tour
This tour through the historic Old Town with its romantic alleyways and picturesque squares offers insight into different aspects and epochs of Rothenburg history. An absolute must do on any visit to Rothenburg if you're into history and folklore.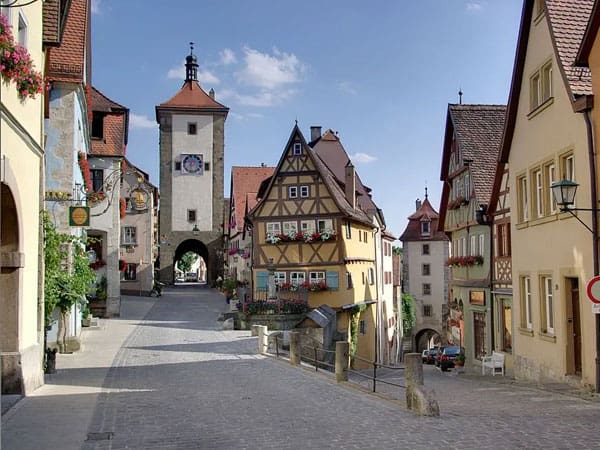 Plönlein Street
Plönlein is the most photographed street in Germany and looks like something right out of a fairytale book. Literally translated as "Little Square," it's really nothing more than an intersection. Stand facing the tall, skinny half-timbered building dividing the two streets for the best photo opp.
The best place to stay if you're planning a night in Rothenburg is inside the old city walls. As it's a small, walkable city anywhere inside the walls is a good location and if you can get a spot with a lovely terrace with stunning views over the valley that's an added bonus.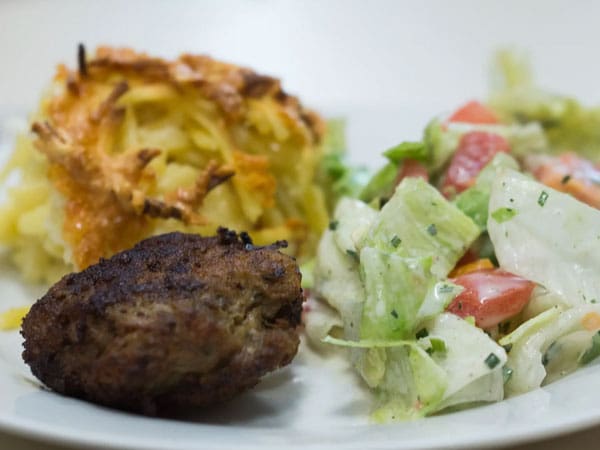 German cuisine
Traditional German food is often heavy and rich with meals including meat such as pork, beef, and poultry. Though there are many traditional dishes Germany is known for, each region has its own recipes with a great deal of diversity.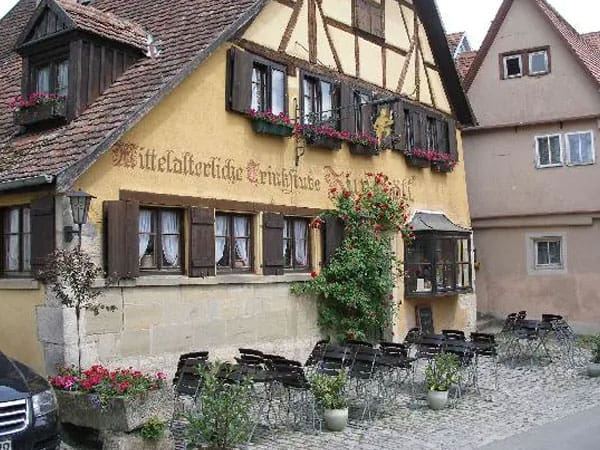 Our favorite place to eat…
Our favorite place to eat…
Dating back to circa 900, Zur Höll is the oldest and one of the most beautiful houses in Rothenburg. Meaning literally, to Hell, a warm welcome awaits as you may savour excellent wine (some of the best in Germany) and regional cooking in the old world atmosphere.
Rothenburg ob der Tauber, Germany
Christmas Markets in Germany
Best Restaurant in Rothenburg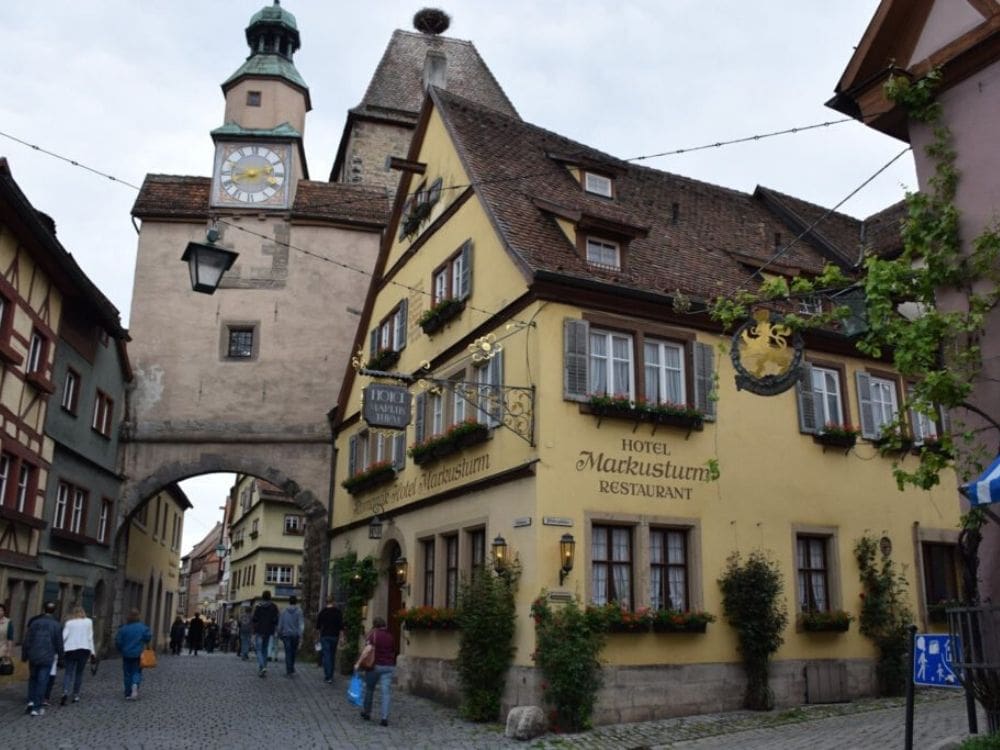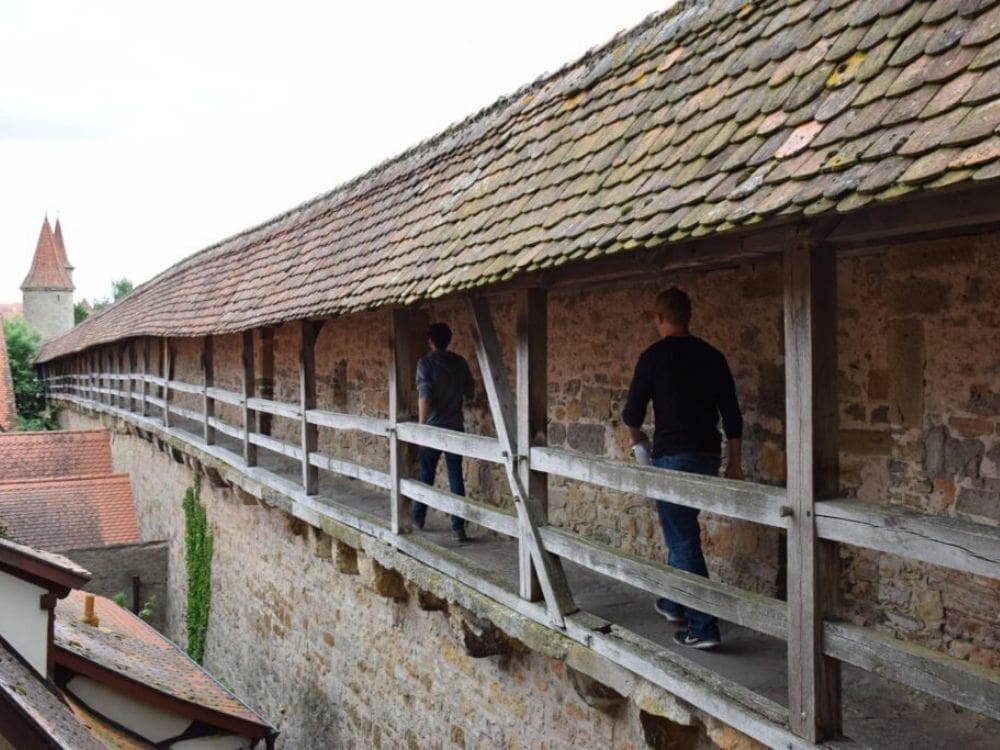 Walking the Medieval City
Rothenburg ob der Tauber is one of the best-preserved medieval towns in Europe, and the most famous stop along the 'Romantic Road'. The old Bavarian Imperial City is also widely considered one of the most attractive towns in Germany, with visitors flocking in from all over the world every year. The walls and buildings look much as they did in the 16th century with half-timbered houses and characteristic steeply pitched roofs along narrow stone-paved streets.
I visited Rothenburg in 2016 on a trip with some friends making my way from western Germany all the way down to southern Croatia. On that two week road trip we hit Germany, Austria, Hungary, Bosnia, and Croatia – Rothenburg definitely stood out as one of my favorites.
The medieval city still has its fortified city walls completely in tact which means you can walk around the entire circuit. The thing to do for most visitors is simply to embrace the charm of the old town and walk along the old walls. I grew up in Missouri so my access to medieval walled cities was limited to say the least. Rothenburg hit me as an amazing piece of history but also brought out that little kid inside me who always wanted to explore castles and medieval fortifications. Running around the maze of fortified walls and the small narrow streets below transported me into some distance story that I read when I was a child. In all there are 42 gatehouses and towers, so be sure to allow enough time to see as many as possible along your own walking tour.
If you aren't into walls and fortified structures as much as I am you will still love the town itself. The sheer charm of its buildings and narrow streets make for a lovely stroll, with the way their streets cross over each and intersect seemingly on purpose to create a unique picture like no other. One such street is the famous Plonlein Street. Literally translated as "Little Square," this is really nothing more than an intersection inside the city walls. Skinny half-timbered buildings dividing the two streets, dating from the early 13th century. This is the most photographed street in Germany.
Rothenbrug is awash with beautiful old churches, world class museums, castle gardens, and, architecturally interesting buildings. I spent about half the day here and wish I could have spent several days. It's a great stopping point on the road to another destination but it's also a major destination in its own right!

"My wife and I have worked with Jack at Guidester now on two trips in Europe. One was a self guided adventure in Ireland and the second was a trip to Italy where he personally led the adventure. And in both cases he has put us in the must see places."
"My husband and I spent two weeks in southern England and relied on the Guidebook from start to finish. From what to see, what to eat, and how to get there, the Guidebook was invaluable. We were provided with pertinent logistic information as well as the most interesting pubs and restaurants. We experienced small towns and pubs that we would never have ventured into had it not been for the wealth of information the Guidebook contained. It took all of the guesswork out of enjoying the history and beauty of England. I will without hesitation use its expertise in future travel!"
"This was our 2nd trip to Europe. We definitely didn't want a cookie cutter trip, on a tour bus, that took us past 7 cities in 8 days. Jack plans his tours very carefully and he is very knowledgeable regarding the sites we visited. The groups are small so you have a chance to get to know your fellow travelers."
Choose The Service that Works Best for You!
Guidester provides several options to choose from to best suit your traveling needs. Choose one or choose all!
Get a personalized digital travel guide for Europe, curated by locals. It downloads to your phone and offers top recommendations for each destination.
Guidester simplifies international travel by assisting you with itinerary planning, hotel and airfare bookings, and tours. We also help you avoid errors and common pitfalls.
Join the Guidester Founder on a hand-crafted small group tour, exploring off-the-beaten-path destinations and experiencing unforgettable adventures.