Strasbourg is a historic, dynamic, and architecturally appealing city in the heart of Europe. The city is a beautiful blend of French and German, having changed hands between the two many times over the centuries. Strasbourg serves as the official seat of the EU and a hotbed of culture, architecture, museums, theaters, and festivals. It's easy to fall in love with this captivating medieval destination.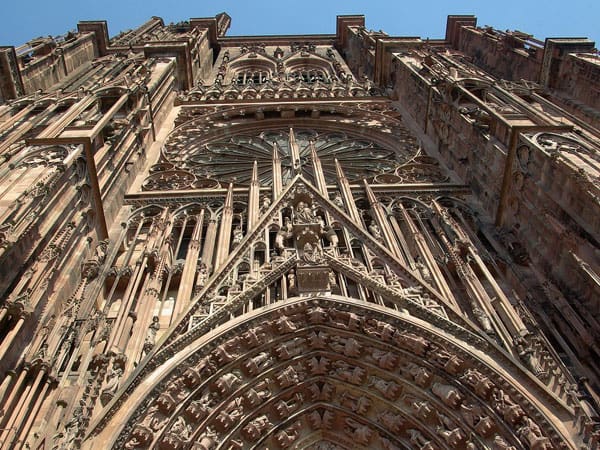 Strasbourg Cathedral
An outstanding masterpiece of Gothic art, Strasbourg's Romanesque Cathedral is one of the most storybook churches you will ever see. The grand structure towers over the surrounding cityscape and nearly every square inch of the building is ornately carved. Go to the top of the cathedral platform for unparalleled views of the city.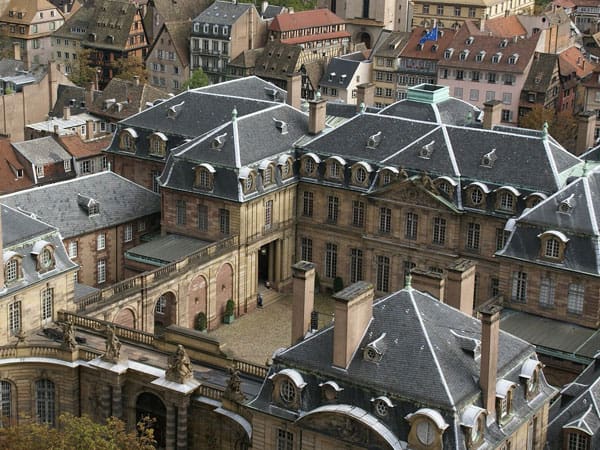 Palais Rohan
Designed by a royal architect, Rohan Palace is some of the best preserved 18th century French architecture that exists today. The great palace was named after Cardinal Rohan, a French bishop, and houses not one but three museums: Archaeological Museum, Museum of Decorative Arts, and Museum of Fine Arts.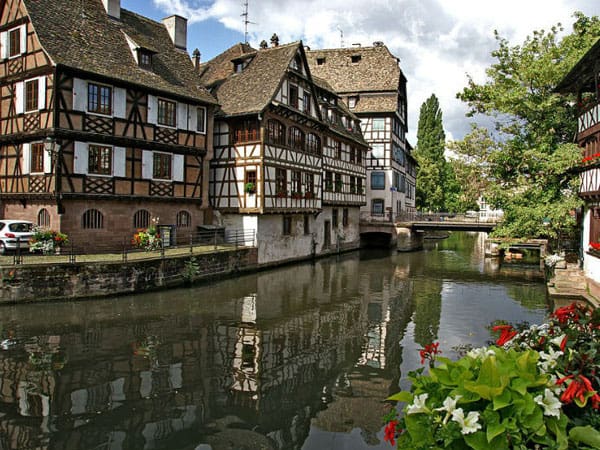 Petite-France
Petite France or 'Little France' is a charming piece of Strasbourg that itself is a UNESCO World Heritage Site. Colorful half-timbered houses, bridges, canals, cobblestone streets, cute cafes, bridges and plazas define this charming area of the city that you should not miss.
Musée Alsacien
Alsacien is a museum that will show you what life was like in medieval France before the industrial age of the 18th and 19th centuries. Inside are traditional clothing, mortuary items, furniture, and toys of yesteryear depicting the many periods that formed what Strasbourg is today.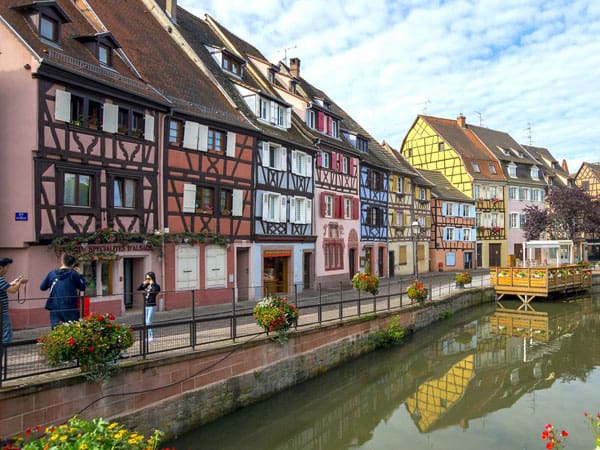 Colmar
Less than an hour away from Strasbourg via train, Colmar is dubbed as 'Little Venice' because of its many canals. The old town of Colmar is
If you're staying in Strasbourg you would be best served staying either close to the Cathedral inside the historic center, or near the train station for easy access in and out of the city.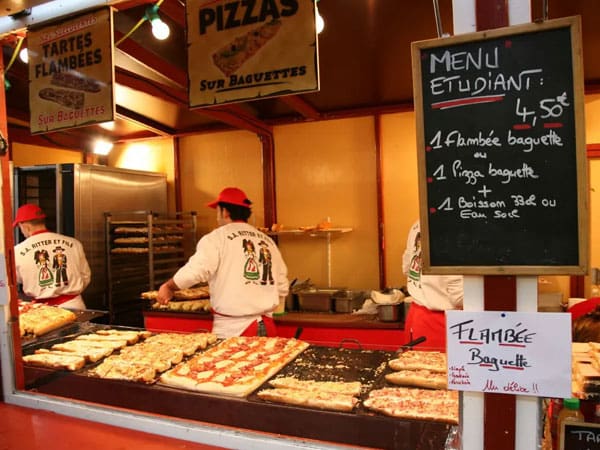 Cuisine in Alsace
Alsatian dishes (local dishes of Alsace) include Sauerkraut with meat (Kassler, frankfurter, smoked Alsace sausage, salt pork, smoked bacon & potatoes), Knuckle of Ham Braised in Pinot Noir (sauté potatoes & green salad), duck Foie Gras and S'Kaechele Snails with Roquefort Cheese.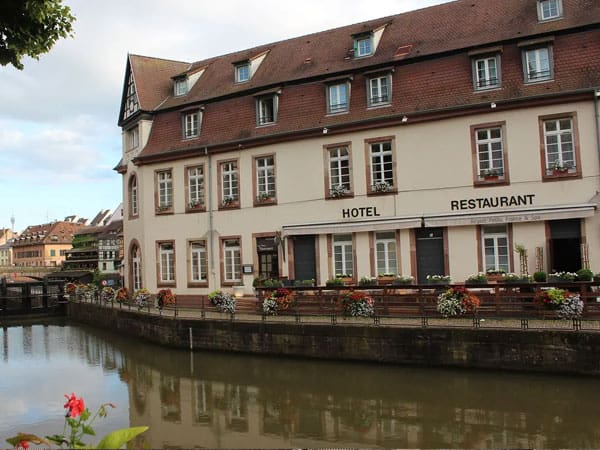 A Guidester favorite…
S'kaechele is run by a couple serving delicious traditional Alsatina dishes. It is best to book in advance as this restaurant is a popular place.
Strasboug, Alsace, France
36 Hours in Strasbourg, France
Strasbourg Cathedral, France
Le Palais Rohan – Region Alsace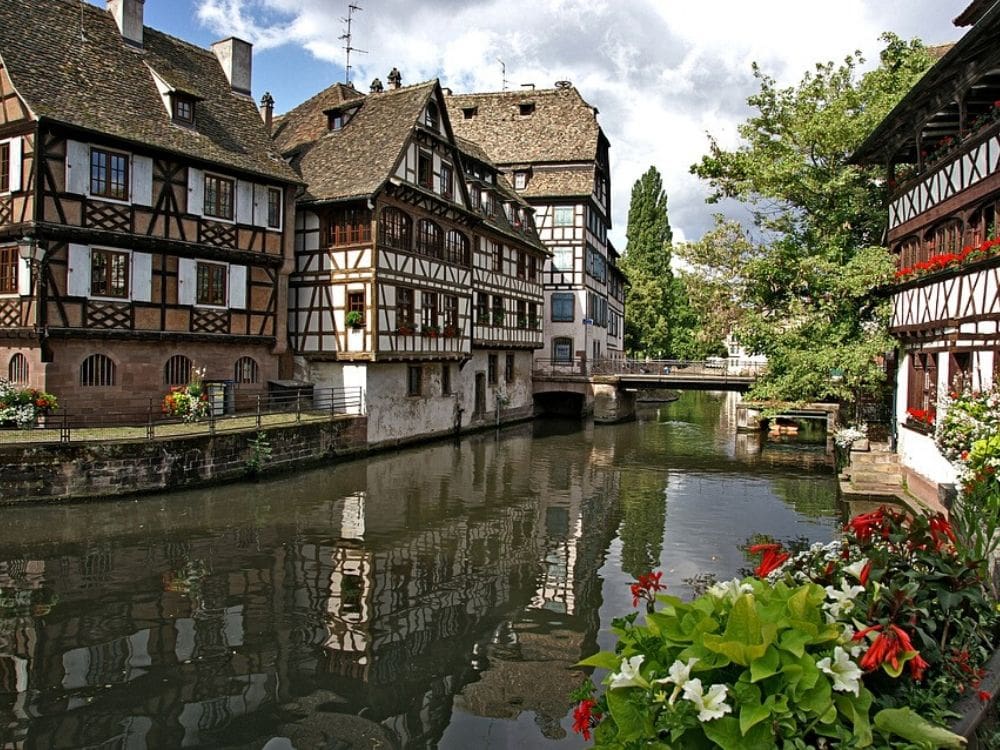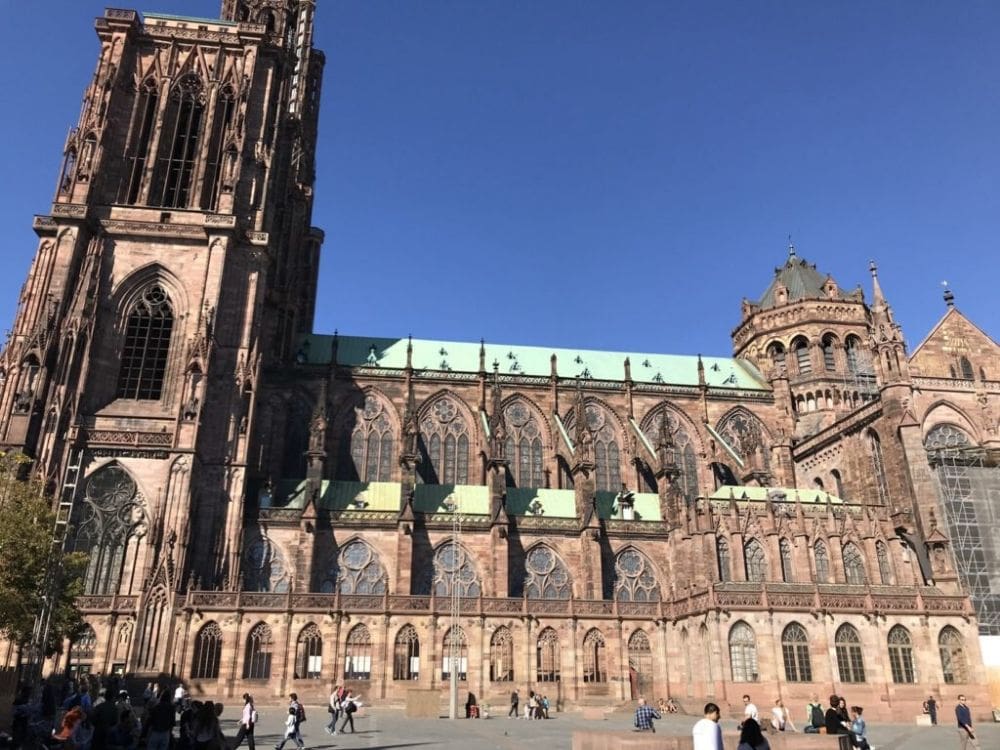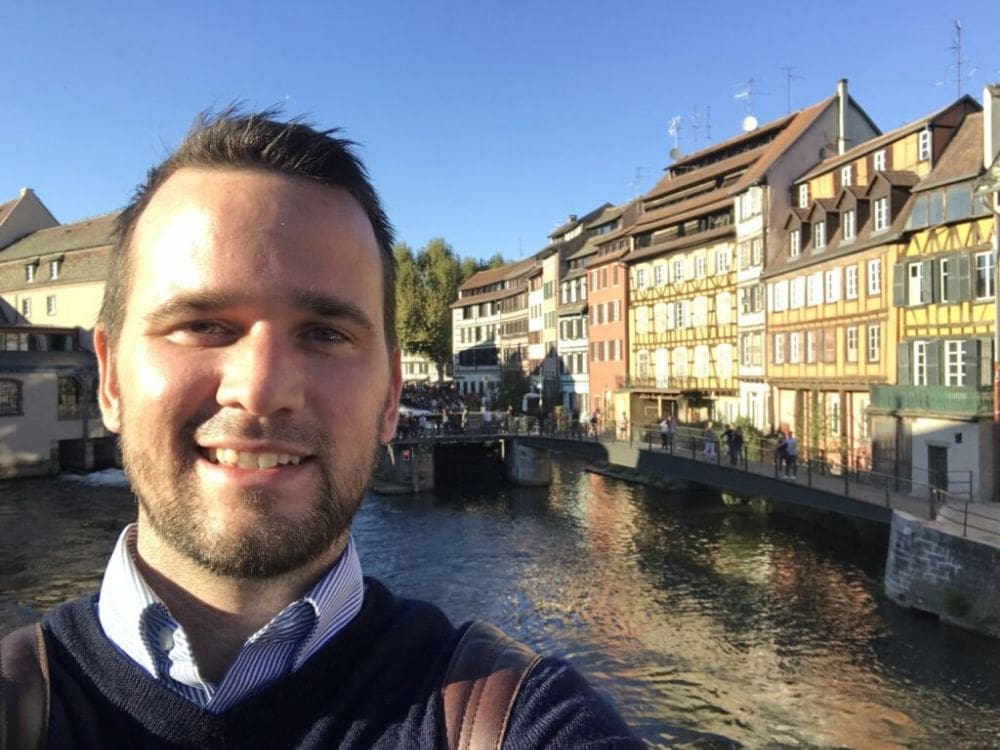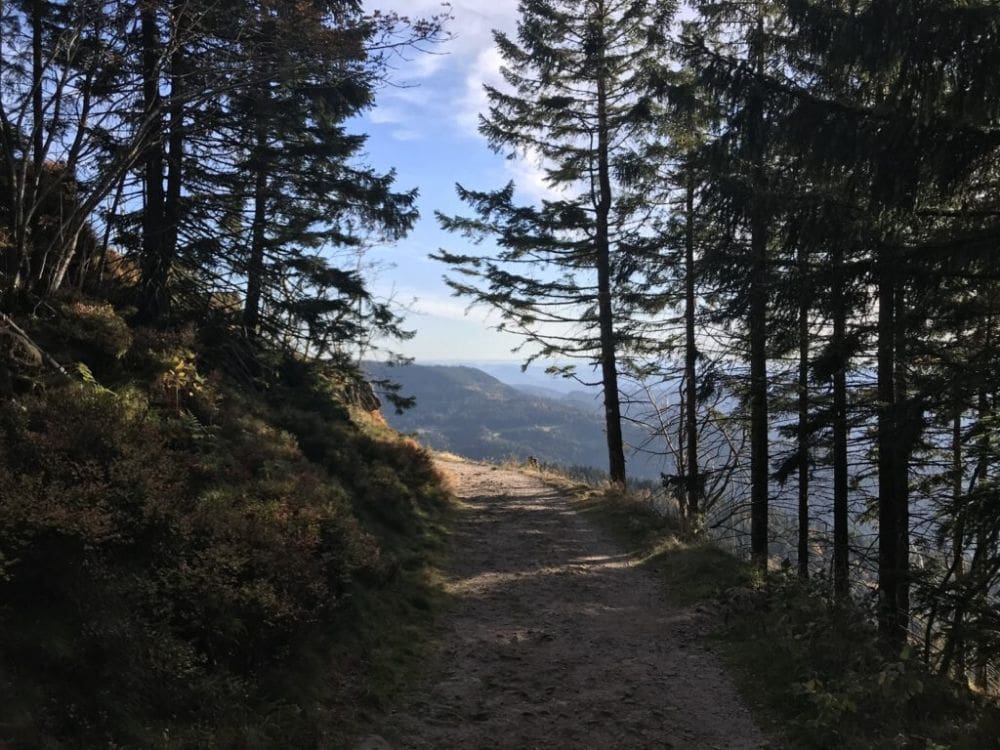 Strasbourg and the Black Forest
Serving as the official seat of the EU Parliament, Strasbourg is a historic, dynamic, and architecturally gorgeous city. It surprised me with its lively side, and I discovered the city serves as a hotbed of culture, museums, theaters, operas, concert halls, and festivals. The bustling city is completely walkable with everything you'd want to see and do within easy reach. Whether you're looking for local restaurants, attractions, or entertainment, there's no doubt that you'll soon fall in love with this captivating medieval destination.
I arrived in Strasbourg via train which lies on the western edges of the city. Only a short walk it didn't take me long to reach the historic center. And then BAM. There it was. The imposing Strasbourg Cathedral.
Most travelers will approach the same way along the main thoroughfare running up to the front of the cathedral and will be awestruck by its sheer size and grandeur. The magnificent structure towers over the surrounding cityscape and nearly every square inch of the building is ornately carved. Here we are in the 21st century with 1,000 foot skyscrapers in our modern cities and I am still awed by buildings that were built 500-1,000 years ago. Can you imagine how the people of that time felt? They must have been completely dumbfounded seeing it for the first time.
An outstanding masterpiece of Gothic art, Strasbourg Cathedral is one of the finest images of the Middle Ages that you will ever see. The construction of the Romanesque cathedral began in 1015, but only the crypt and original footprint remain. The current structure is made of pink sandstone which changes color according to the time of day, and the lighting effects around the cathedral are simply magical to watch, especially on summer evenings. I took time to explore the interior and then proceeded to climb up the 465 ft spire overlooking the city.
Encircled by the River Ill, Strasburg has mirrored the changing fortunes of France and the Alsace region for hundreds of years. It's easy to explore Strasbourg's different districts on foot, each of which has its own distinct identity intimately related to its history and locals.  You will notice some parts of the city seem typically German, while others feel very French.
Strasbourg has changed hands many times between the two countries over the centuries, even as recently as WWII when it was occupied by Germany. This gives the city a distinct flavor that is unique and refreshing. Must sees for history and architecture lovers include, of course, Strasbourg Cathedral dominating the cityscape, but also La Petite France and Rohan Palace; home to three museums; Museum of Decorative Arts, Museum of Fine Arts, and the Archaeological Museum.
After I walked the historic center, saw the major sights, and immersed myself in the beauty of the ancient city, I headed for the little district with magnificent half-timbered houses and wooden galleries; La Petite France. La Petite France is perhaps the most famous district in Strasbourg, dating back to the 16th and 17th centuries. I was just amazed at how well preserved the buildings were and it really felt like I had stepped back in time to old Europe. After I soaked it all up and took an adequate amount of photos, I stopped to have lunch at one of the local restaurants.

Just a short drive from Strasbourg lies the legendary Black Forest. Located in a large mountain range in Southwest Germany, the Black Forest or Schwarzwald in German, is home to the nation's outdoor destination, the inspiration for the Grimm Brothers' fairytales, and world-renowned thermal spas. Black Forest is a popular vacation spot for locals and tourists alike. With the Rhine valley to the west and south, this area is defined by its many hills, large valleys, wide rivers, dense forests, and quaint villages. I spent a day here hiking while visiting a friend in Germany, but you could easily spend several days in this one region alone. There's plenty to see and do, and just taking the time to soak it all up is what it's all about.
Places of note in the Black Forest are Hausach, located in the Kinzig valley on the Westweg (West Trail) which is the most well-known and most popular long-distance hiking trail in the Black Forest. If you're into waterfalls the Triberg waterfalls are worth a visit, the highest in Germany. Another popular spot is Gutach, home of the Bollenhut, a traditional ladies' hat topped with pom-poms, which is a symbol for the Black Forest as a whole. If you want more German culture you can head into Schiltach, home of old half-timbered houses, raftsmen, and, local tanners. This village was first mentioned as a parochial village in 1275 and stretches far back into medieval history.
I spent most of my day in the Black Forest hiking around the area and stopping in a few little villages. If you're wondering where the Black Forest got its name just take a walk through the woods and you'll understand. The trees are packed so tightly together that even on a bright sunny day the denseness of the forest makes it appear almost black with the lack of sunlight. This also means wildlife is less abundant than a typical forest which creates an almost eerie silence. The dramatic scenery combined with the natural mystery surrounding the area makes it easy to see how all the fairy tales and folklore were created over the years.

"My wife and I have worked with Jack at Guidester now on two trips in Europe. One was a self guided adventure in Ireland and the second was a trip to Italy where he personally led the adventure. And in both cases he has put us in the must see places."
"My husband and I spent two weeks in southern England and relied on the Guidebook from start to finish. From what to see, what to eat, and how to get there, the Guidebook was invaluable. We were provided with pertinent logistic information as well as the most interesting pubs and restaurants. We experienced small towns and pubs that we would never have ventured into had it not been for the wealth of information the Guidebook contained. It took all of the guesswork out of enjoying the history and beauty of England. I will without hesitation use its expertise in future travel!"
"This was our 2nd trip to Europe. We definitely didn't want a cookie cutter trip, on a tour bus, that took us past 7 cities in 8 days. Jack plans his tours very carefully and he is very knowledgeable regarding the sites we visited. The groups are small so you have a chance to get to know your fellow travelers."
Choose The Service that Works Best for You!
Guidester provides several options to choose from to best suit your traveling needs. Choose one or choose all!
Get a personalized digital travel guide for Europe, curated by locals. It downloads to your phone and offers top recommendations for each destination.
Guidester simplifies international travel by assisting you with itinerary planning, hotel and airfare bookings, and tours. We also help you avoid errors and common pitfalls.
Join the Guidester Founder on a hand-crafted small group tour, exploring off-the-beaten-path destinations and experiencing unforgettable adventures.