There is no city quite like London. Its attractions and places of interest are world class and cater to all tastes and all ages. Here's a useful travel guide to London that will save you time, money, and enhance your experience!
London is one of the world's great mega-cities that fascinates and attracts millions of visitors each year. And for good reason. It is one of those great cosmopolitan centers that offer the visitor not just an endless choice of museums and landmarks, but also an unforgettable experience.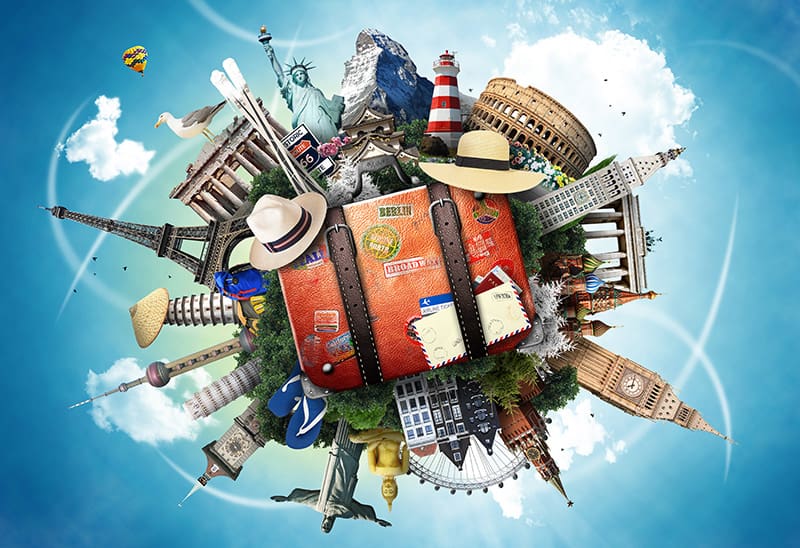 Take a free virtual vacation to London from the comfort of your couch.
Getting Around London
Ride The Tube
The London Underground rail network, or "the Tube" is a great way to travel to and from Central London and will most likely be an integral part of your visit to the capital.  The service generally runs between 5am and midnight, Monday to Saturday, with reduced operating hours on Sunday.
The tube can be tricky at first but get yourself an official tube map at any station and you will pick it up quickly. The map is very useful, clearly indicating the general directions used to designate trains (north, south, east or westbound), and with all interchanges clearly shown.
Tip: Purchase an oyster card if you plan to stay multiple days. Oyster cards give you a discount and there is a quick swipe on the tun stile so you don't have to buy and enter your tickets in every stop.
Rent a Santander Bicycle 
Anyone can rent a bike in London. All you need is a debit or credit card and a good sense of direction. If you're looking for a relaxing afternoon, grab yourself a bike from one of the self-service cycle bays and head across the town. It's a great way to see the city and you'll be saving lots of  time and money too.
Tip: For the first 30 minutes you will be charged £2. After that 30 minutes is up, return it to any bicycle dock. Wait a few minutes and then request another bicycle. This time it will be free, as long as you return it after 30 minutes.
Take A Taxi/Uber
Uber is typically cheaper than a black cab in London but they can't use bus lanes like official cabs can.  Black cabbies fan be found in abundance around central London. If their sign is lit up that means they are open for business.
Walk The City

 
London is one of the most foot-friendly cities in the world and much has been done to improve London's pedestrian environment even further. Walking means you can beat the traffic while soaking up the view. Traveling within Central London on foot can save time as many landmarks are fairly close to each other. It's all about the planning!
What to See and Do

Houses of Parliament and Big Ben
Originally, the Palace of Westminster was the primary living quarters of the English monarch until the 16th century when it became the official meeting place of Parliament. The name Big Ben refers to the bell inside the tower, but not the clock or tower itself which is so often assumed.
Tip: The best angle for a great photo can be found while on a Thames River Cruise.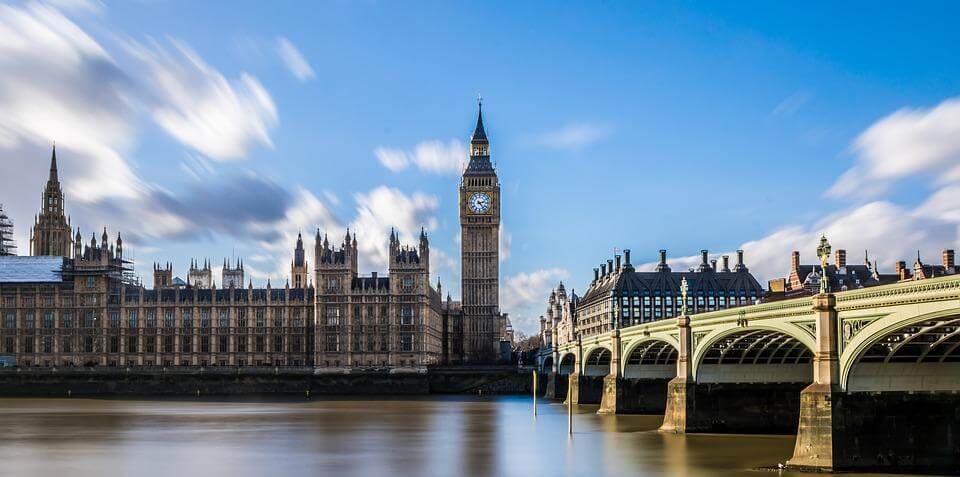 Thames River Cruise 
From the awe-inspiring Houses of Parliament to the ancient Tower of London and onto the Royal Palace of Greenwich, experience the best views the Capital has to offer while enjoying a carefree cruise along the River Thames. 
See more for less with  River Red Rover, hop-on, hop-off sightseeing ticket!  24 or 48 hour tickets give you unlimited travel between our four piers. You'll enjoy the freedom of the river on our open deck river-liners with these great value tickets. Take in the views every inch of your journey with comfortable passage between our four piers.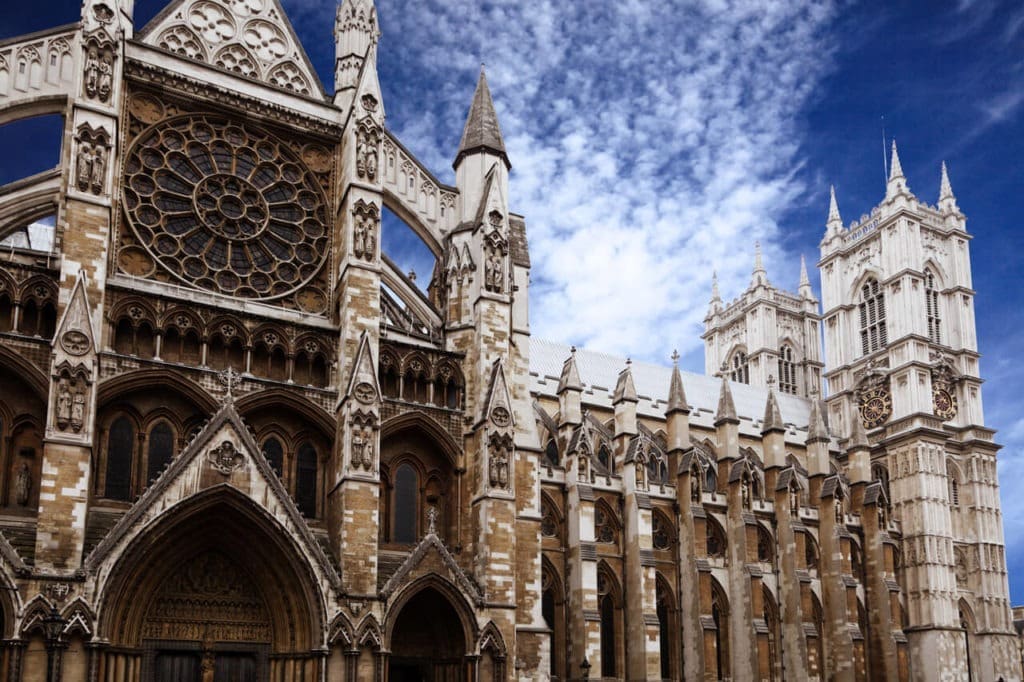 Westminster Abbey 
This remarkable 13th century Gothic church has served as the official coronation and burial place for English monarchs for hundreds of years. The Abbey's history is made up of famous Kings and Queens, as well as renowned poets and priests, and even heroes and villains were embroiled in its past.
Audio guides (free with entry) are available in eleven languages or there is the highly-popular verger-led tour.
What are the best local pubs?
Where some great off-the-beaten-path spots?
Guidester can help plan your best trip from your first flight to your last night! 
Relax at a park
There are many large green parks in central London for locals and visitors alike. Hyde Park, once a royal hunting ground, comprises 630 acres in central London that serves as the city's greatest recreational area.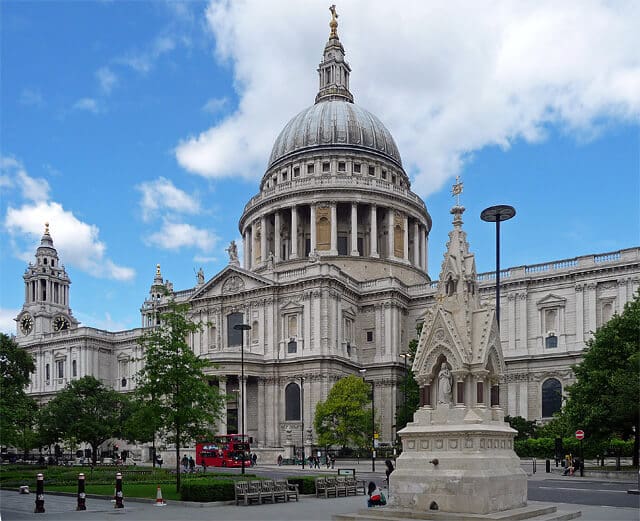 St. Paul's Cathedral
Designed by one of London's most infamous architects, Christopher Wren, St. Paul's Cathedral the Church of England Cathedral dates to the late 17th century and is one of the finest sights in the whole city.
The price of admission includes entry to the Cathedral floor, crypt and the three galleries in the dome. Admission also includes multimedia guides and guided tours. Climbing to the top of the dome for the best view of the city is a must!
Read More: Top 10 Cathedrals in England, Scotland, and Wales
London Markets
London is especially known for it's amazing markets. The markets are ideal shopping destinations, selling everything from food to flowers, modern art to antiques, clothes to curios. My personal favorite is Borough Market, not far from Southwark Cathedral. 
Large, sprawling markets such as Spitalfields, Camden Market or Portobello Road are ideal if you want to spend a day wandering about, hopefully finding a few bargains along the way.
Tip: Greenwich Market is great for gifts and local designers, and you can't beat Borough Market for a quick bite.
Experience the London Theater
London is bursting with plays and performances that defy stuffy conventions to offer you an experience that's more like a real life adventure than an evening at the theater.
London's equivalent of Broadway, Shaftesbury Avenue headlines the biggest plays in the country. Well worth a wander around as it's a neat cultural hub in London. 
See what's playing during your visit.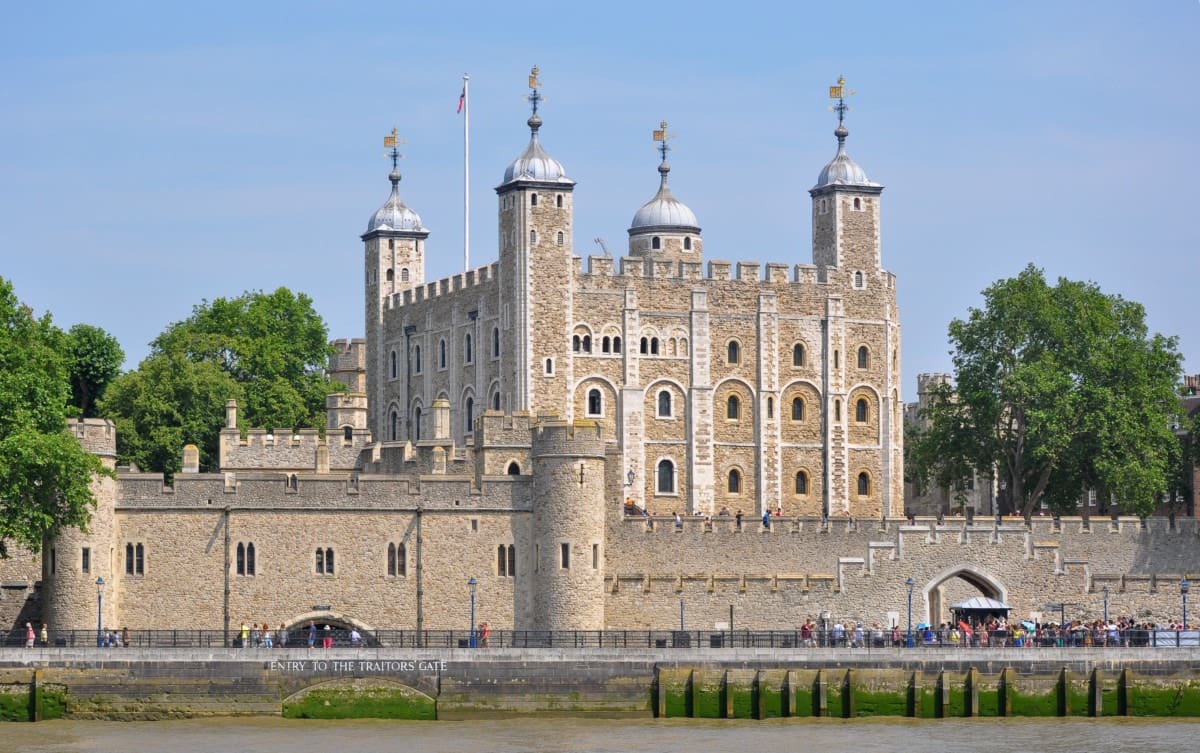 Tower of London
The Tower dates back to William the Conqueror who built the complex as a fortress, and has throughout the ages become infamous for its role as a royal prison.
Despite the Tower of London's grim reputation as a place of torture and death, within these walls you will also discover the history of a royal palace, an armory and a powerful fortress. Don't miss Royal Beasts and learn about the wild and wondrous animals that have inhabited the Tower, making it the first London Zoo.
Climb The Monument
Standing at 202 ft, this great stone Doric pillar stands at the very spot where the great fire of 1666 began, which ushered in a new golden age for the city. Most people don't realize you can climb to the top to get great views of the surrounding city.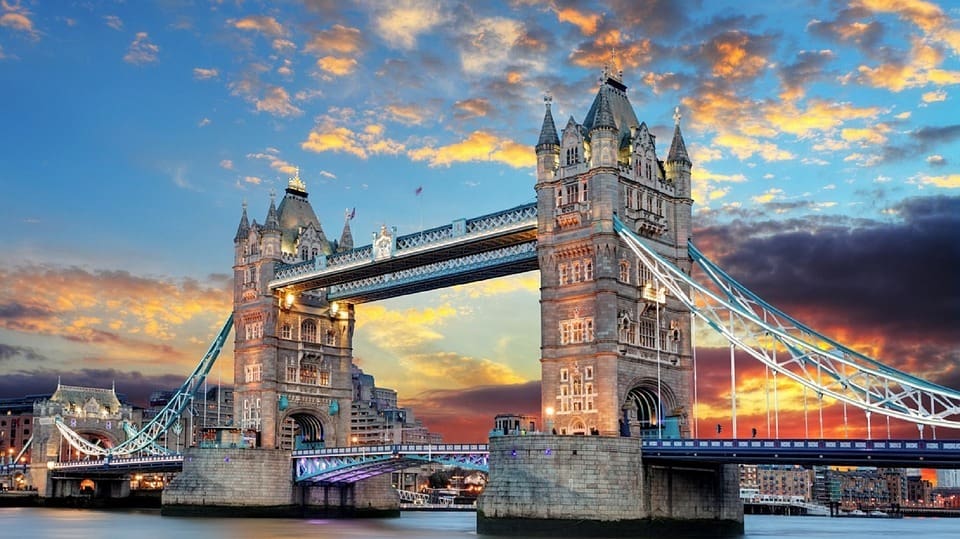 Tower Bridge
Stretching across the River Thames near the Tower of London, from which it receives its name, the bridge was the world's first combination and suspension bridge.  A great exhibition of the Bridge's construction and history can be found along the catwalk on the top floor.
Shakespeare's Globe Theater 
Located on the bank of the River Thames in Bankside's Cultural Quarter, Shakespeare's Globe welcomes thousands of visitors each year to experience world-renowned productions of Shakespeare. The present building is a reconstructed likeness of the real Globe Theater, but nonetheless is a great visualization of its former glory.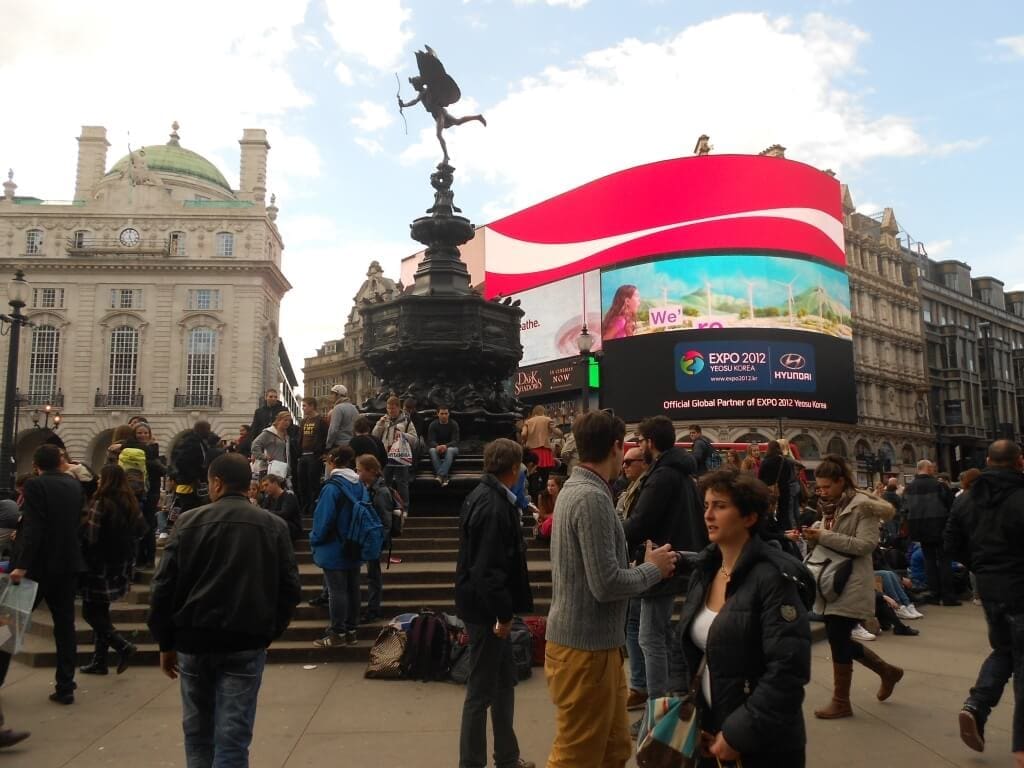 Picadilly Circus
This famous junction has been a vibrant scene of city life in London since the early 19th century and has lost none of its luster into modern days! Full of liveliness and fun the circus is always sure to provide entertainment.
Where to Eat
From fancy French fusion to traditional pubs, London has it all.  I would recommend spending the bulk of your dining time at traditional Pubs; the absolute staple of London and British life.
The Salisbury
My personal favorite pub in London. As Queen Victoria's favorite London pub, this historic site sits at the heart of the West End, complete with beautiful Victorian decor of cut-glass mirrors, old-fashioned banquettes, and bronze, lighting fixtures.
The Dog and Duck
Located in the heart of Soho, this bustling Nicholson's Pub never sees a dull moment. As one of Soho's historic pubs, it is frequented by locals and travelers alike. A great place to grab a pint and have a good laugh, this lively pub provides all the atmosphere you would expect in a historic British pub.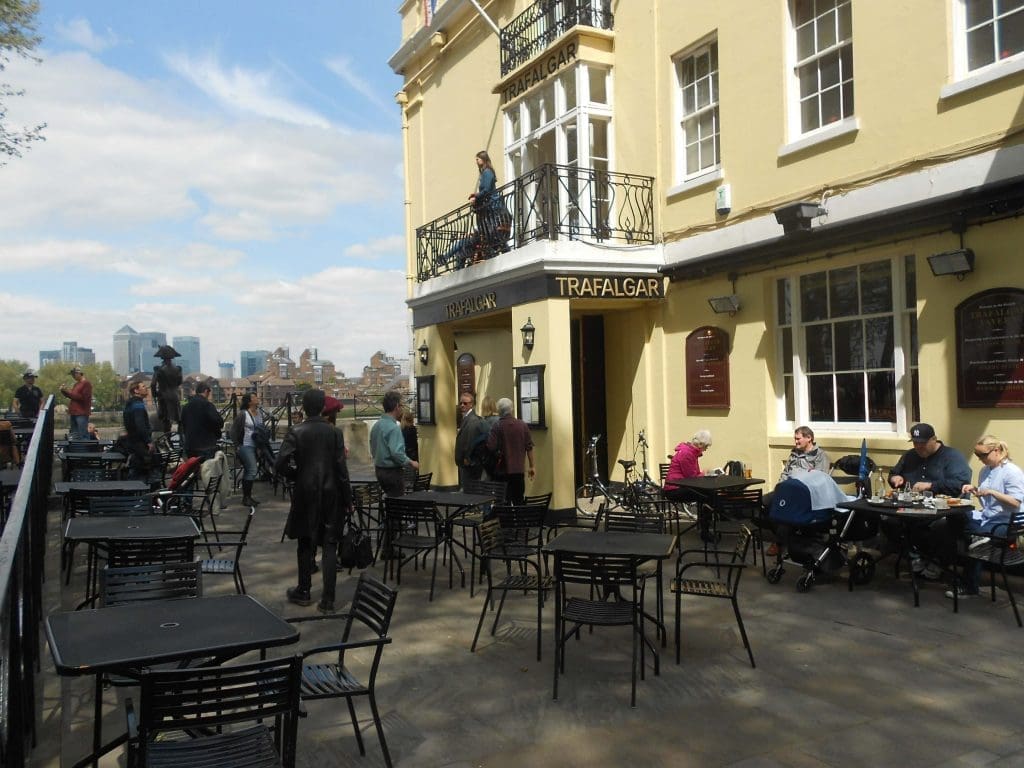 Trafalgar Tavern
Built in 1837, the Trafalgar Tavern adds to the laundry list of attractions in Greenwich. The Trafalgar has great food, a wide selection of beers on tap, beautiful Victorian décor, a friendly staff, and a nice big deck overlooking the Thames.
Ffiona's
Located in Kensington, Ffiona's is one of the great British restaurants in London. They are one of the oldest family run restaurants in the city serving traditional British food with a modern twist. Based in London for 21 years, they specialize in quality British produce, served fresh, cooked to your individual needs.
Café in the Crypt
A unique spin to your average restaurant, Café in the Crypt lies an underground crypt and serves good food at a reasonable price. You can also explore the nearby church of 'St. Martin's in the Field'.
Galvin at Windows 
Awarded a Michelin Star for its impeccable cuisine and ambiance, this Hyde Park restaurant is a destination on to itself.  With its 28th floor panoramic views of the London skyline, Galvin is a top dining destination in London.
Saving Money in London
Visit all the free attractions and museums London has to offer — Top FREE Things to Do in London
Get an oyster card. I can't stress this enough.
Tipping isn't essential. Sometimes a 10% service charge is included in the bill at hotels and restaurants but they'll usually tell you if that's the case.
Drink the tap water. The tap water in London is perfectly clean and won't harm you if you drink it.
If you're under the grand young age of 26 (or a student), over the age of 60 or perhaps traveling with your family then you'll be eligible to pick up a Railcard from any train station in London. Costing approximately £30 for one year, this card will give you 33% discount off rail and tube travel at off-peak times.  This is a massive savings if you're visiting the city multiple times.
More London Travel Tips 
Avoid Oxford Street on the weekends: A weekend shopping on Oxford Street can be something of a stressful ordeal as these streets are heaving on Saturdays and Sundays. There can sometimes be literally no space on the pavements and even the tube closes due to crowd control. If you're geared up to shop, think about heading over to Oxford Street around mid-morning, and preferably on a weekday
Travel to London during low season: Low season is between January and February and shoulder season is between mid-September and November and then again in March and April. Not only will you be able to skip some of the crowds, accommodation and entertainment rates will be cheaper.
Do not hire a car in central London: I would recommend not driving inside of London. Not only does it work out to be really expensive, but it's also very stressful. You will have to face the London Congestion Charge and incredibly high parking fees literally everywhere you go.
Download 10 Crucial Things To Do Before Traveling Abroad to help plan your next adventure; packing tips, getting foreign currency, finding the right adapters, phone plans, and more!