Santorini is the perfect romantic getaway for couples. Seriously though. This Greek island oasis is known for its whitewashed, cubiform houses that cling to cliffs above an underwater caldera (crater). They overlook the sea, small islands, and beaches made up of black, red and white lava pebbles.  Here is a quick guide to Santorini and a few must-know tips!
Getting There:
To get to Santorini, you must take a ferry from Greece itself. If already in Athens, it will be easy to catch a ferry for around 100 Euros round-trip. The ferry ride is by no means short. Expect to be on board for a good 5 hours or so. However, some ferries offer onboard food and drinks!
Tip: Be sure to purchase in advance and plan to stay in Santorini for a night or two.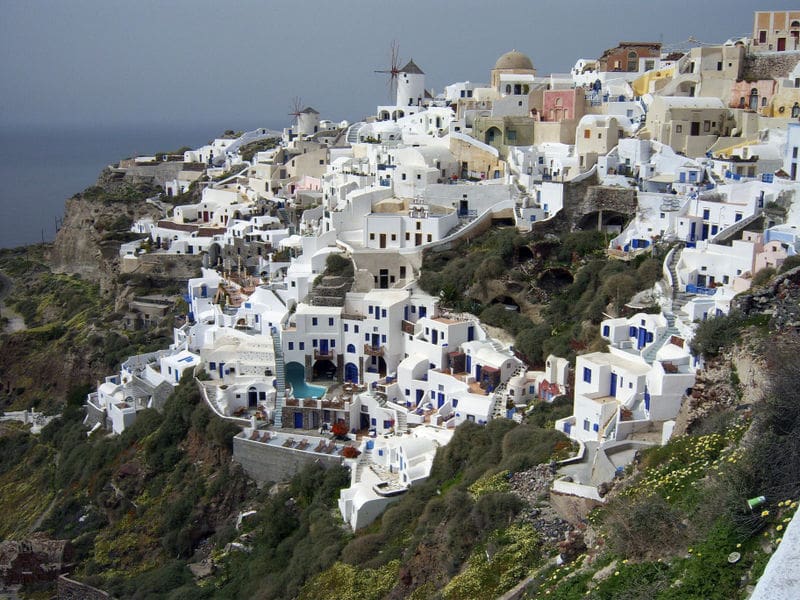 Where to Stay:
All of Santorini is beautiful, no matter where you stay. Personally, I like to choose a hotel with a great view and a pool! Check out the city of Oia for some of the best hotel rates and views. The hotels in Santorini can be sort of hostel style, which makes it great for groups or traveling friends.
Tip: For a more romantic stay, look into private rooms with a balcony!

What to Do:
Everyday in Santorini is an adventure. Be sure to walk through the cobblestone streets and browse the little shops along the way. Fira is another gorgeous town on the Island where you can enjoy a delicious Greek salad.

Tip: Make sure you explore the local bookstores for some authentic finds.

For The Sunset:
To get the best sunset photo, head to Ia. This is the perfect spot to capture the sunset in all its glory. This is the best part about Santorini and I highly suggest you bring a good camera for this part!