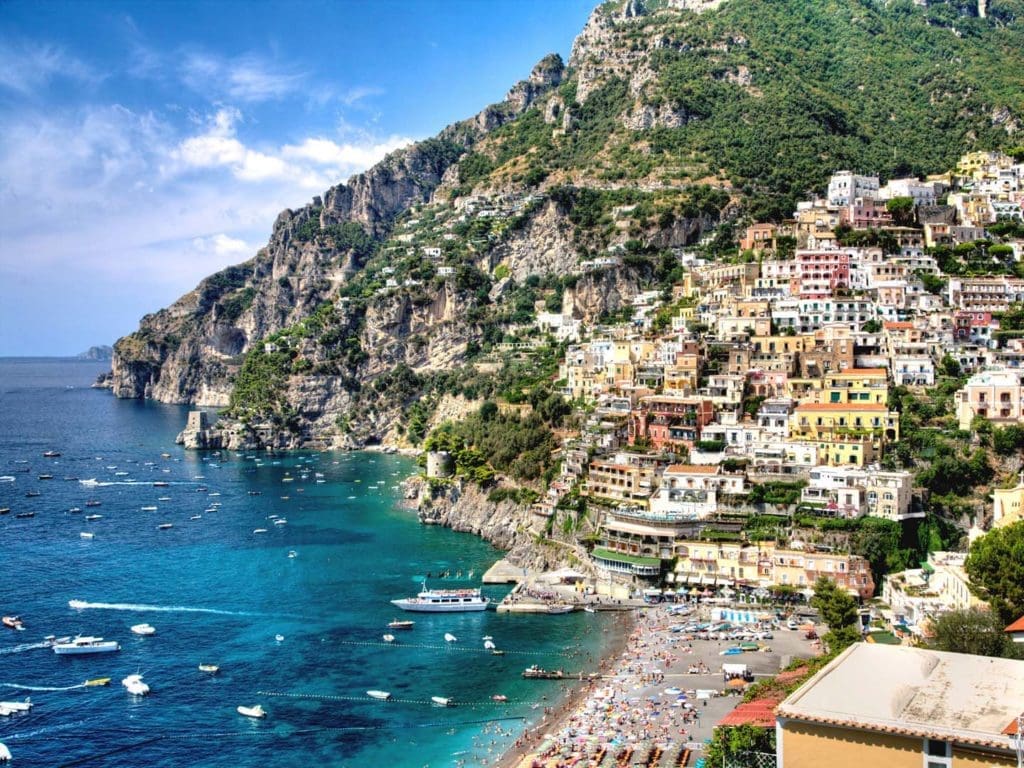 The Amalfi Coast is a 30 mile stretch of coastline along the southern edge of Italy's Sorrento Peninsula. Officially a UNESCO-listed landscape, the coast is lined with stunning towns running from Positano all the way to Salerno.
The area is dotted with 500-foot-tall cliffs and over a hundred beaches, as well as 13 adorable seaside towns, including the most popular Amalfi and Positano. 
What to See and Do on the Amalfi Coast
Day Trip to Capri
Capri is a beautiful island located in the Tyrrhenian Sea off the Sorrento Peninsula. The island is known for its rugged landscape, upscale hotels, shopping, and stunning views of the sea.
There are many things to do on the island of Capri. Explore the pretty town of Anacapri, marvel at the magical Blue Grotto, catch the views from Monte Solaro, rest and enjoy the views from Giardini di Augusto, marvel at Via Krupp, enjoy an aperitivo in glamorous Piazzetta di Capri, catch more views from Via Tragara and Belvedere, and walk the Pizzolungo path to the Natural arch.
Capri is easily reached by boat from Sorrento, and the other major towns along the Amalfi Coast. The best times to visit Capri are May, September, and October. During these months the crowds are much thinner than in the summer and temperatures still hover above 60 degrees. 
–> Check ferry schedules on FerryHopper.com
Visit the Many Wonderful Villages
There there are 13 beautiful towns along this 30 mile stretch of coastline. Here's a few of our favorites you won't want to miss!
Positano
This picturesque town is known for its colorful houses that cling to the cliffs overlooking the sea. Here you'll find chic boutiques, churches to explore, and breathtaking views of the sea.
Positano has been a magnet for artists, writers, and celebrities since the early 20th century. Take a stroll through its narrow streets and enjoy the stunning views.
Ravello
Ravello is a quaint town perched high above the sea and offers breathtaking views of the coastline, Mediterranean Sea, and the surrounding mountains.
The town is a UNESCO World Heritage Site and a cultural hub that attracts artists, musicians, and writers from all over the world. Founded in the 9th century as a prosperous maritime republic, the people traded wool and silk with the Orient. It was also a center of learning and culture, where famous figures such as Boccaccio, Giovanni da Procida, and Pope Gregory VII lived or visited.
Ravello is a place where history, nature, and art blend together in perfect harmony. Famous for its beautiful villas and gardens, you must visit Villa Cimbrone for an unforgettable experience, a 5-star resort with beautiful gardens open to visitors everyday from 9am-sunset.
Amalfi
Amalfi is the oldest of the four Maritime Republics and the namesake of the coast. This historic town was once a powerful maritime power and home to many beautiful churches and museums.
It boasts a magnificent cathedral dedicated to Saint Andrew, a cloister of paradise, and ancient arsenals where galleys were built. Amalfi is also surrounded by the lush Valle dei Mulini, where paper mills operated for centuries.
Atrani
This small fishing village is one of the most picturesque towns on the entire Amalfi Coast. 
Atrani is a hidden gem that lies just a few minutes away from the town of Amalfi. It's one of the smallest and most authentic towns on the coast, with a medieval charm and a relaxed atmosphere. Atrani has a lovely beach, a quaint square, and a network of narrow alleys and stairways. Take a stroll through its narrow streets and enjoy its charming character. 
Sorrento
Sorrento is not technically located along the Amalfi Coast, but it has to be mentioned because this is by far and away the best base for exploring the area.
The larger town is perched on a cliff overlooking the Bay of Naples and Mount Vesuvius. It has a lively historic center, a vibrant nightlife, and a renowned gastronomy. Stay in Sorrento anywhere from two nights up to seven or eight nights, which will give you time to see all the Amalfi Coast has to offer.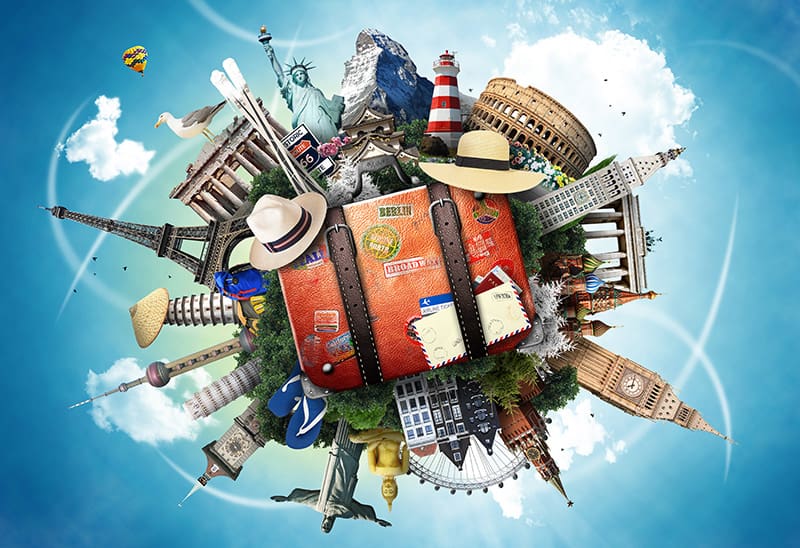 Take a free virtual vacation to Europe from the comfort of your couch.
Take a Boat Trip
The trip from Sorrento along the breathtaking Amalfi Coast is one of the world's great ride that will leave your mouth open. But, what is the best way to get around?
Many of the the towns are located right on the water, like Amalfi and Positano, while others are located higher up on the hills, like Ravello and Praiano. My advice is to go by private driver, bus, or boat tour. DO NOT try and drive the Amalfi Coast yourself. I've done it and it's not pretty. 
A great way to enjoy the scenic beauty of the Amalfi Coast is a boat tour from Sorrento. You can take a full-day, private or semi-private, cruise which usually includes pickup at your Sorrento hotel where you'll head to the port of Massa Lubrense, where the boat departs.
Tip: My advice would be to combine a boat tour with a trip to Capri so you get a two for one experience!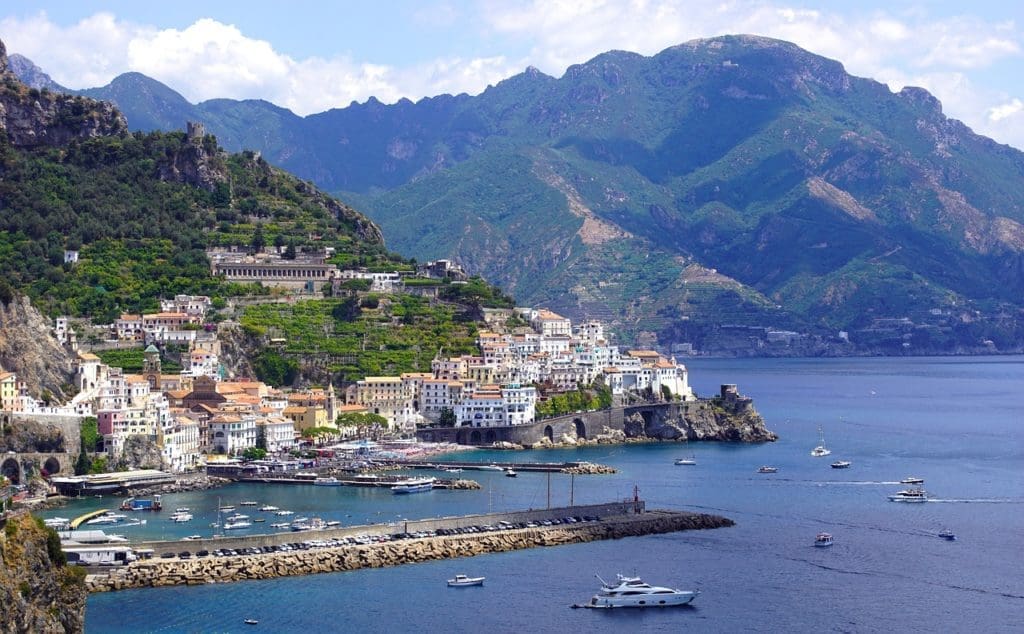 Get a personalized digital travel guide for Europe, curated by locals. It downloads to your phone and offers top recommendations for each destination.
Guidester simplifies international travel by assisting you with itinerary planning, hotel and airfare bookings, and tours. We also help you avoid errors and common pitfalls.
Join the Guidester Founder on a hand-crafted small group tour, exploring off-the-beaten-path destinations and experiencing unforgettable adventures.
Food on the Amalfi Coast
Blessed with rich volcanic soil, plenty of sunshine, and a sea teaming with all sorts of fish, the Amalfi Coast is a food lover's paradise.
Shrimps, redfish, pezzogne, bream, sea urchins, octopus, blue fish, molluscs are the protagonists of unforgettable recipes such as "scialatielli ai frutti di mare", a dish made with seafood and the fresh pasta typical of the Amalfi Coast. 
Try spaghetti alle vongole (spaghetti with clams) washed down with a glass of crisp white Falanghina wine. Finish with delizia al limone (lemon-scented sponge cake) with lemon zest icing.
O'Parruchiano La Favorita – An absolute must try while in Sorrento, this local favorite cooks up excellent regional classics in an 1800s venue with a glass-enclosed hall and garden tables under citrus trees. It's a very cool experience. 
L'Antica Trattoria – Another local classic in Sorrento, the cozy rooms with vintage décor and a flower-filled terrace serve up some amazing traditional food.
La Margherita – Villa Giuseppina – This gorgeous countryside hotel and restaurant overlooks the town of Ravello and the coast, making it a perfect getaway for a quiet meal in a gorgeous part of the Amalfi Coast. 
Download 10 Crucial Things To Do Before Traveling Abroad to help plan your next adventure; packing tips, getting foreign currency, finding the right adapters, phone plans, and more!