Tuscany has long been associated with breathtaking scenery and some of Italy's best made wines. In this enchanting landscape of rolling hills and winding roads, you'll find glorious sunflower fields, ancient olive groves, medieval ruins, and wonderfully wild forests. And, of course, world-class wineries.
Wine touring here is not about a five-minute tasting at a roadside wine bar, but rather it is an immersive experience. At any of Tuscany's wineries, you won't just be served a glass of wine, you will learn about the history, culture, and innovations behind that wine while surrounded by the landscapes that inspired some of the world's greatest artists.
Here is our pick for some of the best Tuscan wineries that you can't miss on your tour of the gorgeous wine country.
Interested in wine tours?
Looking for the best hill-top villages?
See how Guidester™ can pinpoint exactly what you want to see and do to create your very own personal travel guide.
What To Know About Wineries In Tuscany
In Tuscany, you need to telephone the day before to book your tours.
Tours last about one hour and cost about $10–$15 per person. You will often finish in a tasting room where, with expert guidance, you'll develop a better appreciation for the fruit of these vines.
If you're paying for a wine tasting, you aren't obligated to buy. But if a winery is doing a small tasting just for you, they're hoping you'll buy a bottle or two.
Tip: If you're looking for a home base, the town of Siena is a great base for discovering Tuscany and its wine country. A lovely medieval city, you are well placed to explore the region without the major tourist foot traffic of Florence.
This is only the tip of the information you need to have the best experience in Tuscany. From specific opening hours, how to get there, booking, and more – your personal travel guide from Guidester ensures you're equipped with the information you need (and leaves out the stuff you don't), so you have the ultimate European experience.

Italy's oldest wine estate, and believed to be the second oldest in the world, this institution is one that essentially invented Chianti wine as we know it. The Brolio Castle in the heart of Chianti Classico is an imposing castle dating back over 900 years.
The Ricasoli family's imposing Brolio castle opens its gates for a variety of experiences, tastings at the wine shop to elaborate tours and gourmet dinners. There is also a lovely and private house on the estate for two-night minimum stays.

Just south of Florence, this once owned Medici estate dating to 1427 is a complex of ancient stone buildings, walls, towers and cellars overlooking a panoramic view of the Chianti hills.
Apart from just basking in the pure beauty of this place, you can enjoy a heated seawater swimming pool, horseback riding, and nearby tennis and golf facilities. Other activities include the occasional cooking or wine tasting lesson, and impromptu dinners in the cellar. The charming hostess Ivana personally takes care of guests' needs – you will feel right at home. It will quickly become obvious why this is one of the best Tuscan wineries.

Nestled in the small village of Panzano is an organic farm boasting 30 hectares of olive trees and 80 hectares of vines. This beautiful winery offers the ultimate in Tuscany hospitality and doesn't charge for tastings of the wine produced here or make visitors feel obligated to buy a bottle. There are three guesthouses available for wine-country stays.
Designed by Renzo Piano, Italy's best known architect, this French-Italian wine-making joint-venture is one of the few Tuscan estates open for visits 365 days of the year. 
Rocca di Frassinello came to be thanks to an Italian-French joint venture, which is why the nearly 90 hectares of vineyards feature equally divided varieties: 50% Italian and 50% French. Guests can spend a few hours exploring the identity of the Rocca di Frassinello winery and then conclude with a wine tasting.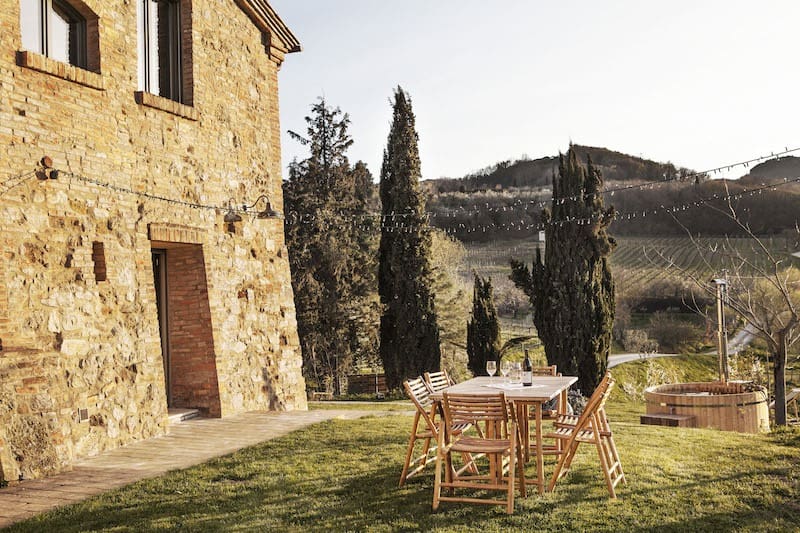 With an unobstructed view of the most dramatic hill town of Tuscany full of towers and spires, this winery produces truly interesting wines. Most commendably, it does so in the most environmentally-responsible fashion, for which it received the prestigious Gambero Rosso Award for Sustainability 2014. 
Visitors interested in biodynamics and sustainability should visit this exceptional estate southeast of Siena. It is open year-round for tours and tastings, with a kitchen that serves delicious lunches at the lovely terrace restaurant with its picture-window views. Another bonus: the multi-lingual guide staff.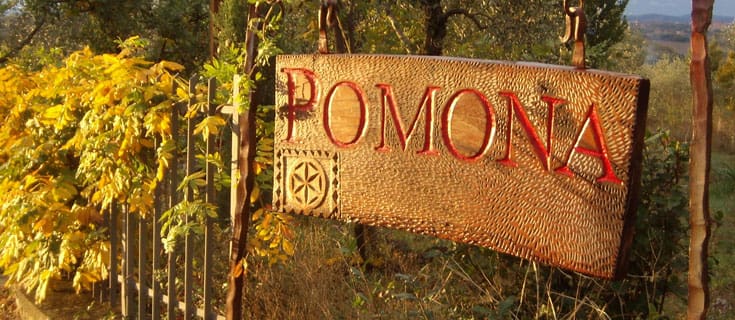 A "heart of Tuscany" experience near Castellina, this lovely property produces worthy Chianti Classico and fine olive oil.  The place enchants visitors with its age-old, rambling stone buildings and acres of diverse woodlands. Two guesthouses allow visitors to marinate in it all, and to swim in the panoramic-view pool.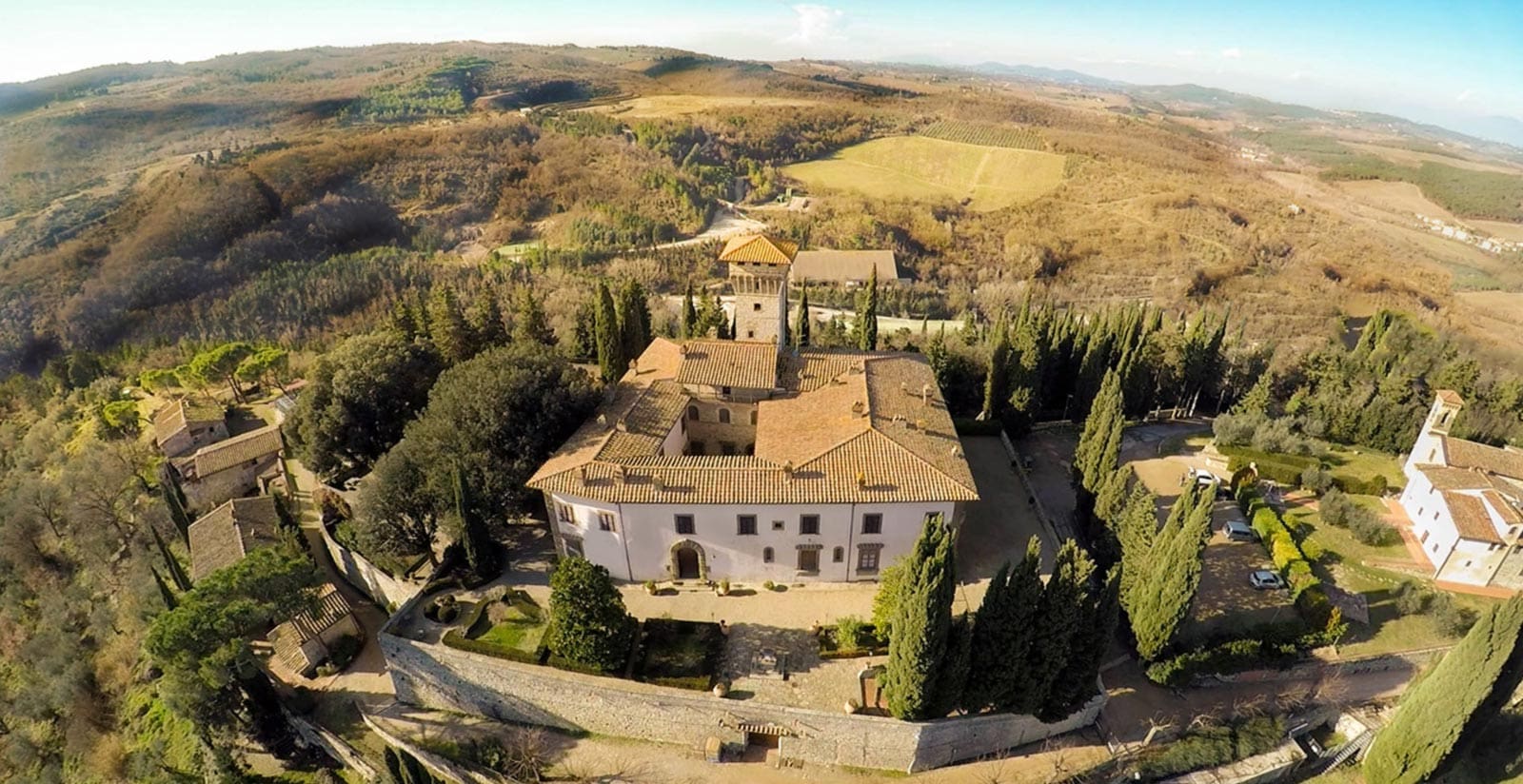 Located at the top of a hill overlooking the valley of Greve in Chianti, Castello di Vicchiomaggio rounds out our list of of the best Tuscan wineries. It offers unforgettable experiences with stays in an ancient castle dating back to the 1400s. 
Tours of the vineyard and historical cellars allow you to discover the secrets to the production of their award-winning wines. You can quickly see the opening times and prices in your personal travel guide by Guidester.
Tip: Visits are by appointment only and have an average duration of one hour and thirty minutes.