Virtual Vacation: '30 Days of Europe'
COVID-19 has swept the world and left many on edge. During these challenging times, we are here to help support, inspire, and keep you informed of what's happening.
Click here for more detailed Coronavirus Travel Advice.
Although many of you must now work from home, Guidester has a cure for cabin fever. Join us for a Virtual Vacation featuring '30 Days of Europe'. We believe a daily dose of travel dreaming is a good remedy to relieve stress and anxiety. To celebrate the moment when we can all travel and live life again, we've collected 30 of our favorite travel moments to take you on a virtual journey through Europe.
"Without fear, you can't have courage. And without courage, you can't take risks and have success." – Julianne Hough
Day 12: Hilltop Winery in Tuscany
Nestled perfectly in the rolling hills of Tuscany is the most picture perfect winery you'll ever see. Located in the heart of the Chianti region, Badia a Coltibuono has for 1,000 years been an important farm and its land has been producing excellent wines and oils for centuries. I took a tour group here last June for a private tour and tasting and wow is all I can say.
The historic winery was originally a monastery dating back to the 11th century which was then converted into a vineyard by a local family that still owns the estate to this day. We had a behind the scenes tour of the property, the underground cellar, their private wine collection (with wine dating back to the 1930s), the gorgeous gardens, and capped it all off with a private tasting of their very finest wines. A perfect day!
The history of Badia a Coltibuono is a fascinating one which is interwoven in Italian and wider world history. In 1051 a monk named Giovanni Gualberto received a donation from a powerful local aristocratic family, the church of San Lorenzo a Coltibuono, with the order to build a monastery to host the monks and a hospice for the pilgrims. The original Latin name 'Badia a Cultus Boni', means "good culture", "good agriculture", or "good harvest". A monk's document from Coltibuono, dated from the 12th century, mentions for the first time ever the word Chianti referring to this area.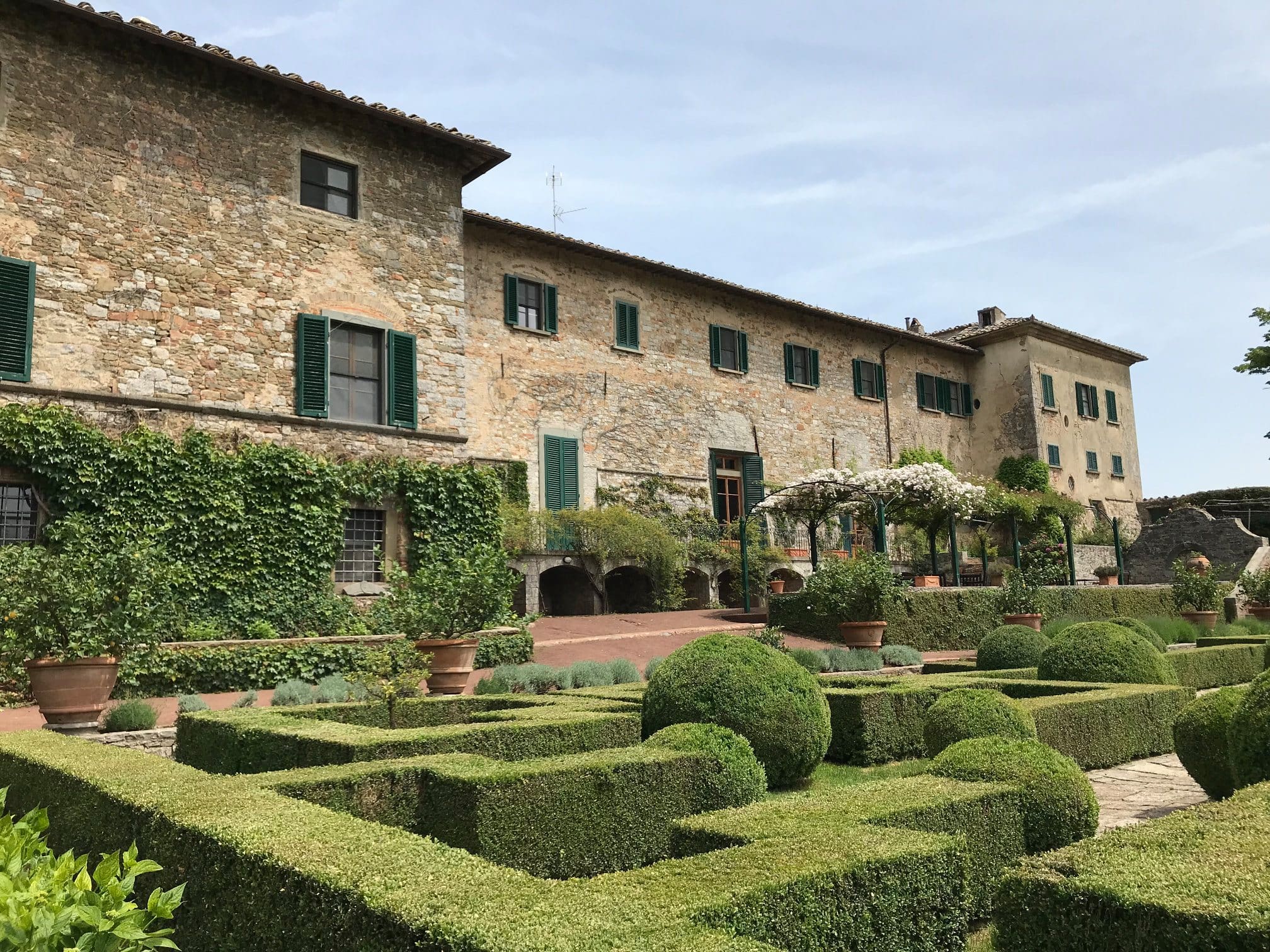 In short time they gained a preeminent religious, political, social, and economic role. The estate thus gained a considerable property that was not dispersed or split up during the following centuries, which was unique to other estates of the day. You will also find priceless works of art and artifacts strewn about the property, such as an original grinder and seed separating machine that was invested by Leonard DaVinci himself. This is not a copy but an actual piece created by the great inventor and artist himself.
For generations the family strives to safeguard and transmit the values layered over centuries, cultivating the land of the countryside. They have maintained excellent organic wines, extra fine olive oil, savory foods, culture, art and beauty. A visit to the winery is an experience to understand history, fine local foods, and Chianti wines. The property also has villas for rent, which means you could spend an entire holiday in a villa that was previously a monastery, now converted into a world class winery situated on an expansive landscape.
Badia a Coltibuono is truly a charming destination on the hillside of the Monti del Chianti which is reached via small windy roads. While it feels secluded, the estate is easily accessible from Florence, Siena, or Arezzo, and is a place that will leave an unforgettable impression on every visitor.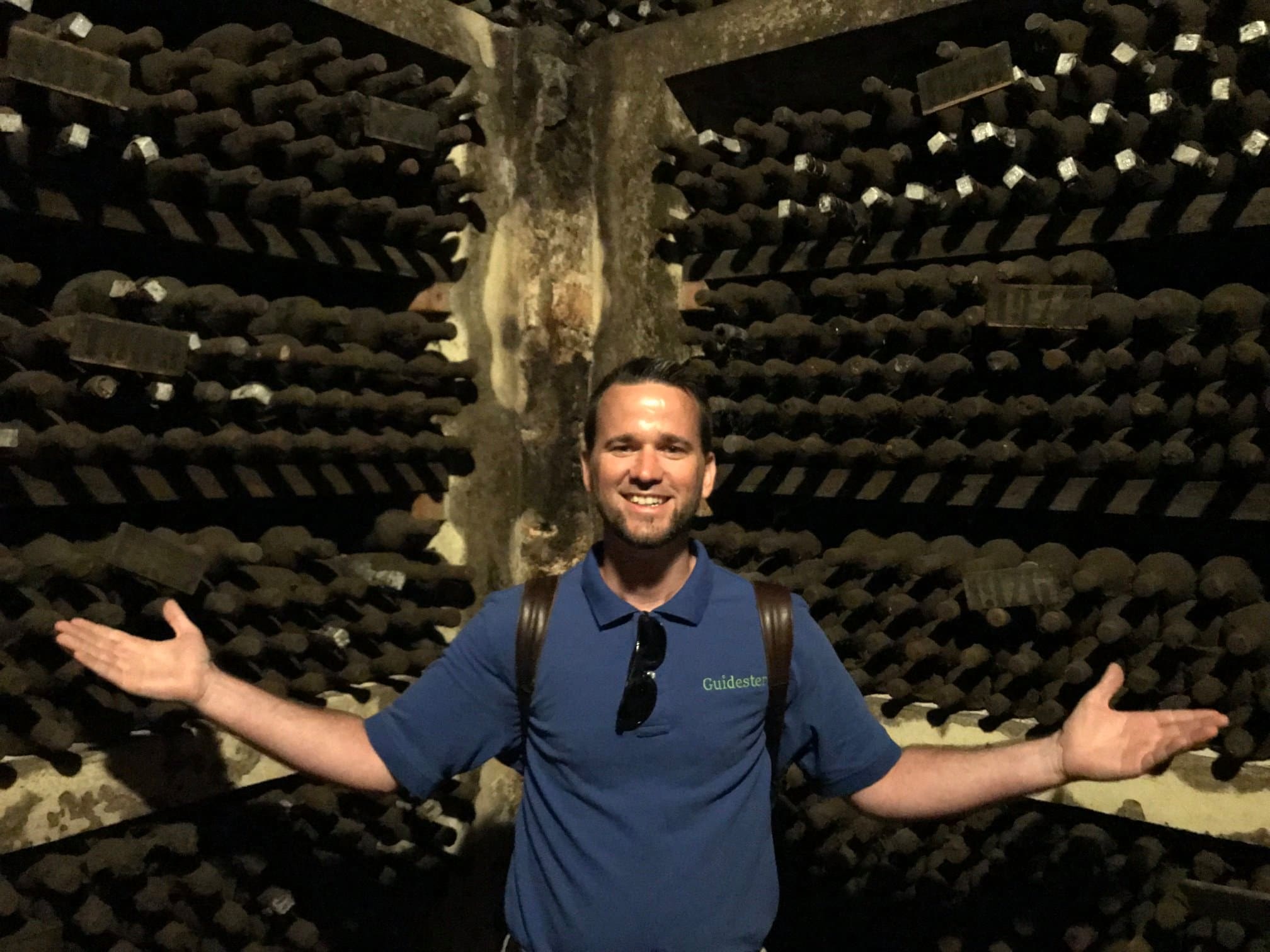 Day 11: Carcassonne in the South of France
Carcassonne, set high up on a hill in the south of France, was designated a UNESCO World Heritage Site in 1997 and today serves as one of the most impressive walled cities in the country. The medieval fortress is surrounded by two massive walls and 53 towers which protected it during medieval times. It's like walking straight into a fairytale with King Arthur and his knights of the round table.
The fairytale collection of drawbridges, towers, and charming cobbled streets was reputedly the inspiration for Walt Disney's The Sleeping Beauty, and it's a must-see on any trip through this part of southern France. Interesting factoid, Carcassonne has been used in many films including the famous Robin Hood starring Kevin Costner with the fortress being used to depict Nottingham Castle in the movie.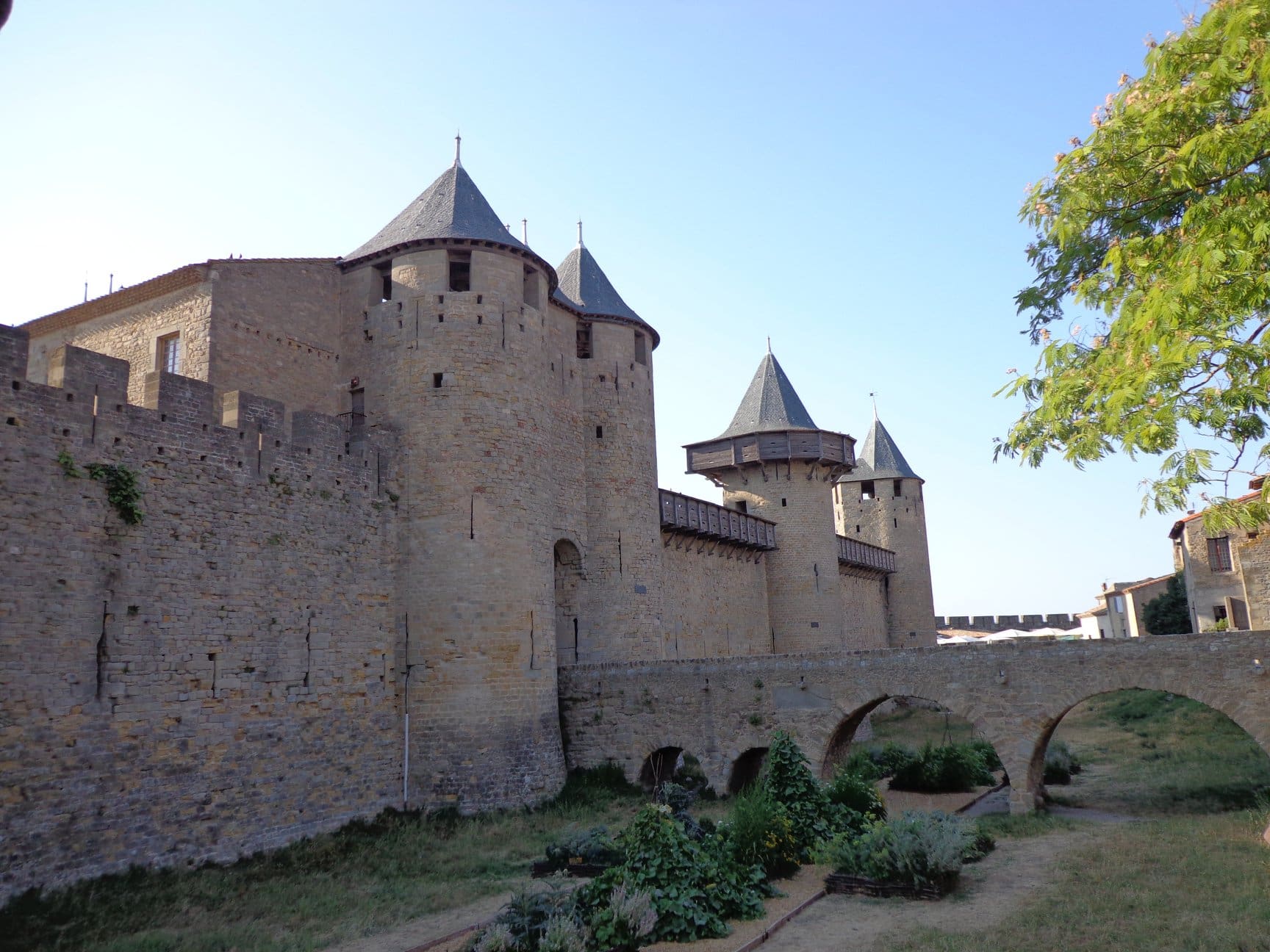 Although both the Romans and Visigoths were here, Carcassonne started to really flourish under the wealthy Trencavel family of the late 12th century. Throughout its history, there have been campaigns to demolish and renovate it and in the mid-1800s, renovations began to preserve it as a historical monument. What appears today is a medieval castle complete with a drawbridge, a grassy moat, and fortified guard towers.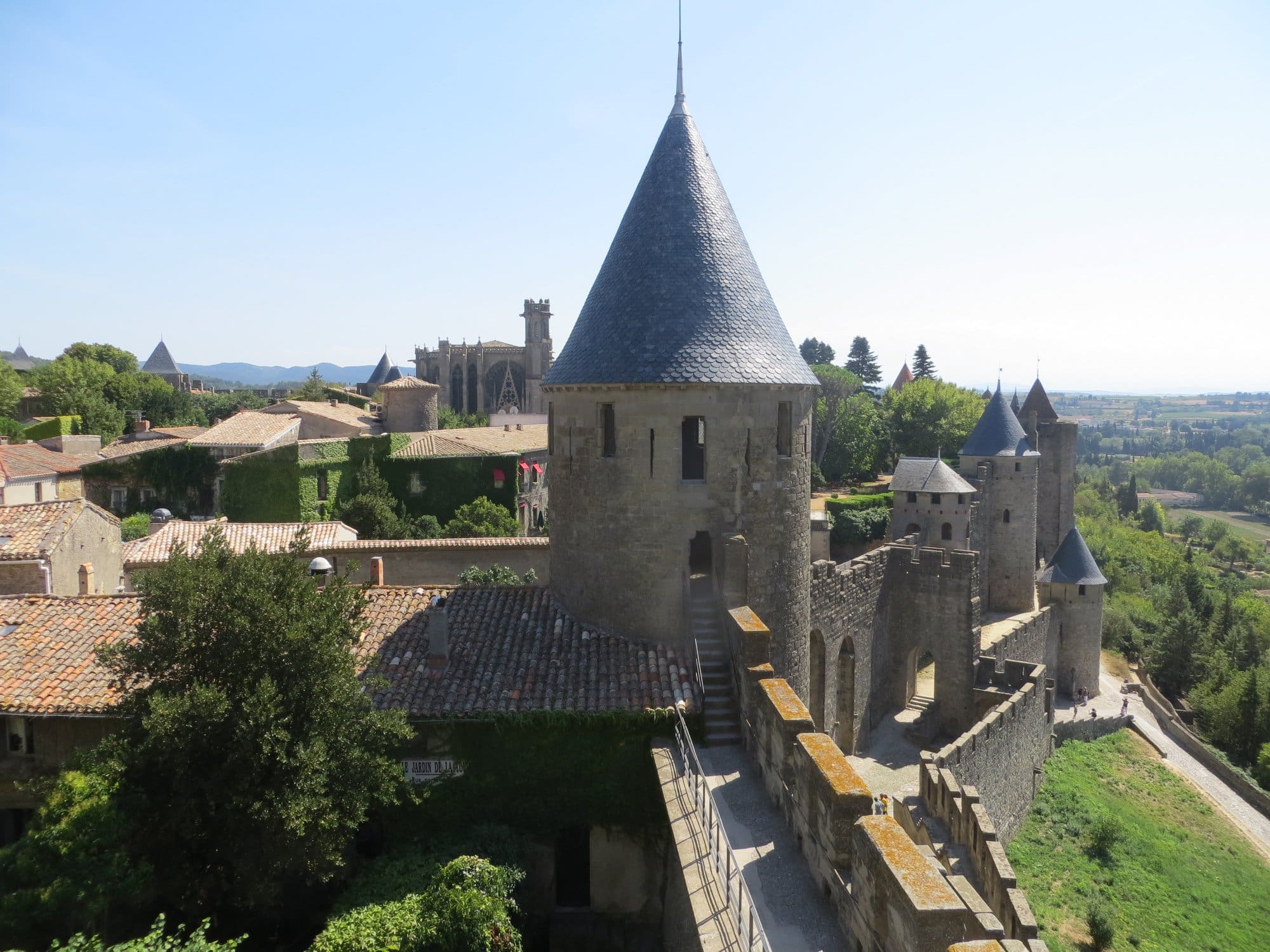 Carcassonne played a key role in cross border trade with Spain as well keeping the feared Moors at bay from overrunning the rest of Europe. However, the city's wealth and prestige dried up with the signing of the Treaty of the Pyrenees in 1659, when Roussillon was restored to France. As trade dwindled, the city walls, no longer needed for protection, fell into disrepair and it wasn't until restoration began in the 1800s that things started to improve. It was this restoration which helped save Carcassonne and ensure that the rich history and beauty would be maintained for generations.
When I first visited the medieval fortress my jaw nearly dropped to the floor. The approach up to the walled city gives you plenty of time to admire it's size and beauty. I had never before seen such a large fortified city so well preserved. It truly was like walking back in time to a different world. Inside the city the feeling was heightened even more as I explored the medieval streets, climbed around the miles of preserved walls, and stopped into the authentic shops featuring time period goods and artifacts.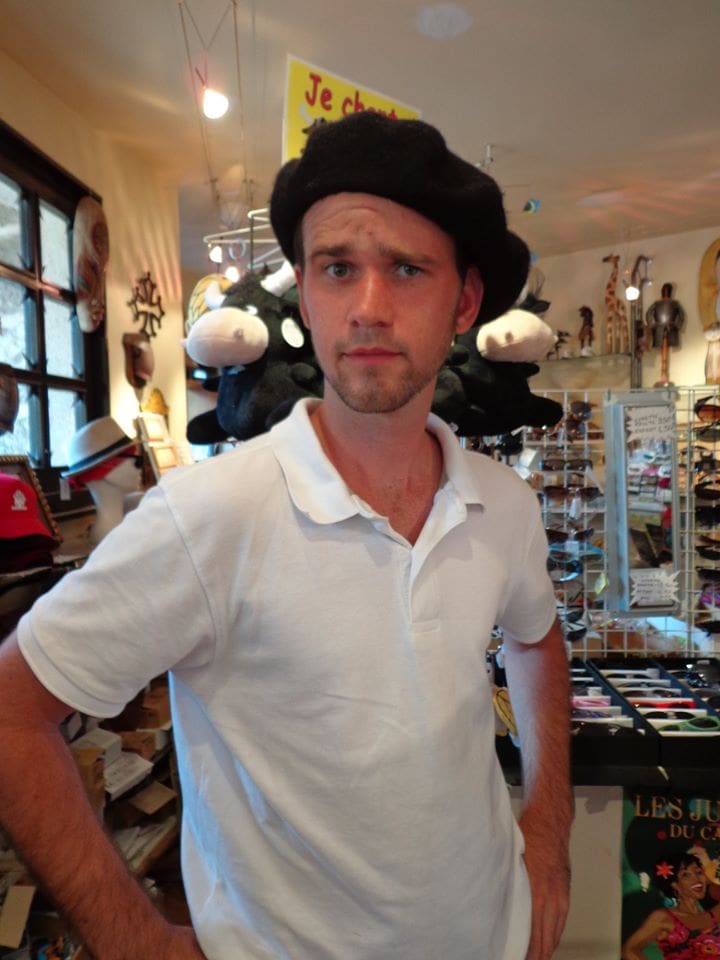 Day 10: Killarney National Park
Surrounding the town of Killarney in County Kerry is a large expanse of rugged mountainous country that is one of the great gems in the Irish crown. Here lies 26,000 acres of untouched landscape boasting a distinctive combination of mountains, lakes, woods and waterfalls giving the area a special scenic beauty. Killarney National Park was designated as a Biosphere Reserve in 1981 by UNESCO as an area that contains many features of national and international importance.
I was lucky enough to visit this area with a tour group I was leading through Ireland in 2018. Our '10 day 'Best of Ireland' tour took us from Dublin down through Kilkenny then into the south and west areas of the country, getting a taste for the best the Emerald Isle has to offer. One of the tour highlights was, of course, Killarney National Park!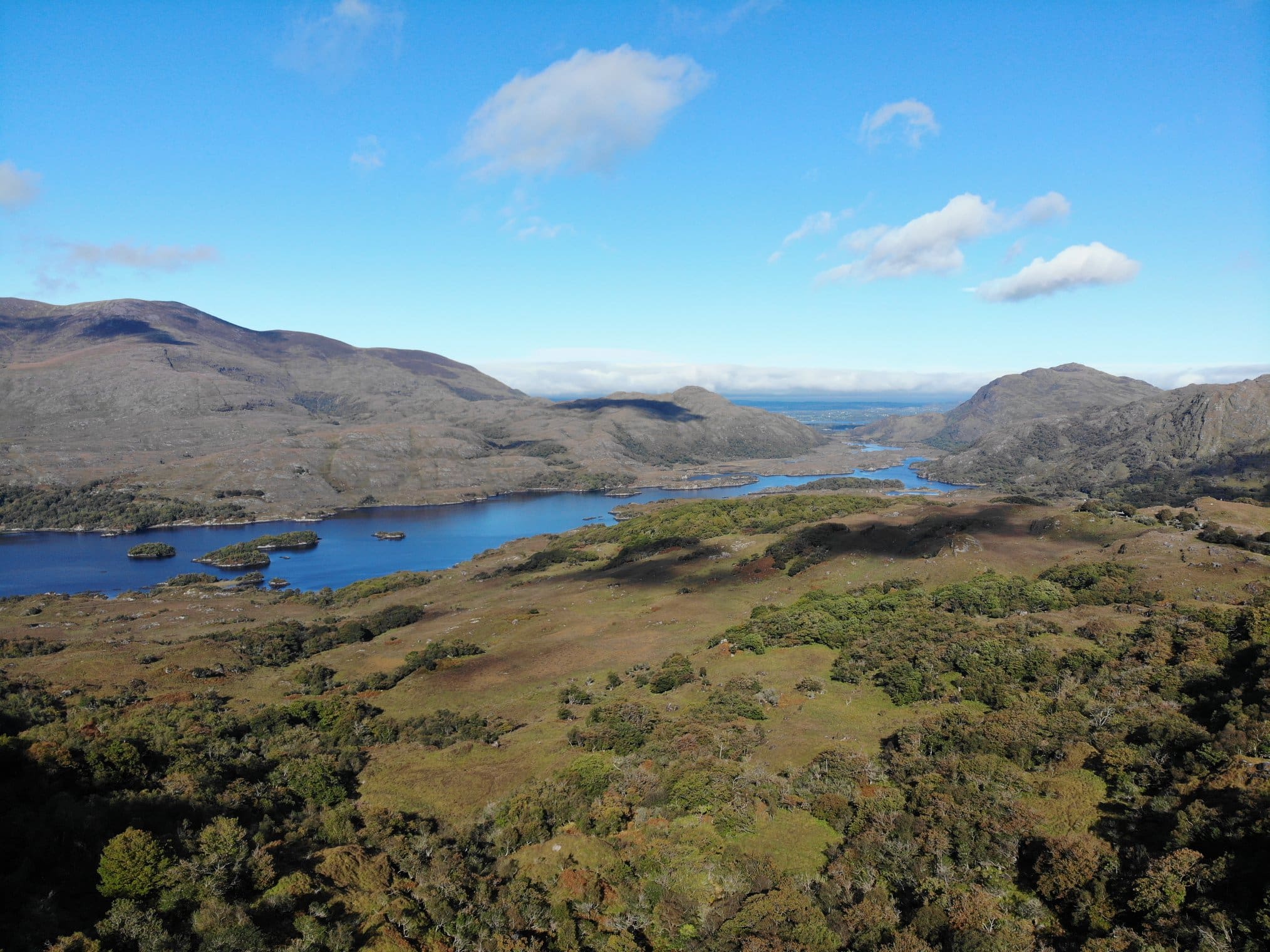 The park is the last remaining piece of ancient forest that once covered all of Europe thousands of years ago. Such important features in the national park are the native oakwoods and yew woods together with an abundance of evergreen trees and shrubs and a profusion of bryophytes and lichens which thrive in the mild Killarney climate. The native red deer are unique in Ireland with a presence in the country since the last Ice Age. I was immediately struck by the sheer ancientness of the flora and fauna I witnessed as we made our way though.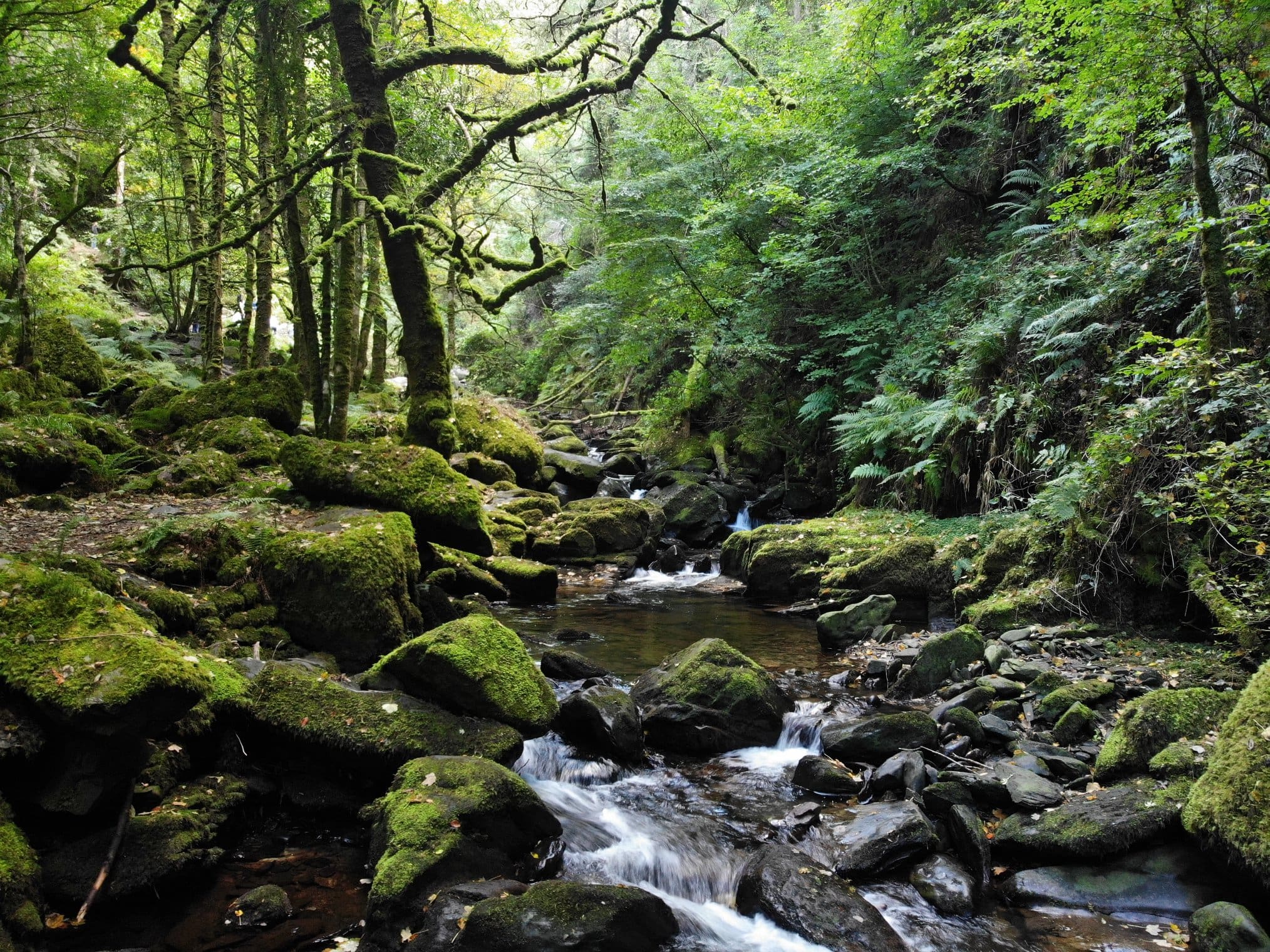 Visitors can drive up through the park with stop offs, viewing points, hikes, and waterfalls to visit. The focal point of the National Park for visitors is Muckross House and Gardens, which is presented as a late 19th century mansion featuring all the typical furnishings and artifacts of the period. The house and gardens is a worthwhile attraction, but even if you don't have time to visit the inside the grounds and surrounding landscape of the great house are magnificent. You may admire the grand Victorian architecture while strolling through the distinctive pathways set about the vast grounds.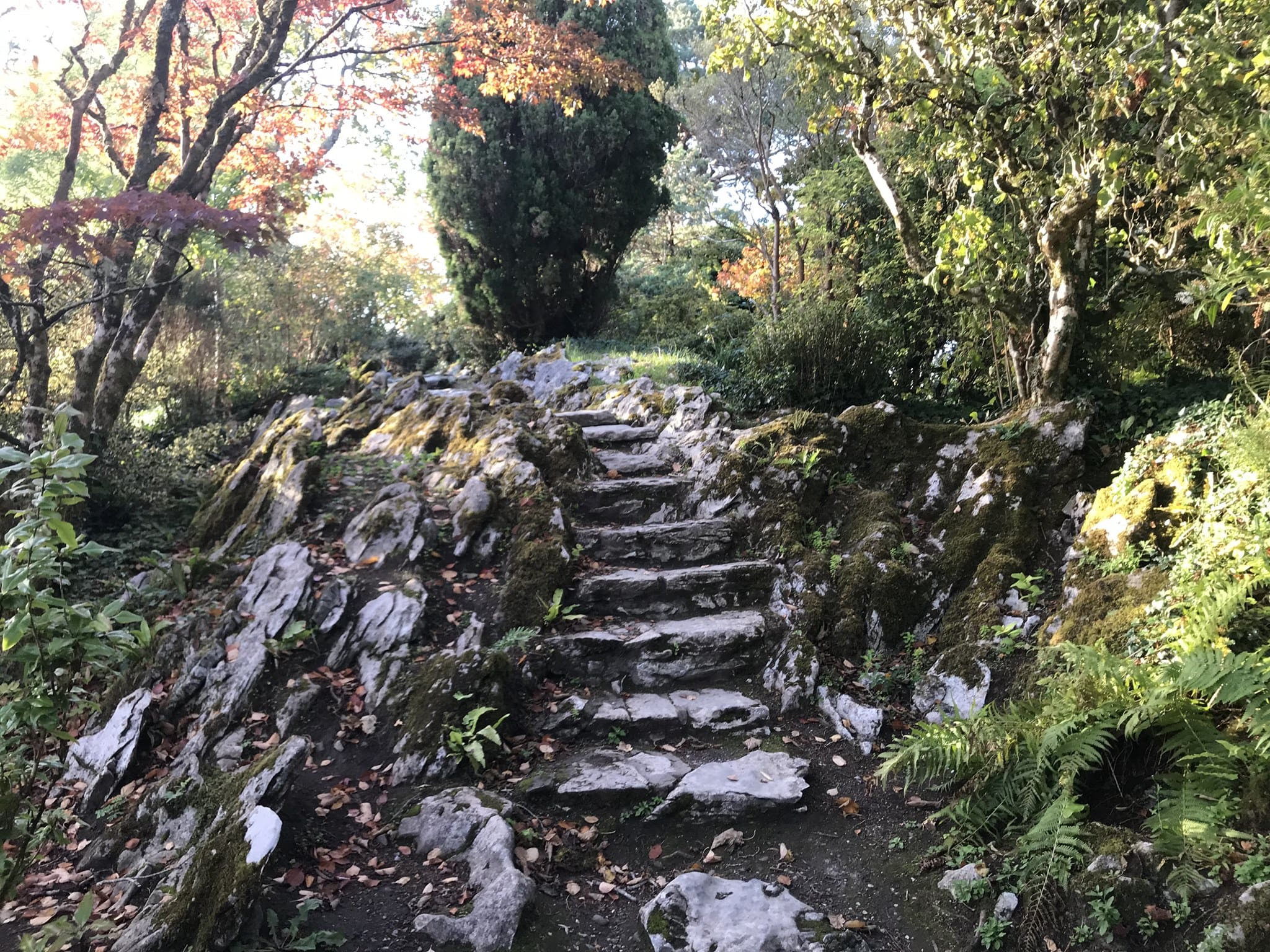 One thing I always loved about Ireland is its ability to generate a feeling of spirit and mystery with a combination of history, beauty, nature, and wildlife. And Killarney National Park has this feeling in spades. We stopped for a hike at Torc Waterfall, a 65 ft high, 360 ft long cascade waterfall that lies at the base of Torc Mountain in the Killarney National Park. Walking up through the winding path we were flanked by ancient trees with vibrant green moss growing all around. I watched the sunset at nearby Muckross House come down over the glistening lake and dramatic landscape and couldn't help but think…Ireland is a magical place.
Day 9: Hiking a Mountain Village in Switzerland
Switzerland's dreamy alps and picturesque landscape make for a perfect hiking experience for just about any skill level. You will find quaint little villages perched on hills and in many cases nestled right into the mountainside itself. One such village is the stunning village of Gimmelwald.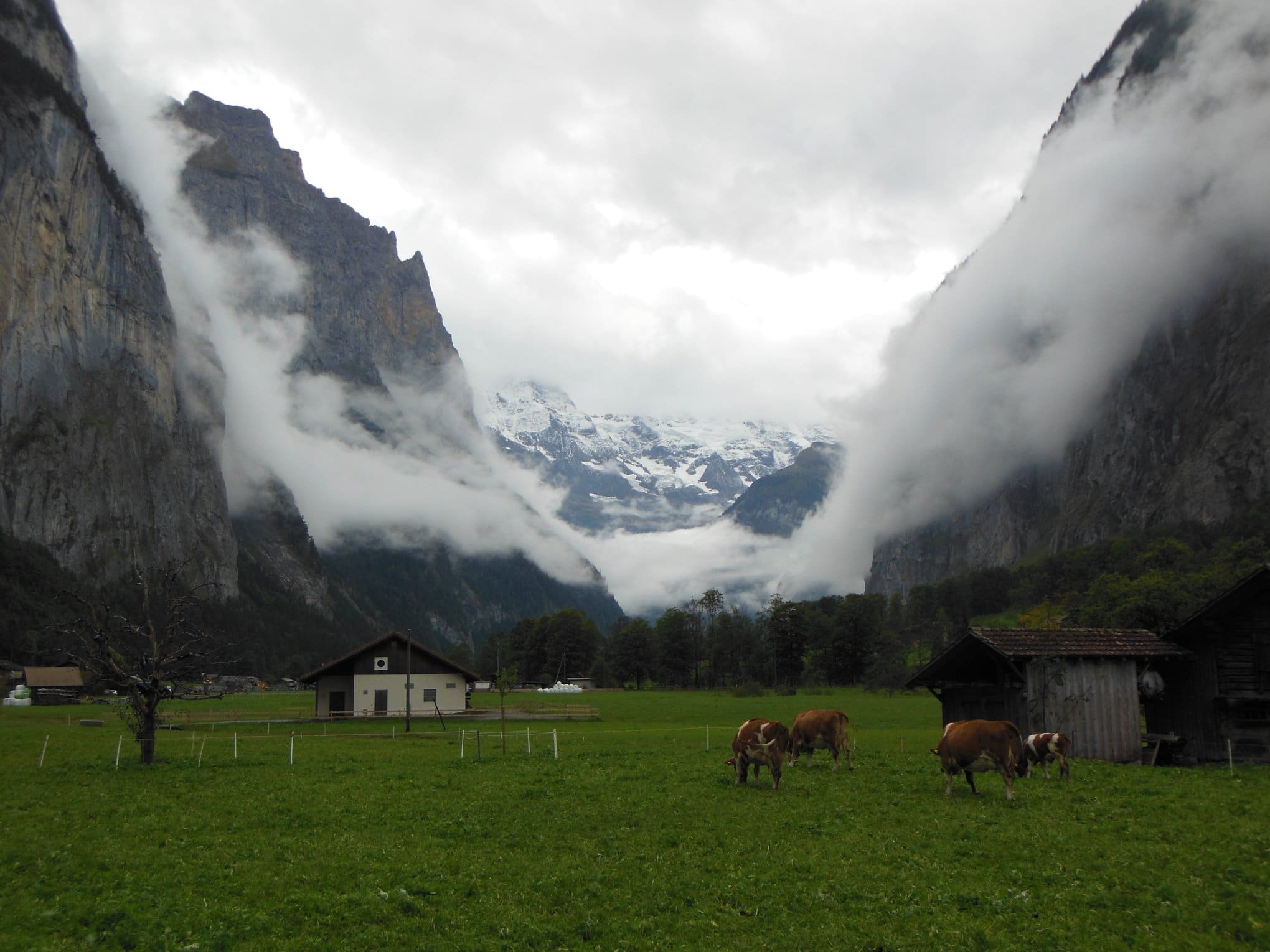 Gimmelwald, tucked into a mountain at over 4,450 feet, is located just south of the city of Interlaken in the center of the country. The intact Alpine village is located in the heart of the Swiss alps and serves as one of the last car-free villages in Switzerland. Gimmelwald is like something out of a fairy tale. The approach to the village is spectacular, giving you butterflies in your stomach as the aerial cable car rises up along the cliff walls as you pass magnificent waterfalls. Relish in the seclusion of the car-free village in the Swiss Alps and hike along spectacular mountain trails with the music of ringing cow bells in your ears.
I was currently in Interlaken for sightseeing and skydiving, which was amazing, when I decided to visit the village for myself. The lofty description I detailed above really does say it all and accurately mirrors reality. Even the hike up to the station through the valley itself starts to prepare you for the other worldliness you are about the experience. I took the cable car up the cliffside enjoying the stunning views all the way up. Once at the top, I stepped off into what seemed like a place lost to time. The few buildings that were there echoed from the past as I admired the large wood-beamed, nail free homes overlooking the valley we just ascended.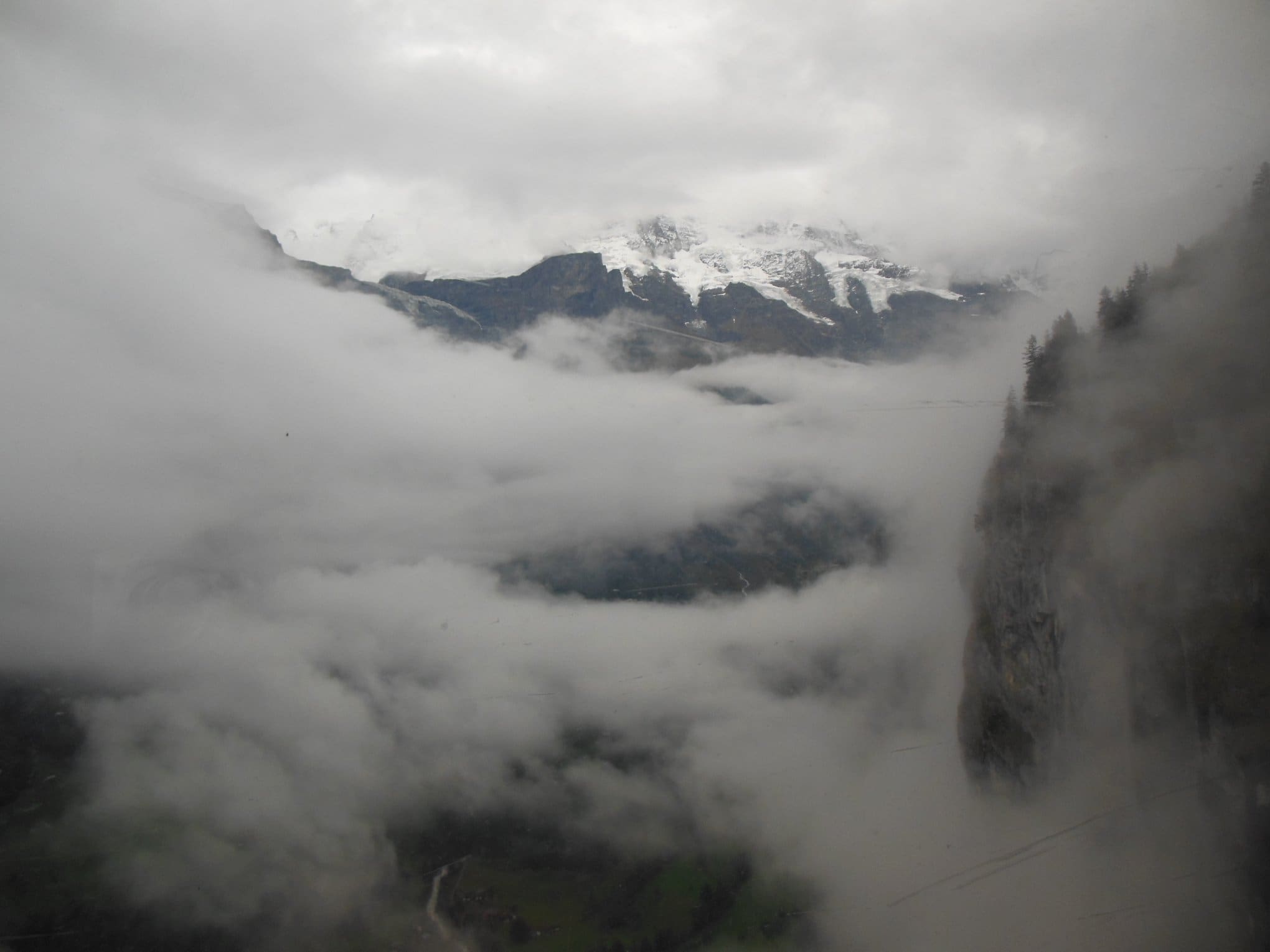 The main thing to do in Gimmelwald is to simply enjoy the scenery and tranquility, and if you're up for it go for a hike around the mountainside. I had a couple hours to kill before heading back down so I decided to take a hike with a couple friends. The most eerie thing about being up this high in the mountains is the quiet mixed with the thick fog that often comes out of nowhere. I was walking through the fog not being able to see only a few feet in front of me, with faint cowbells off in the distance. The silence broken only by the interspersed ringing of cow bells was weird but kind of peaceful. Switzerland has a large cow population and many of them roam the hills and mountains around the country. We hiked for hours through the mountain passes and fog, and occasionally came across a local going about their daily business.
For those of you that don't know much about Switzerland, gnomes are a big thing in Swiss culture. I don't know exactly why but you will literally see gnome sculptures, statues, and carvings just about everywhere if you are looking hard enough. The funny thing about that is some of the locals seem to have turned into gnomes themselves. We walked up onto one of these local as we were hiking and I have to say he was one of the more interesting guys I've met. He was a small bearded man working in a small wooden hut milking cows as we approached. Wearing what looked like a hat fit for a gnome he proceeded to tell us about his daily life and all the fairy tales he believed in with regard to the local folklore of the area. What an interesting guy is all I can say.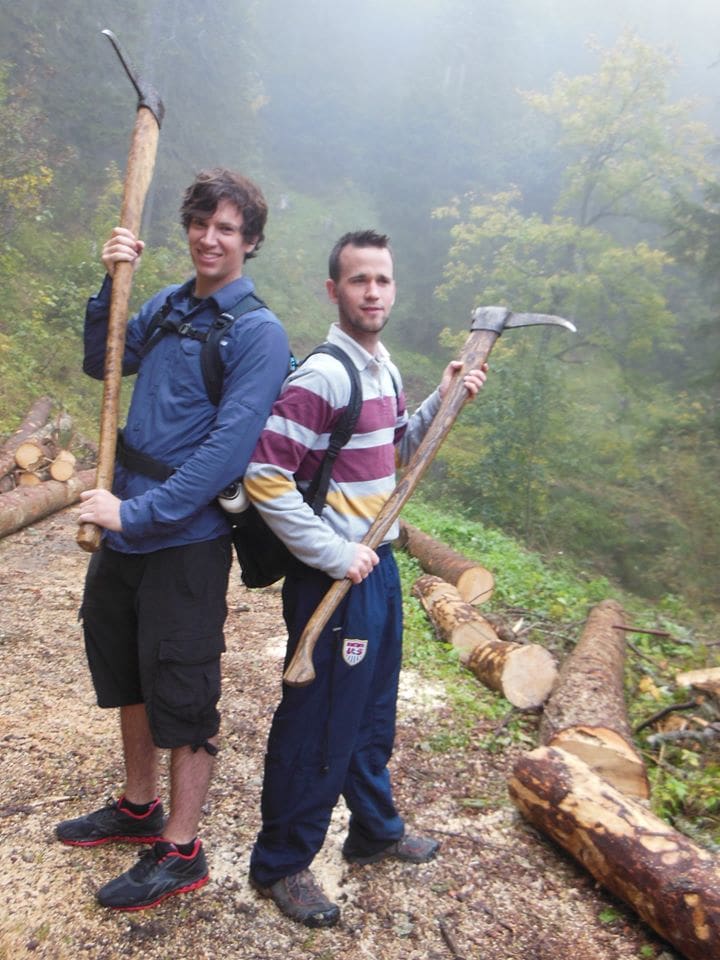 I loved that day spent hiking up through Gimmelwald and while I've done many hikes around Switzerland before and since, the little village perched on the cliffside near Interlaken will forever stand out as one of my favorites.
Day 8: Mozart Live at Salzburg Castle
Salzburg, the city of culture, music, and Mozart is one of those dream destinations. The small compact city really has it all – dramatic landscapes, a vibrant cultural life, world class music, historic castles, natural beauty, and it's extremely clean and safe. Salzburg was designated on the UNESCO World Heritage List as a city of "outstanding value to humanity".
The city of Mozart was very much a melting pot for the cultures and arts of northern and southern Europe. Even in early times, craftsmen and artists were drawn to Salzburg, which isn't just rich in sightseeing attractions. Salzburg looks back on a long history as a metropolis of the arts and culture boasting a vibrant exchange with its southern neighbors, especially Italy. There is very good reason why Salzburg is known as the "Rome of the North".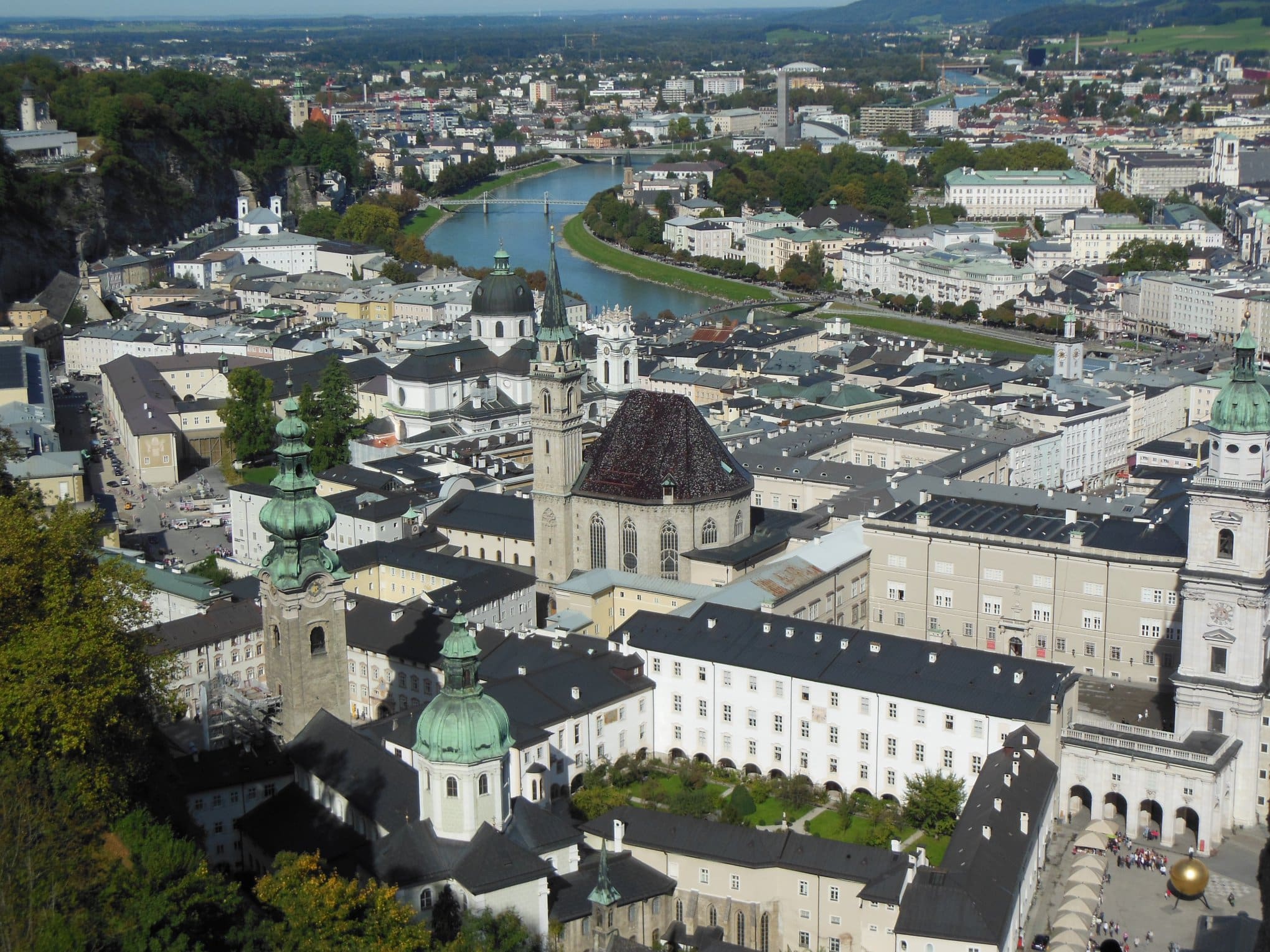 The last time I was here was in 2012 and I'd go back again in a heartbeat. How beautiful the city blended beauty, nature, and culture in such an effortless way struck me immediately. Centuries of cultural exchange have certainly left their mark on the city and the locals have done an outstanding job preserving and promoting their rich heritage.
One attraction you can't miss is Hohensalzburg Castle, the main castle keeping watch over Salzburg. Perched high up on a rock outcrop overlooking the city and river, the castle has served an important center of life in Salzburg for many centuries. In fact, Mozart himself played in this very castle and regular evening concerts are performed in the great hall. This was THE experience that really stood out with me on this visit.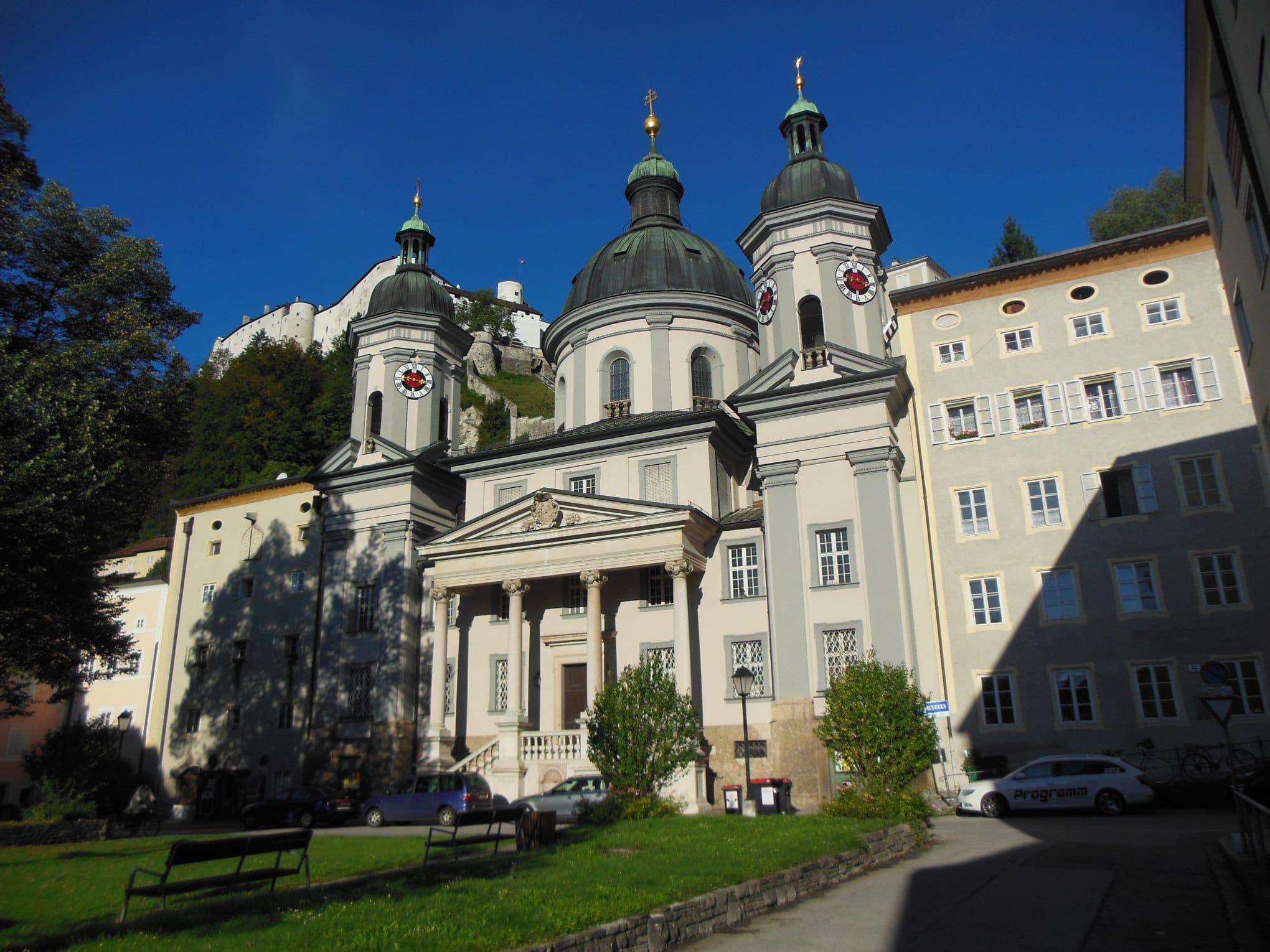 There I was sitting in an ancient castle in a gorgeous city in Austria listening to Mozart in the very same room he had performed all those years ago. Just think about all that the world has seen from then until now. The wars, the technological advancements, the great men and woman that have come and gone yet the castle and its hall remain. It was both overwhelming and peaceful to sit there and ponder the weight of history while listening to the gorgeous sounds of Mozart.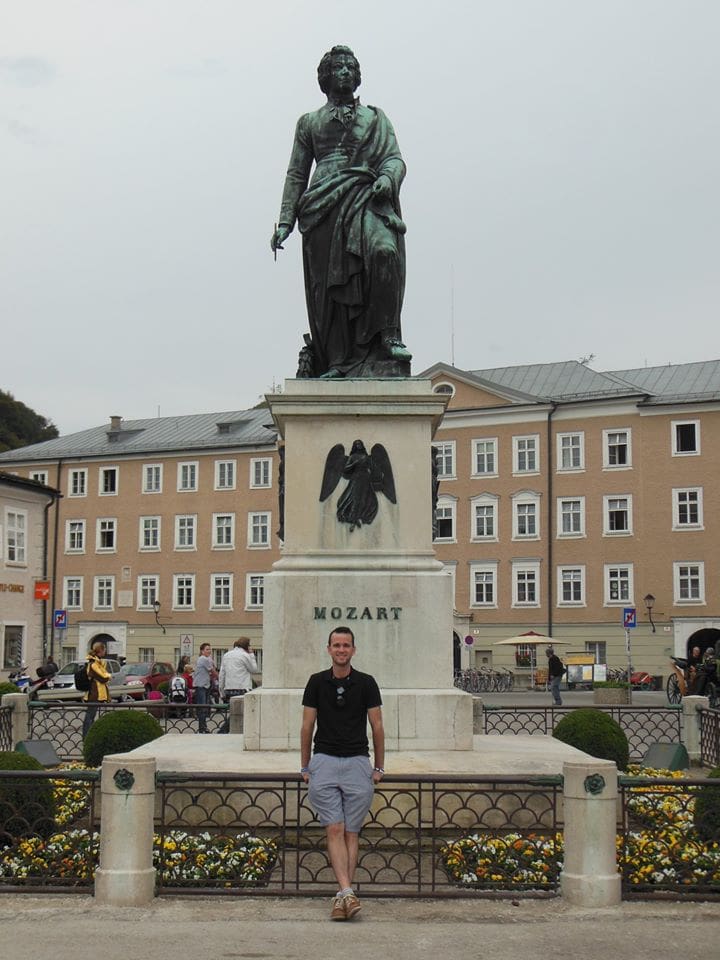 Getting tickets is easy as there are concerts typically every evening at 7pm, and there is even a little cable car is available to take you from the base to the top of the castle. Oh, and one other tip. Don't make the mistakes of asking about kangaroos. There are no kangaroos in Austria! They actually get that question so often, because people confuse Austria with Australia, that they put out funny signs you'll see around the city.
Day 7: Hogmany in the Scottish Highlands
Oh, Scotland. There really is no place in the world like Scotland. Landscapes, history, and folklore all combine to create a place bursting with mystery and beauty. I could talk all day about Scotland, but for this particular daily dose of Europe, I am focusing on New Years in the north eastern part of the country.
New Years Eve, or Hogmany as its known in Scotland, is a big deal. Revelers from coast to coast set to prepare for a long night of fun, family, and festivities all across the country. Its origins date back to the celebration of the winter solstice among the Vikings with wild parties in late December, so you could say it's a tradition that has been around quite a while – over 1,000 years.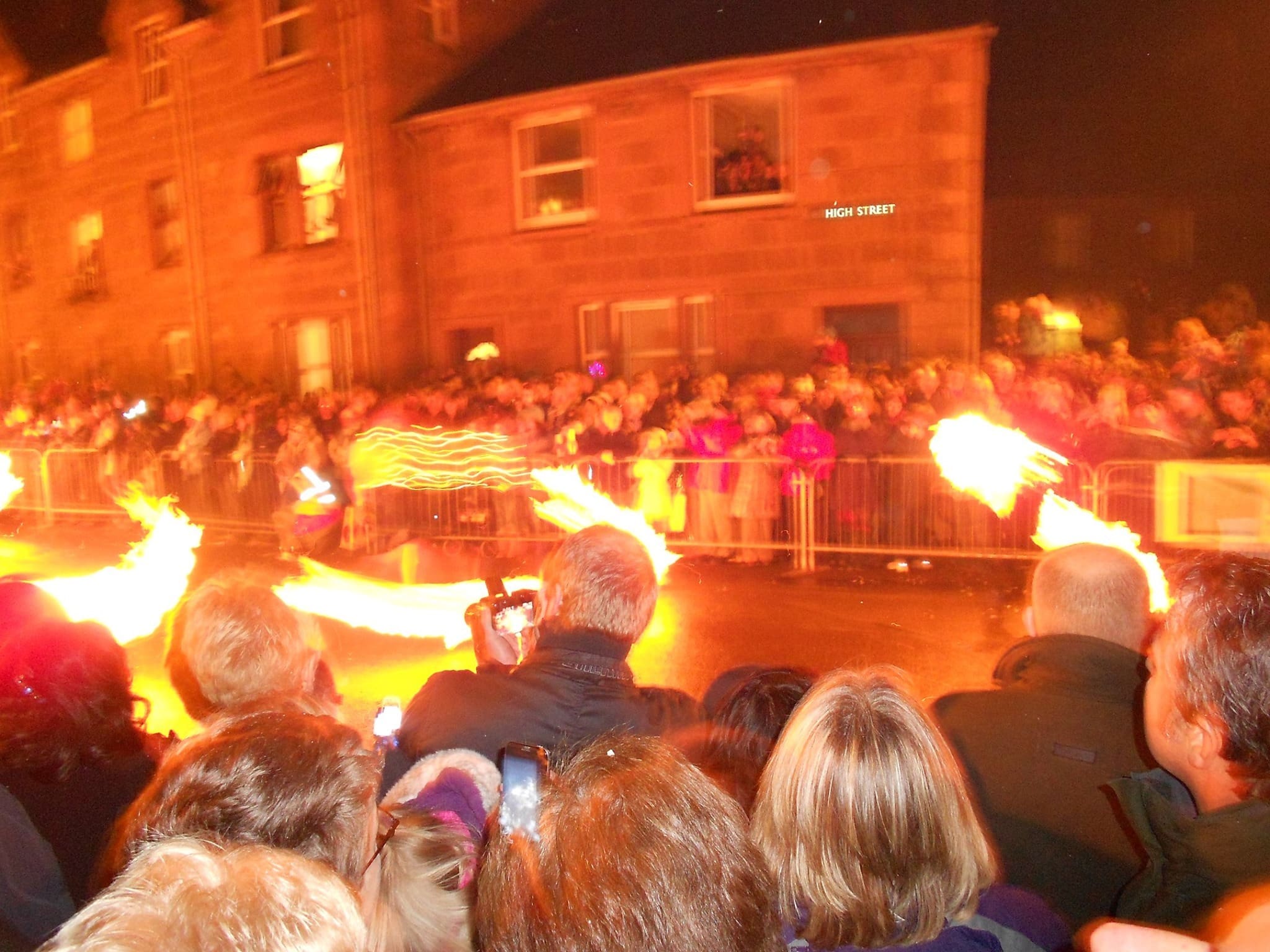 I celebrated Hogmany in Scotland during 2011-2012 while I was on winter break from Cardiff University. I was studying for my Masters in Ancient Greek and Roman Archaeology in Wales and did not have the money to go all the back home to the States for Christmas break so I was invited by a friend to stay with his family in Scotland. And I'm glad I said yes. I had already been to Scotland on 10 separate trips at this point, but this took my love of the country to new heights.
My friend's family lived in a wee village outside Aberdeen called Stonehaven. Their house was outside the village just a few miles from the coast which was a beautiful setting overlooking the ocean and lush green rolling hills. The town's sandy seafront and picture perfect harbor is home to some of the region's top eateries and nearby is one of Scotland's most renown sites, Dunnottar Castle.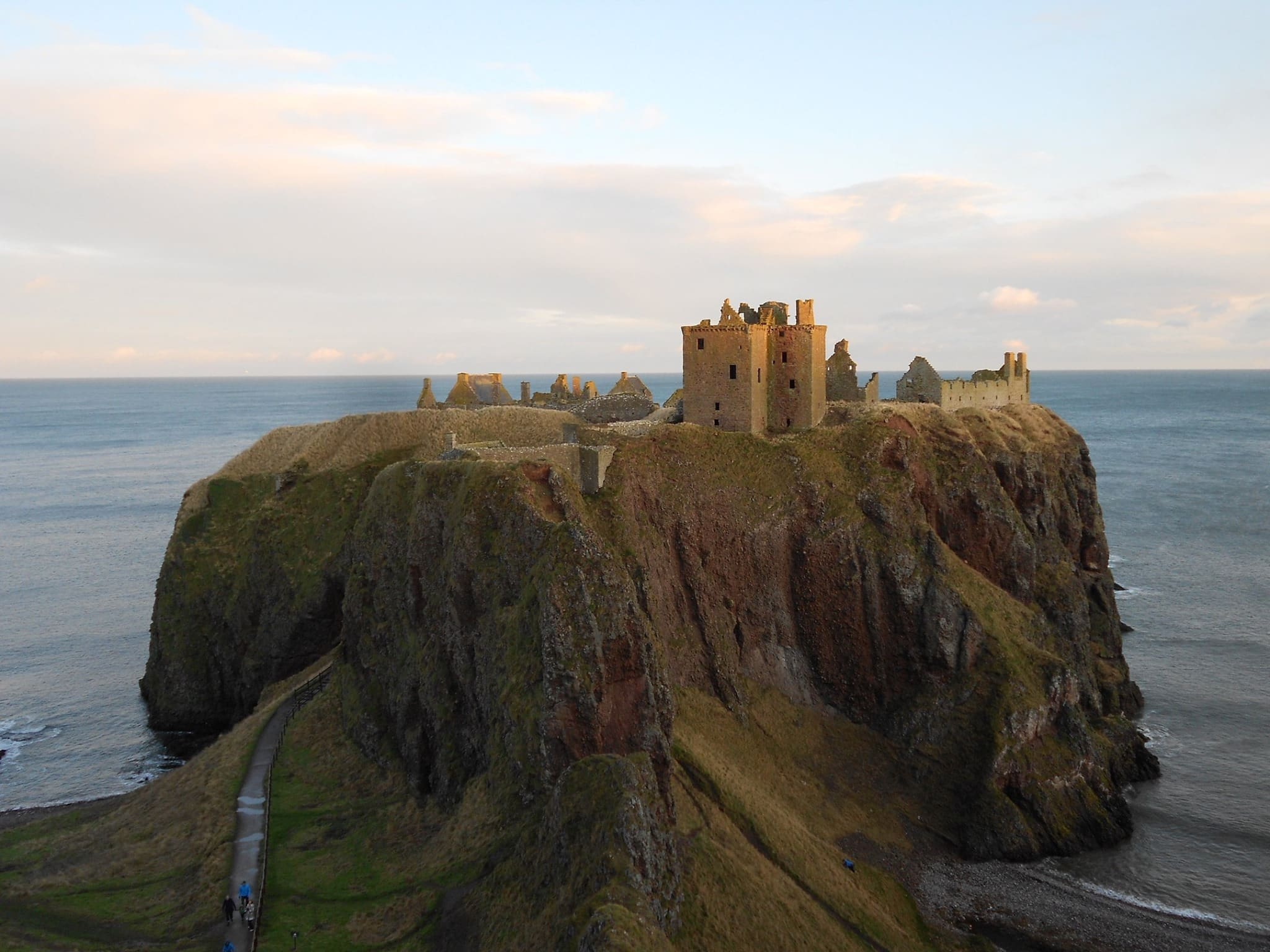 Dunnottar Castle is a dramatic cliff top fortress that was the home of the Earls Marischal, once one of the most powerful families in Scotland. Steeped in history, this romantic and mysterious ruin is a photographer's paradise, a history lover's dream, and an iconic tourist destination for visitors the world over. Of course, I had to visit this epic castle to see for myself. When I arrived though, they had just stopped last entry. I was 5 minutes late so was not able to enter. I was devastated. But, I was undeterred and resolved to get into the castle some way other another. The entry to the castle was on a small spit of land jutting out of from the ocean, so the only other way to enter the fortress was to scale the cliffs. And I did just that. I found a good spot on the cliff-side and started to make my climb. My friend's mother was understandably worried while she was watching me climb 100 feet vertically into this castle. After some hard climbing and a few near missteps I made it to the top of one side and then proceeded into an open window in a ruined tower. It was well worth it. Although a mostly ruined castle, the dramatic landscape and rich history makes it a fitting jewel in the crown of Scotland's great treasures.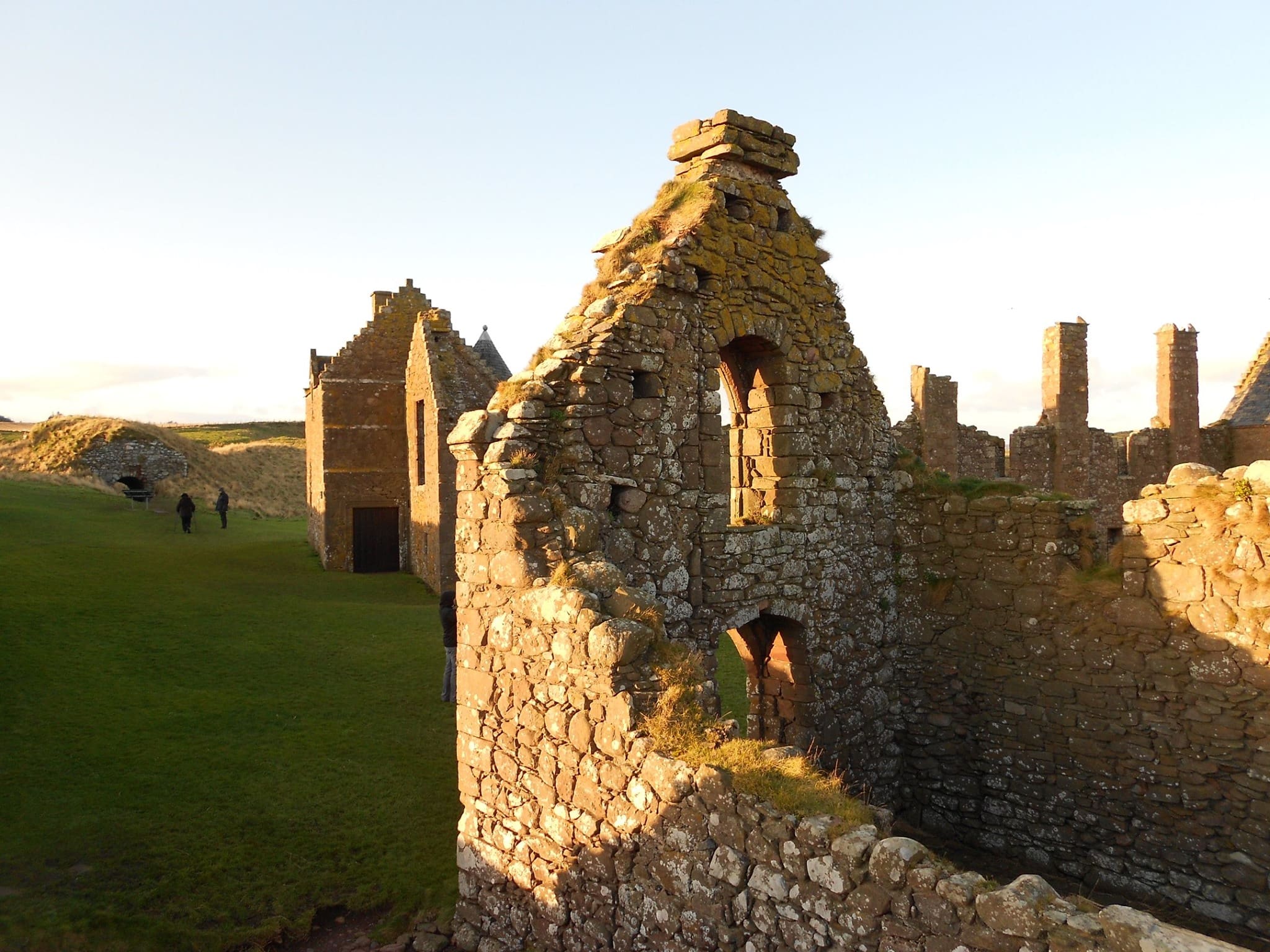 Funny enough, Stonehaven is one of the THE top places in all of Scotland to celebrate Hogmany. Every year they have what's called the 'Fireball Festival' where you'll see Scotsman in their traditional kilts waving giant fireballs through the center of town. All of the villagers and revelers from around Scotland come out to enjoy the spectacle. I had to join in the fun so I put on my own kilt and suited up to be apart of the annual tradition. We had an absolute blast and if you're ever in a position to be in Scotland for Hogmany don't miss out!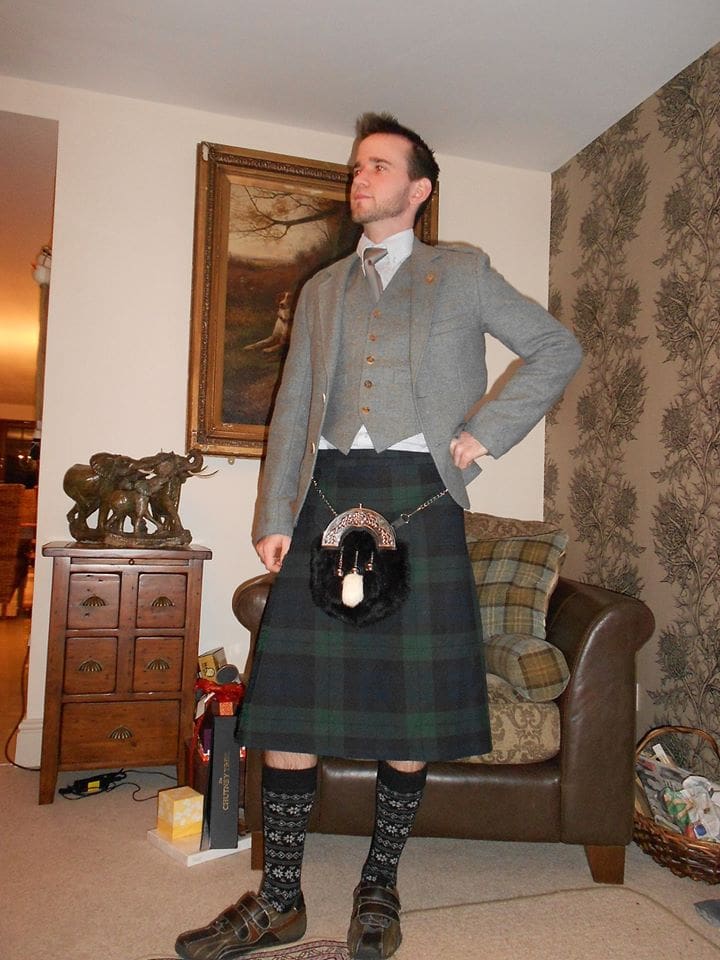 Day 6: Walking the medieval city of Rothenburg
Rothenburg ob der Tauber is one of the best-preserved medieval towns in Europe, and the most famous stop along the 'Romantic Road'. The old Bavarian Imperial City is also widely considered one of the most attractive towns in Germany, with visitors flocking in from all over the world every year. The walls and buildings look much as they did in the 16th century with half-timbered houses and characteristic steeply pitched roofs along narrow stone-paved streets.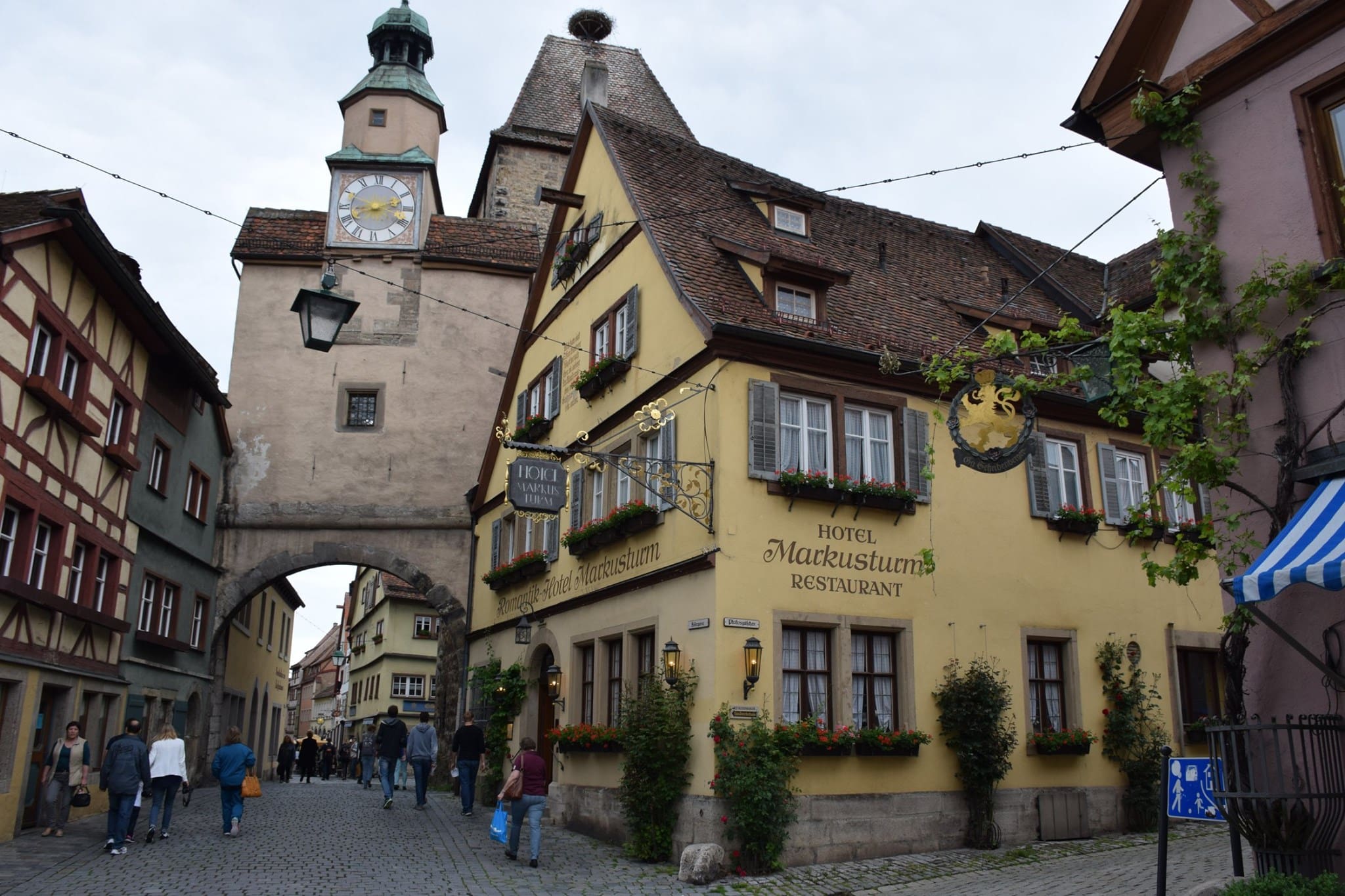 I visited Rothenburg in 2016 on a trip with some friends making my way from western Germany all the way down to southern Croatia. On that two week road trip we hit Germany, Austria, Hungary, Bosnia, and Croatia – Rothenburg definitely stood out as one of my favorites.
The medieval city still has its fortified city walls completely in tact which means you can walk around the entire circuit. The thing to do for most visitors is simply to embrace the charm of the old town and walk along the old walls. I grew up in Missouri so my access to medieval walled cities was limited to say the least. Rothenburg hit me as an amazing piece of history but also brought out that little kid inside me who always wanted to explore castles and medieval fortifications. Running around the maze of fortified walls and the small narrow streets below transported me into some distance story that I read when I was a child. In all there are 42 gatehouses and towers, so be sure to allow enough time to see as many as possible along your own walking tour.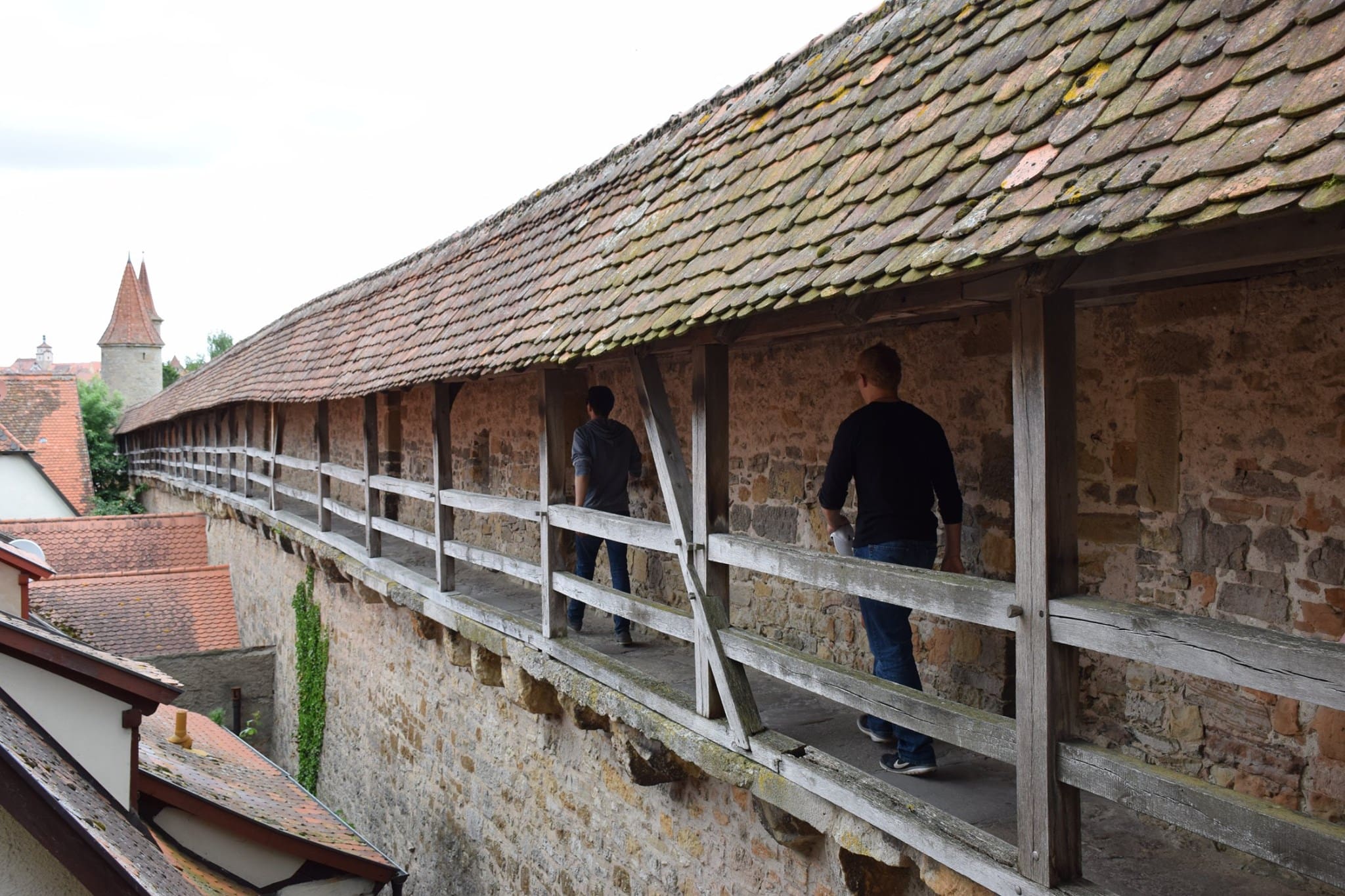 If you aren't into walls and fortified structures as much as I am you will still love the town itself. The sheer charm of its buildings and narrow streets make for a lovely stroll, with the way their streets cross over each and intersect seemingly on purpose to create a unique picture like no other. One such street is the famous Plonlein Street. Literally translated as "Little Square," this is really nothing more than an intersection inside the city walls. Skinny half-timbered buildings dividing the two streets, dating from the early 13th century. This is the most photographed street in Germany.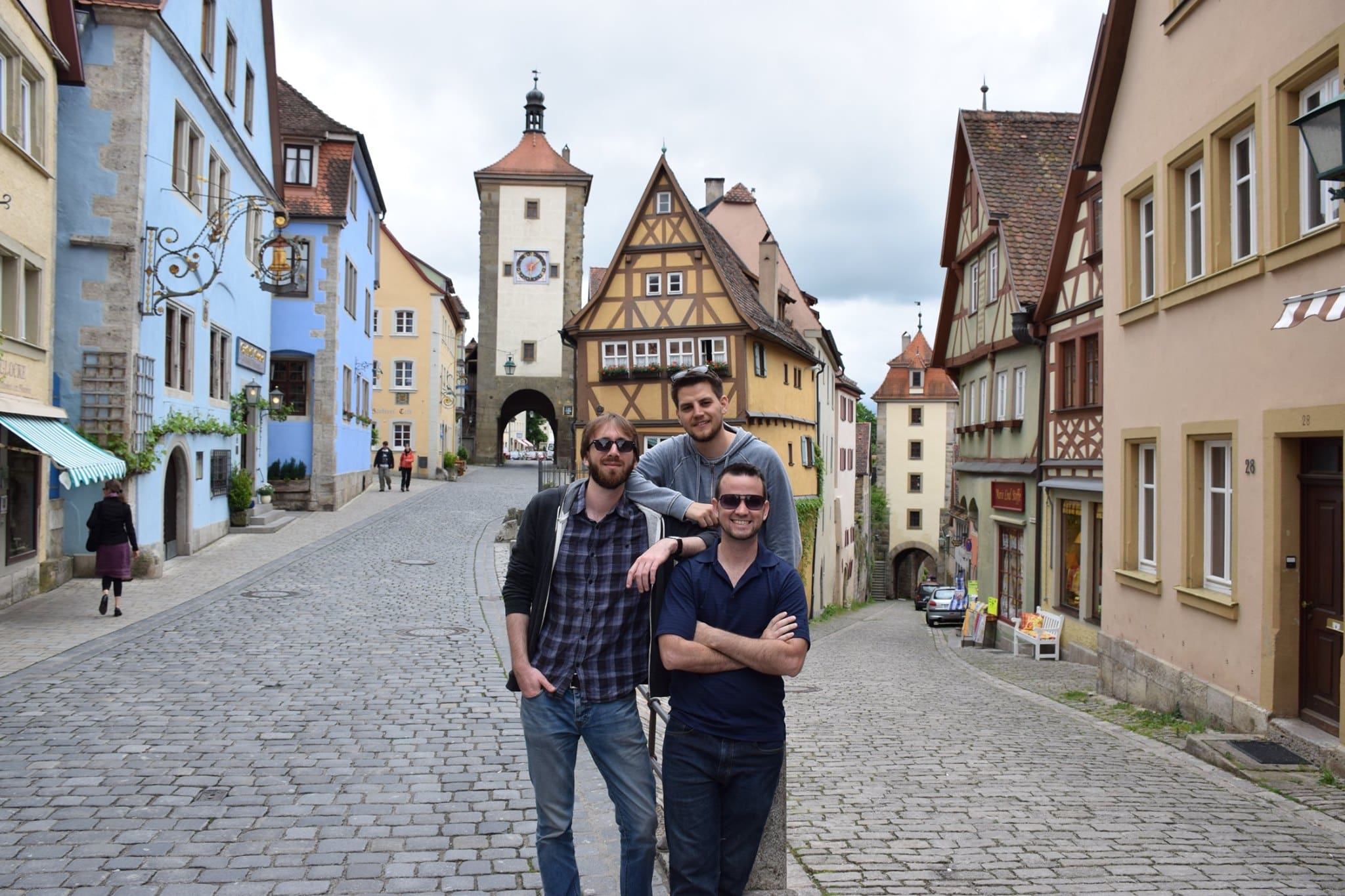 Rothenbrug is awash with beautiful old churches, world class museums, castle gardens, and, architecturally interesting buildings. I spent about half the day here and wish I could have spent several days. It's a great stopping point on the road to another destination but it's also a major destination in its own right!
Day 5: Wandering the Rock of Gibraltar
Long famous as the "key to the Mediterranean," Gibraltar has been a British Overseas Territory since 1713 after being seized during the War of Spanish Succession. Near the southern tip of the Iberian peninsula and overlooking one of the world's busiest shipping lanes, the Rock of Gibraltar or simply "The Rock" as it's commonly known, rises out of the sea on the east side of Algeciras Bay and is linked with mainland Spain by a narrow isthmus.
The town of Gibraltar itself lies on the west side of the Rock. Given its proximity to Spain – one could almost toss a stone from the island to the mainland – Gibraltar's sovereignty remains a bone of contention, and the Spanish government has, on occasion, been known to close the border. However, the island is generally accessible by bus, car, or even on foot from the mainland, and the port serves as a busy terminus for cruise ships.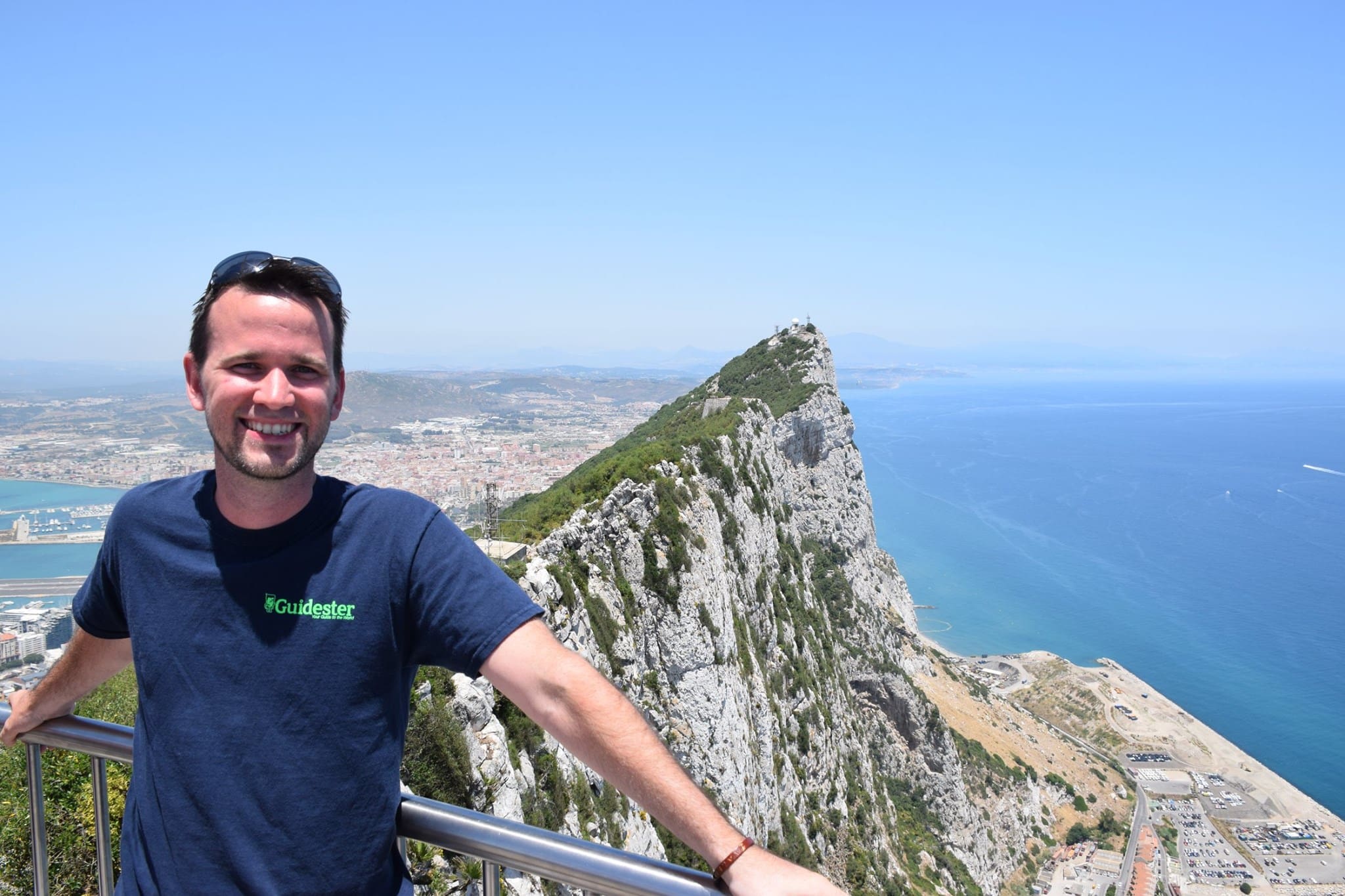 Gibraltar is a perfect day trip if you're visiting from southern Spain. And that's what I did in 2017 when I was staying on the Costa del Sol in the city of Marbella. While it may seem like a small sliver of land, there is much to see here. The dramatic landscape hits you right away as you approach the borders, rising up out of the ocean like the Titanic.
There's a cable car that will take you from the bottom parking lot up to the top of the Rock, but you may also walk up. But, I do not recommend that as it's much, much steeper than it even looks. Taking the cable car up and then having a nice stroll down is the way to go.
I was immediately confronted with the local staple of Gibraltar, Barbery monkeys that have occupied this rock outcrop for centuries. They will literally jump onto the cable car before it even docks and climb around the inside. As soon as you get off the cable car they will approach you curiously and there's hundreds of them. You will be warned not to feed them as you'll never be rid of them after that so take the advice. But, they are adorable and mostly sweet, especially if you are lucky enough to catch one nursing a youngling.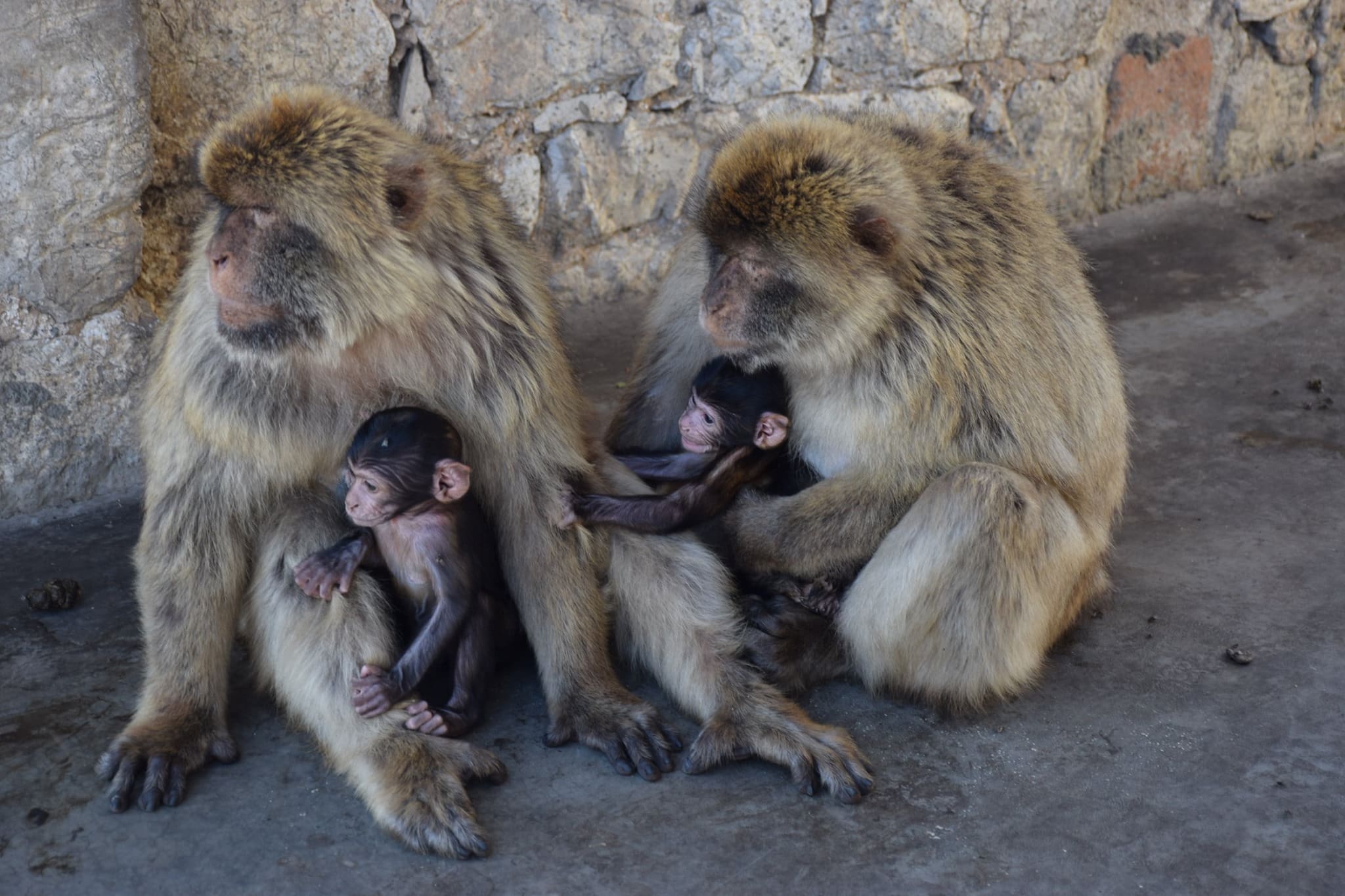 Once at the top I took some photos like a good tourist and then set off on what I thought would be an easy journey. The maps you are given at the tourist office are pretty worthless and don't give you any idea of how big the Rock actually is. It may look as though there's just one road going around the mountaintop and to get around from site to site would be quick and easy. Nope. Not the case at all. In addition to the winding road running miles long, there are little offshoots and paths, and you feel like a fried egg on a skillet being so close to the sun.
So, my brother and I took off in search of adventure and by about hour 4 we were already baked into the rock. I remember being so hot and thirsty that we were running from shade to shade in the little spots we could find. Eventually, we did get to some of the local attractions and realized that we left the tickets with our Mom that had taken a different route. Now, she was having a much worse time as her and my stepdad decided to take a stroll down one of the little stairways in the mountain because it looked 'neat', only to find out it was a rough one way ticket to the very bottom and no other way back up.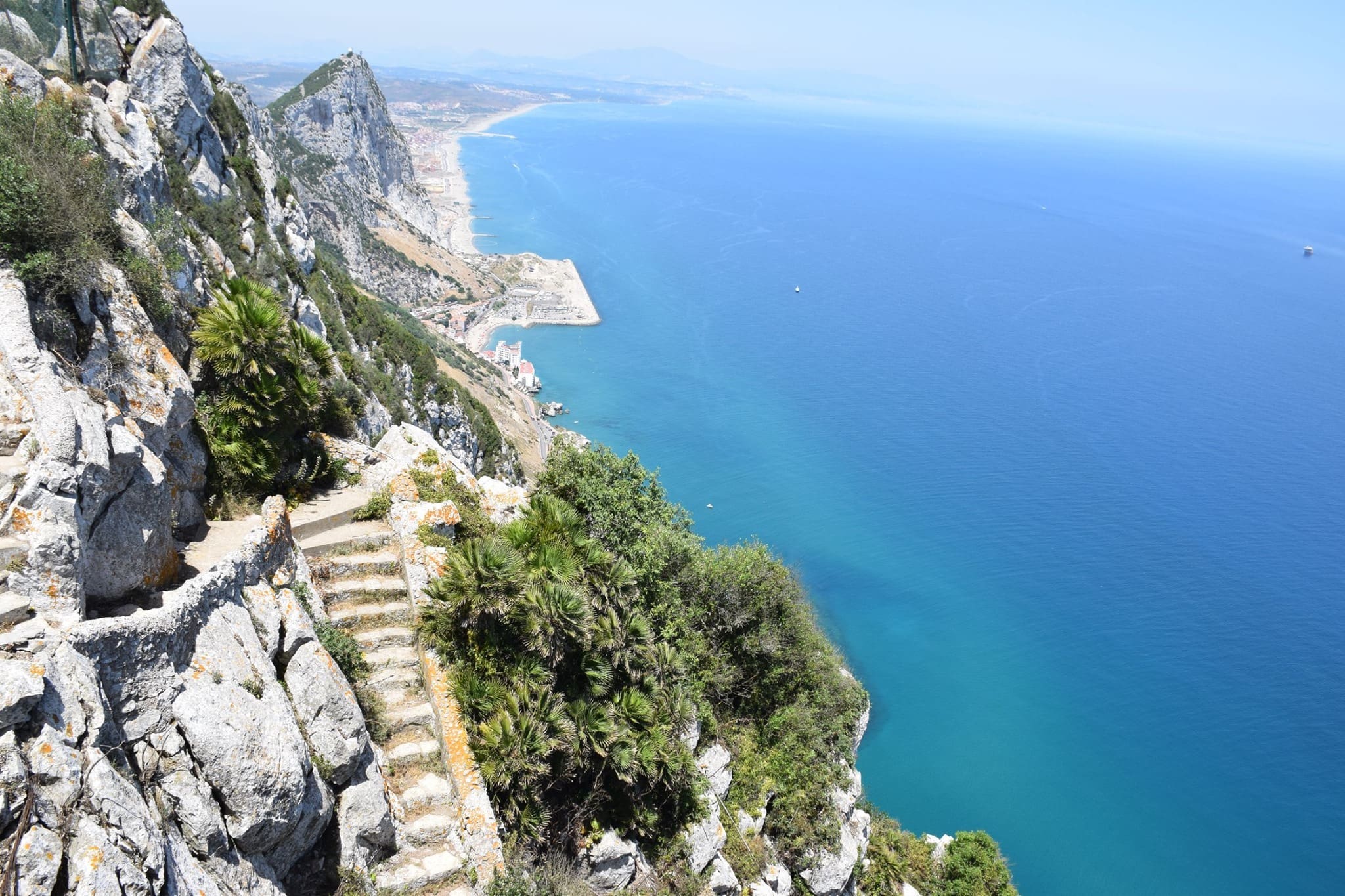 Other than the scenery itself, and the local monkeys, one of the coolest things to see is St. Michael's Cave, filled with a great number of stalactites and stalagmites, and regarded as the largest of the island's more than 150 caves. Legends hold there to be a secret tunnel connecting the island to Africa, where the Barbary apes are said to have come from. Since the early sixties the cave has been used as a theater that can accommodate up to 600 people.
After a long hot day of wandering the Rock we made our way down to the base level for some reprieve. We headed to the local beach area and jumped in sea and it felt glorious! Bobbing there in the water I had one of those travel moments you get when you suddenly realize the uniqueness and significance of the place you're in. I was floating there in the Mediterranean sea looking up at the giant Rock of Gibraltar in front of me and the coast of Africa off in the distance. This key passageway through the Med has served as one of the most important choke points of the ancient and modern worlds.
Day 4: Driving around Gran Canaria
The Canary Islands are splendidly diverse both geographically and culturally. Officially part of Spain, the Canary Islands sit just 100 miles off the coast of Africa. Spanish is the local language, but tourists may be surprised to find a distinctly Canarian character and culture that is different from mainland Spain. So don't expect bullfights or flamenco dancing!
The four largest islands, Tenerife, Lanzarote, Fuerteventura, and Gran Canaria see the largest number of tourists. Each island is different, but they all have in common volcanic origins, which have led to their gorgeous distinctive natural attractions.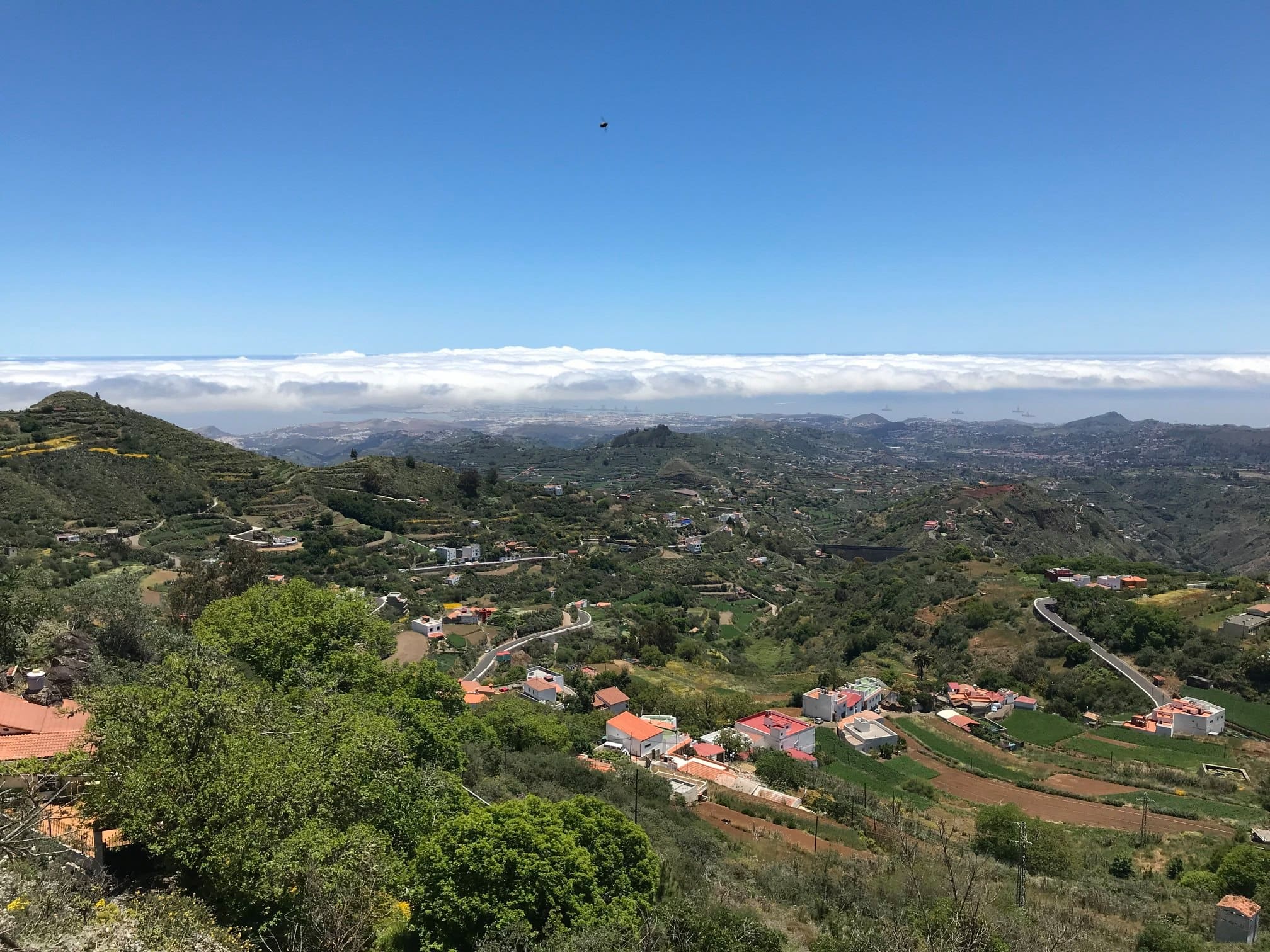 You can visit the Canaries anytime of the year, as their placement where the tropical climatic zone joins the sub-tropical zone gives them an ideal climate, with average temperatures varying very little throughout the year.
I spent a full week in Gran Canary in 2018, and absolutely loved it. I stayed with a friend in Las Palmas, the largest city, and from there rented a car to explore the rest of the island. The fusion of Spanish, African, and European influence creates a singularly unique place to visit. And the best part is you can get from one side of the island to the other in less than an hour.
Gran Canaria has a wonderful major highway that skirts around the perimeter of the island, and the majority of major sites are on or near the highway so bouncing around to see different things is easy. You can actually go from being on the top of a mountain to sitting on a beach in 45 minutes. No exaggeration.
BEACHES are absolutely everywhere as you would imagine. And and the beaches are just as diverse as the landscape itself. You will find sandy beaches, rocky beaches, tiny beaches, and beaches with epic backdrops. My favorites were the beaches at Mogán, Maspolaomas, Las Cantergas in Las Palmas, and the tiny village of Tufia that's built into the rock outcrop.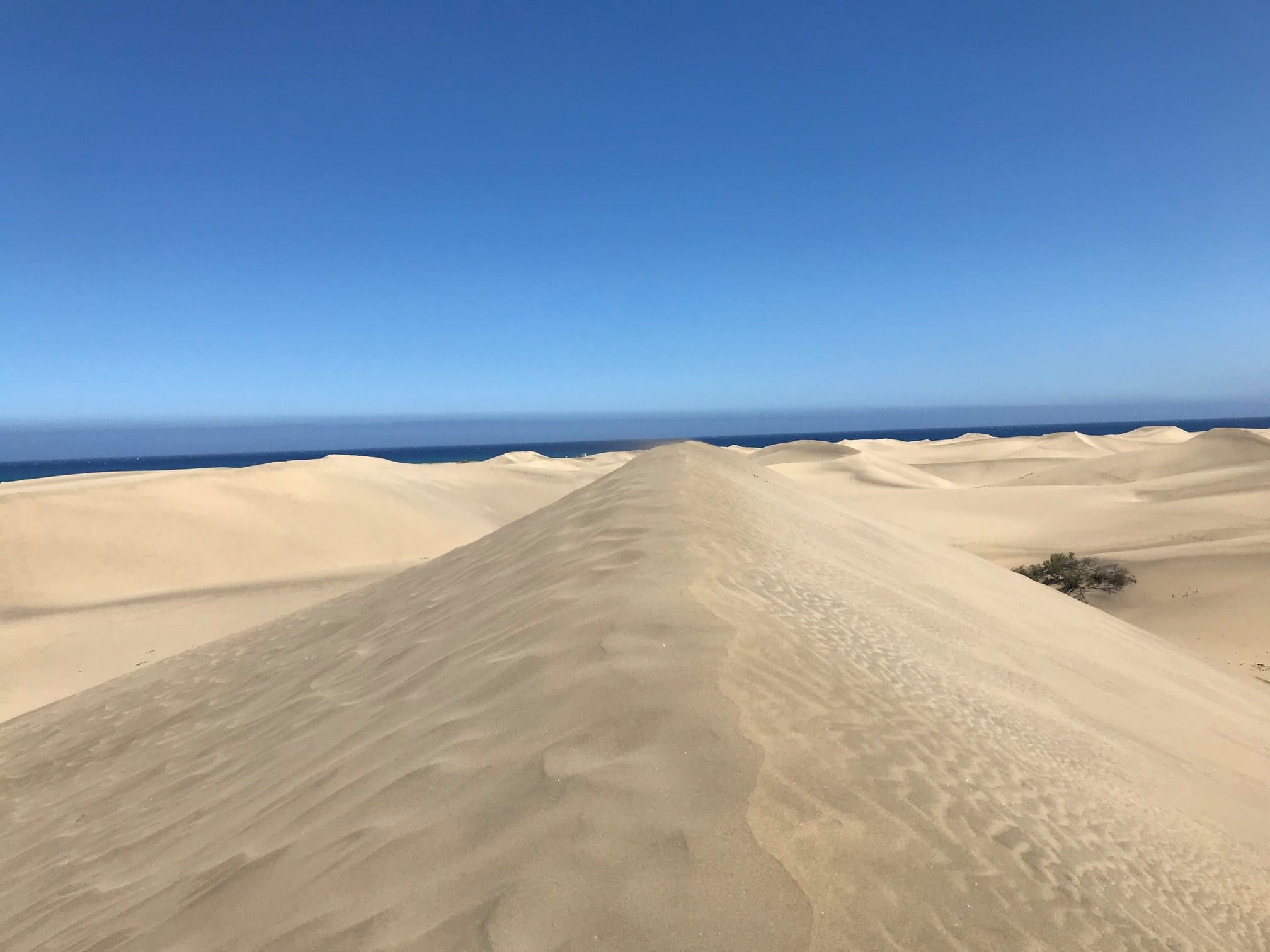 Gran Canary also has a full on desert in the south of the island. Maspolomas, known for its vast expanse of sand dunes, is like being transported to another world. You are on a nice beach or visiting a tropical park and then BAM seemingly out of nowhere you find this huge piece of desert. It's bizarre but beautiful and fun to walk around the large dunes.
The cities and towns themselves were rich in culture and heritage with many attractions to explore. Being a trained archaeologist, one of my favorite sites was the Painted Cave and Archaeological Park in Galdar. The museum affords a viewing of the houses and caves of the original inhabitants of the islands, to be observed from a large raised passageway that takes you around the whole perimeter of the site without affecting its integrity.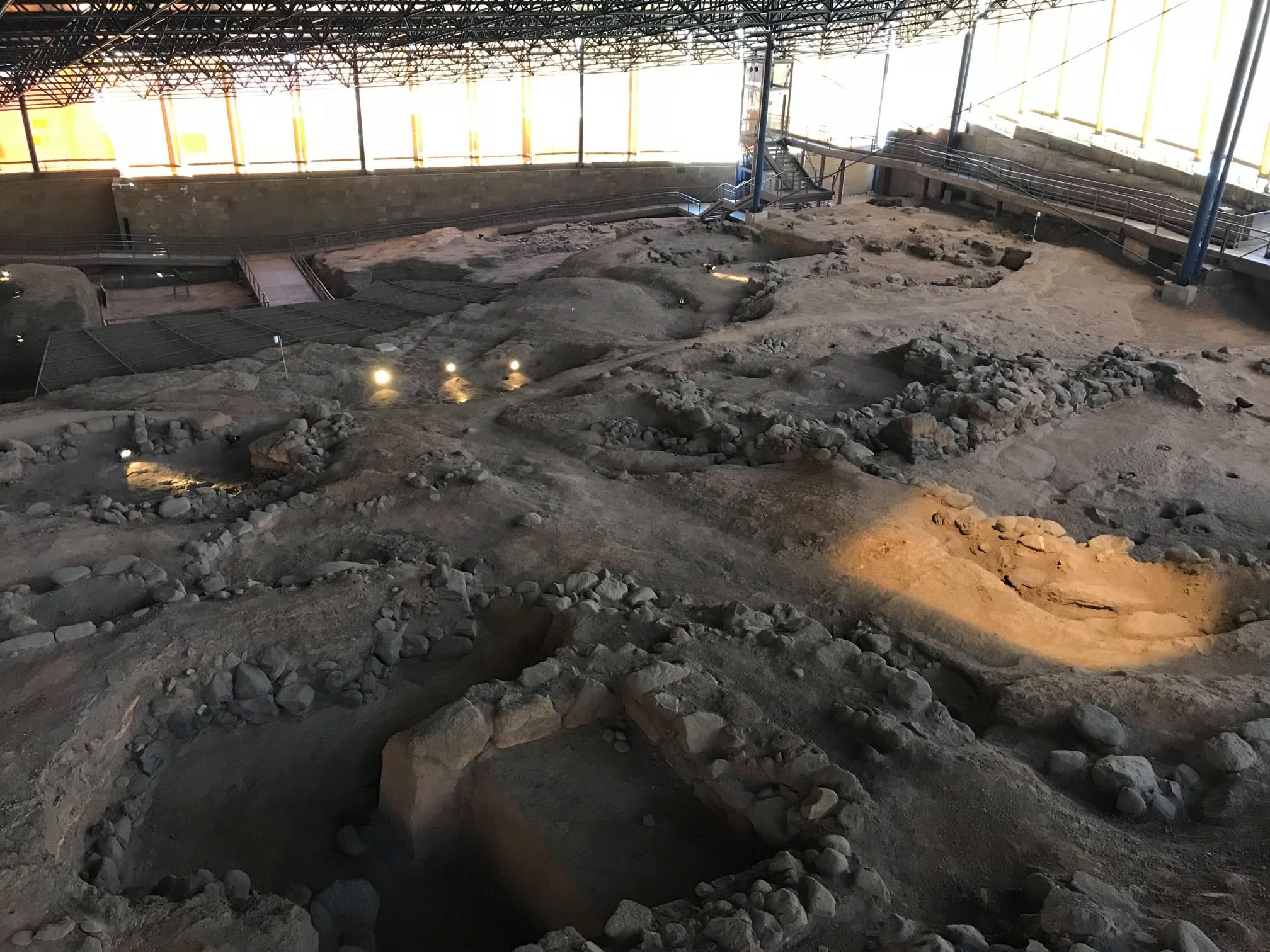 Another favorite spot was Tejeda, a mountainous village in the central part of the island. The small town is perfectly layered into the surrounding mountain, affording spectacular views and a quiet peaceful ambiance. The thing to do here is just pull up some chair at one of the few restaurants, eat, drink, and enjoy the setting. But if you do want to still sightsee there are a few museums, such as the Ethnographic Museum, which allows the visitor to take a tour through the history of Gran Canaria.
I also enjoyed exploring the city of Arucas. The city center, declared a site of historic and artistic interest, is a place well worth making time for. Its main architectural piece is the Parish Church of San Juan Bautista, sculptured in stone by the greatest stonemasons of the day.
Day 3: Living Like a Royal in the Peak District
The Peak District, England's first officially designated national park, is a gem worth getting to know. Many travelers confuse the Peak District with the more northern Lake District. While both are in England, these great national parks represent very different terrains, culture, and history.
Officially designated a national park in 1952, this area of outstanding beauty boasts breath-taking views, bustling market towns, pretty villages, historic houses, and hundreds of annual events. I've been fortunate enough to explore this stretch of England on two separate trips. For this particular travel moment, I am going to focus on a single stately home.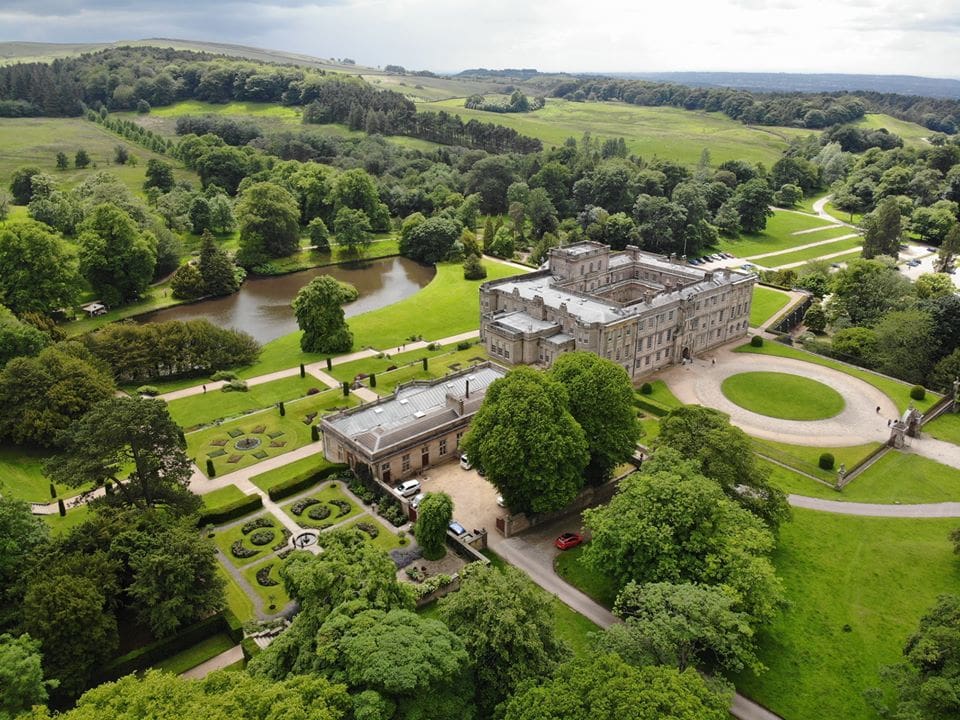 One of England's greatest draws for travelers is its abundance of magnificent stately homes. These grand homes and palaces are reminders of Great Britain's once dominant place on the world stage. Aristocrats had sprawling estates boasting astonishing homes, world class gardens, and treasured artifacts from around the globe. Now, many of these once private homes are open to the public.
Lyme Park, located in the northern Peak District, is one such grand home that few U.S. travelers have heard of. As a person that LOVES Britain and having been to nearly every corner of England, Scotland, and Wales, I would say this particular stately home is one of my favorites. Situated on a summit of rolling hills, Lyme Park exemplifies the glory and majesty of Royal England.
Originally a hunting lodge and later transformed into a comfortable family home, Lyme has undergone extensive alterations since the 1400s. Notable architects were employed to transform the house into the magnificent mansion we see today. Travelers can admire beautiful facade and interiors of the house as well as the extensive gardens and grounds.
Lyme is remarkable for having been owned by the same family, the Leghs, for just under 600 years. Like many great houses, Lyme was built and rebuilt, embellished and enlarged throughout its ownership by the Leghs, with each generation making its mark and creating the house we see today.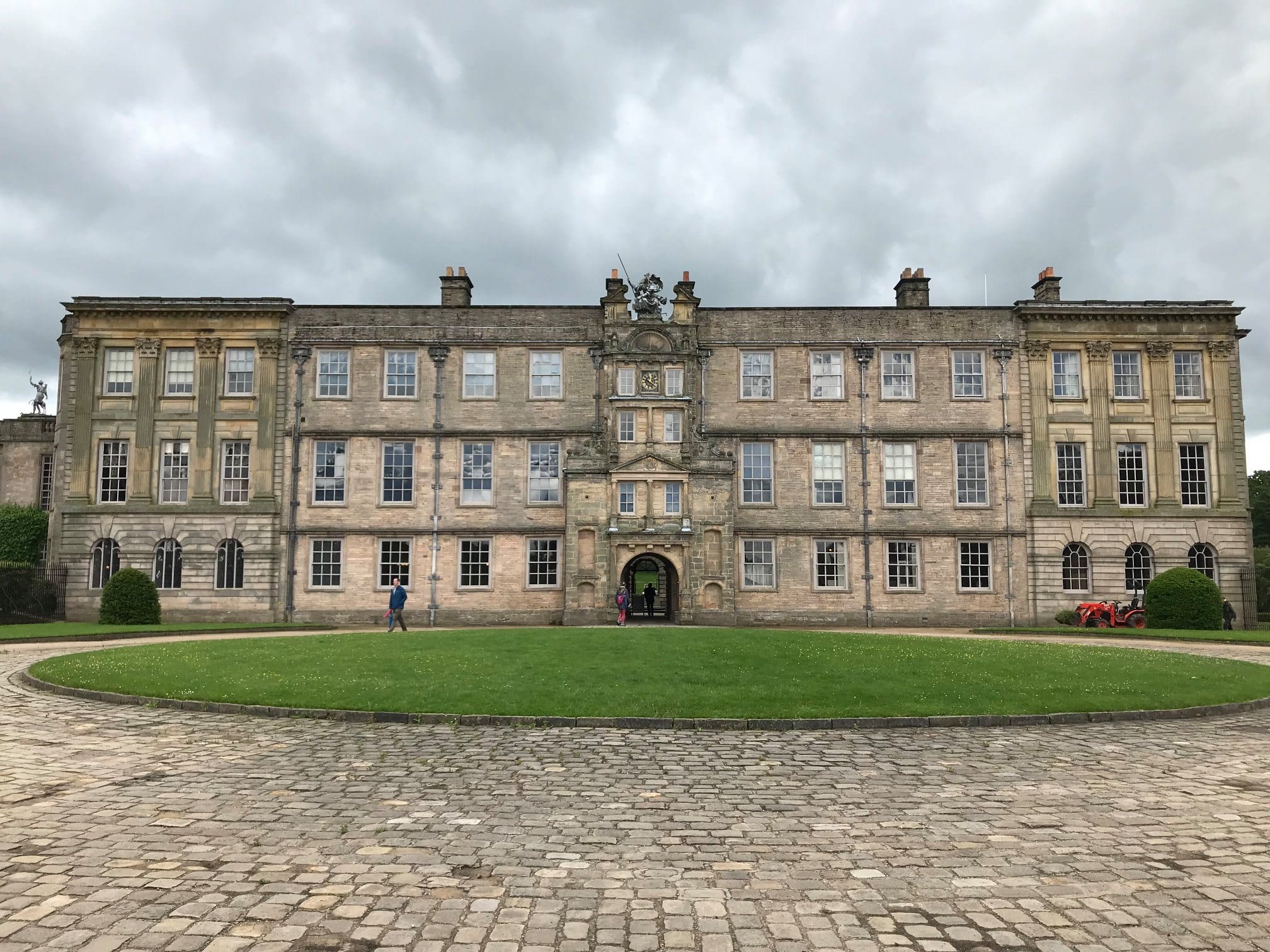 Lyme has a large collection ranging from treasured Mortlake tapestries to being home to the finest clock collection in the National Trust, as well as housing one of the most important printed book in the Trust's vast collection, The Lyme Sarum Missal.
You may also explore Lyme's glorious 1400 acre deer park. From guided walks to park runs, cycling, and even trying on authentic 19th century dress, there's enough to keep you busy here all day if you choose.
I visited Lyme Park in the summer of 2019 and did as much as I could to soak in the beauty of the estate. I did the house tour, walked the maze of gardens, droned around the extensive gardens, and of course I couldn't pass up the opportunity to try on some authentic time period clothing!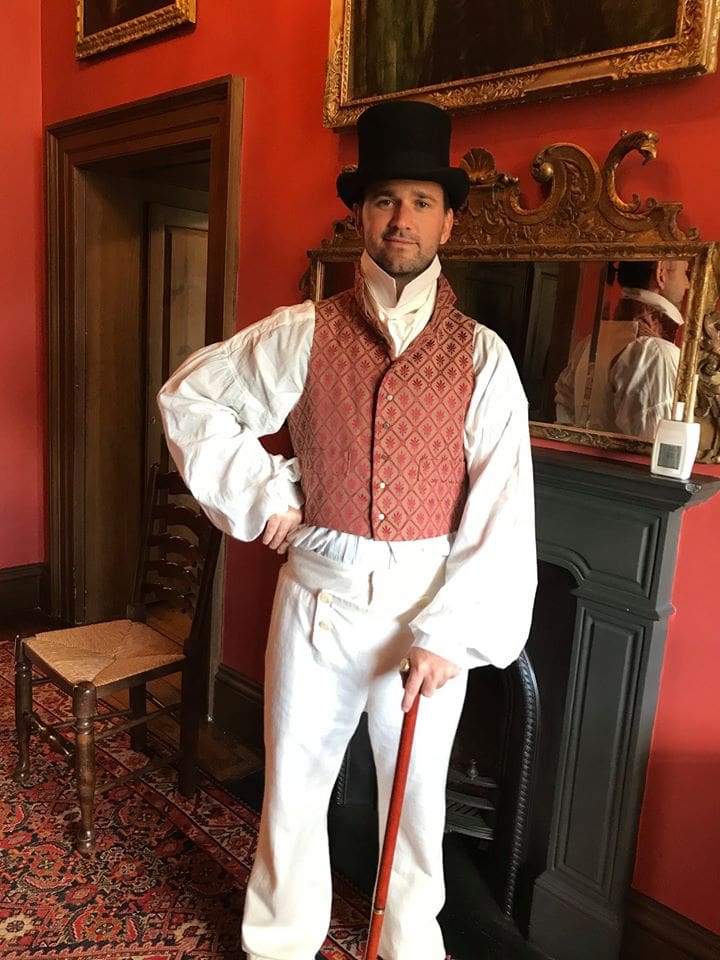 Day 2: A Day Out in Bern, Switzerland
I've been to Bern twice and would go again tomorrow. In my opinion this is one of the most underrated cities in Europe. Bern has it all – rich history, world class attractions, gorgeous natural beauty, a thriving dining and night life, culture and intrigue, and a small walkable city center that makes exploring easy and fun. The city is super clean, not over crowded, and English is widely spoken.
My last trip was in 2018 when I was visiting a friend. My friend lives just a short bike ride from the city center so I was perfectly situated to explore the area. They now have these 'e-bikes' that you can rent which is basically a battery powered pedal assist bicycle. This is such a fun way to get around the city and bounce around. And we did just that. We biked around hitting many of the major and minor spots.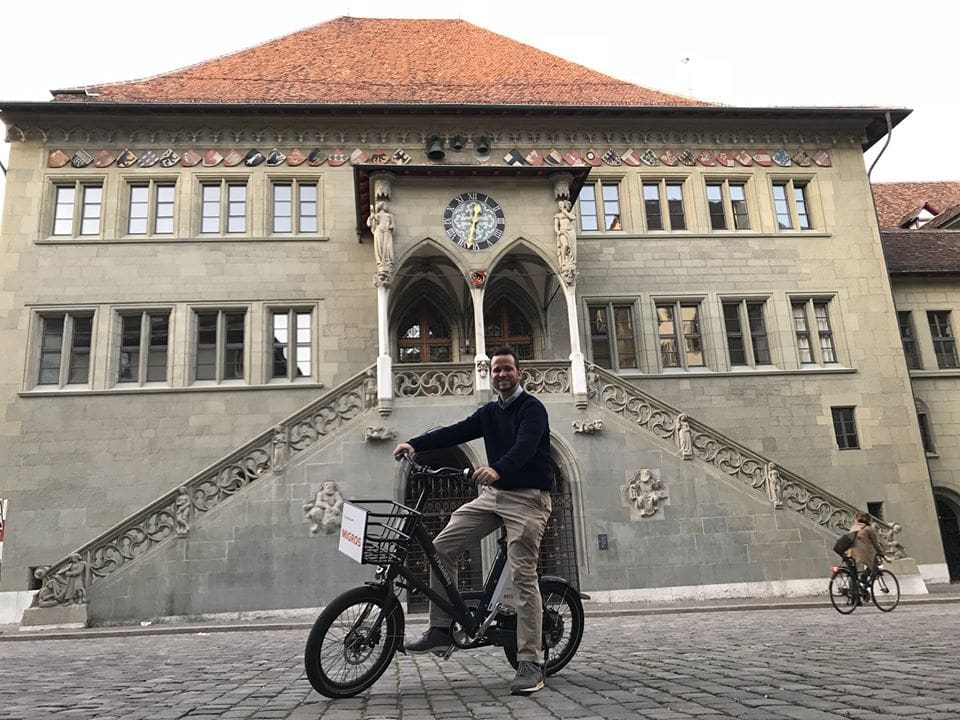 We started in the old town with its windy cobblestone streets, covered arcades, and quaint shops. The architecture in the old town is vibrant and unique. Switzerland did not have to endure the kind of carpet bombing that afflicted most of Europe during WW2, and as a result the country has maintained all of its gorgeous historic architecture. Nowhere is this more apparent than walking around the old town. We did the typical things and got a good photo of the old Clock Tower, checked out a couple of the local shops in the over 2 miles of covered arcades (the longest in Europe), and then headed over to the city's great Cathedral, Bern Minster. The Bern Münster Cathedral of St. Vincent is the most impressive late-Gothic building in the city and the largest and most important late medieval church in Switzerland. From this highest church tower in Switzerland you will be rewarded with magnificent view over the city and the snow-covered mountains of the Bernese Oberland.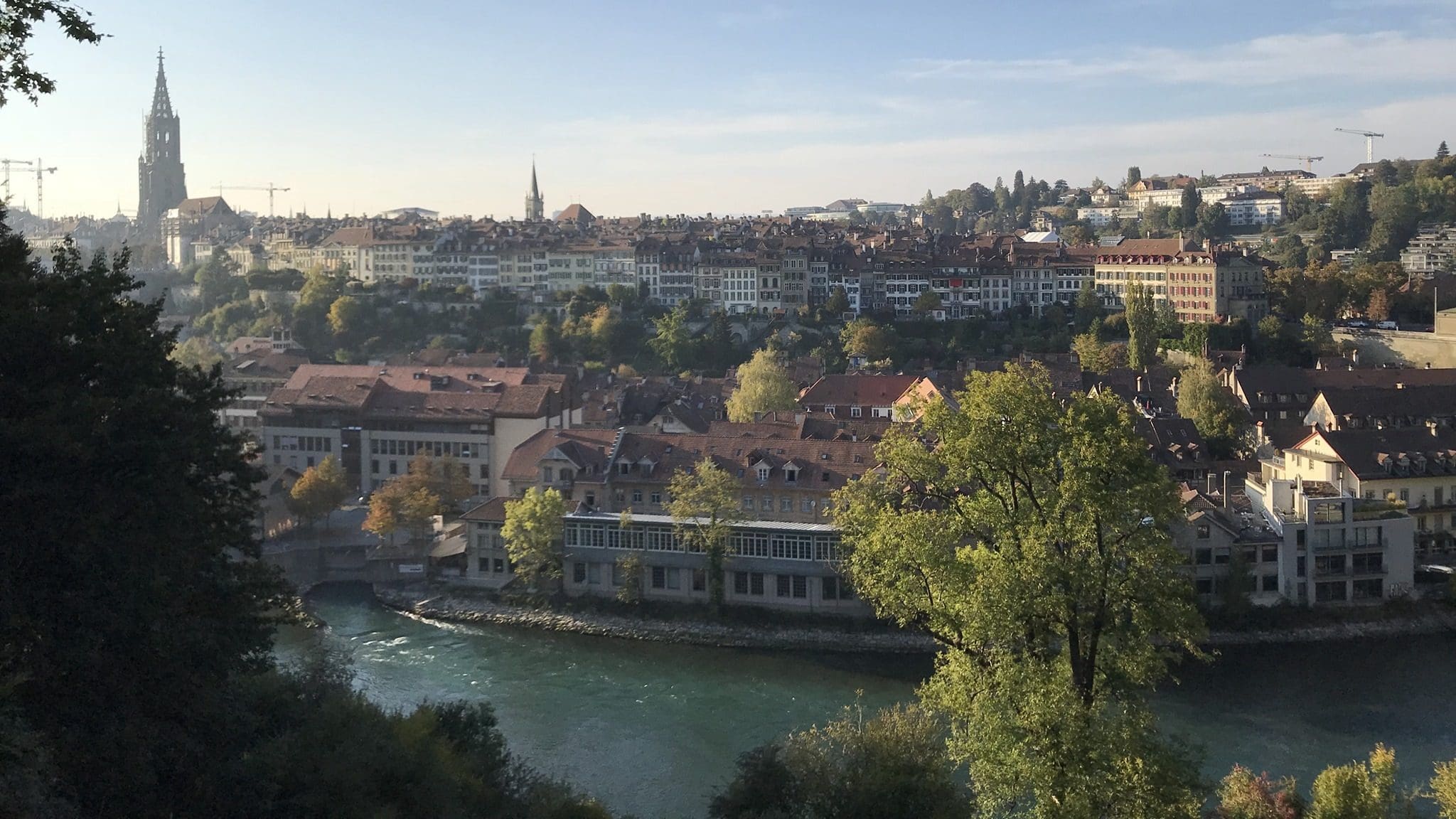 Then we moved over to check out the Bear Park and Rosengarten. They actually have live bears roaming around a hillside with really no cages or major barriers. There's a pit that separates them from the city but you feel as if they are right there with you. I absolutely love the Bear Park. And nearby is the local Rosengarten, or rose garden. This lovely park is perched high up on a hill overlooking the city with rows of roses bigger than your hand, and even bigger than your head in some cases. A great view and vibrant flowers makes for a peaceful ambiance.
Afterward we went to check out the Einstein and National History Museum. Housed in a great mansion, this two-in-one museum features the national history of Switzerland with many floors of exhibits, as well as the world's official Einstein Museum. Albert Einstein actually lived in Bern for a period of his life, and it was here that he did much of his legendary work.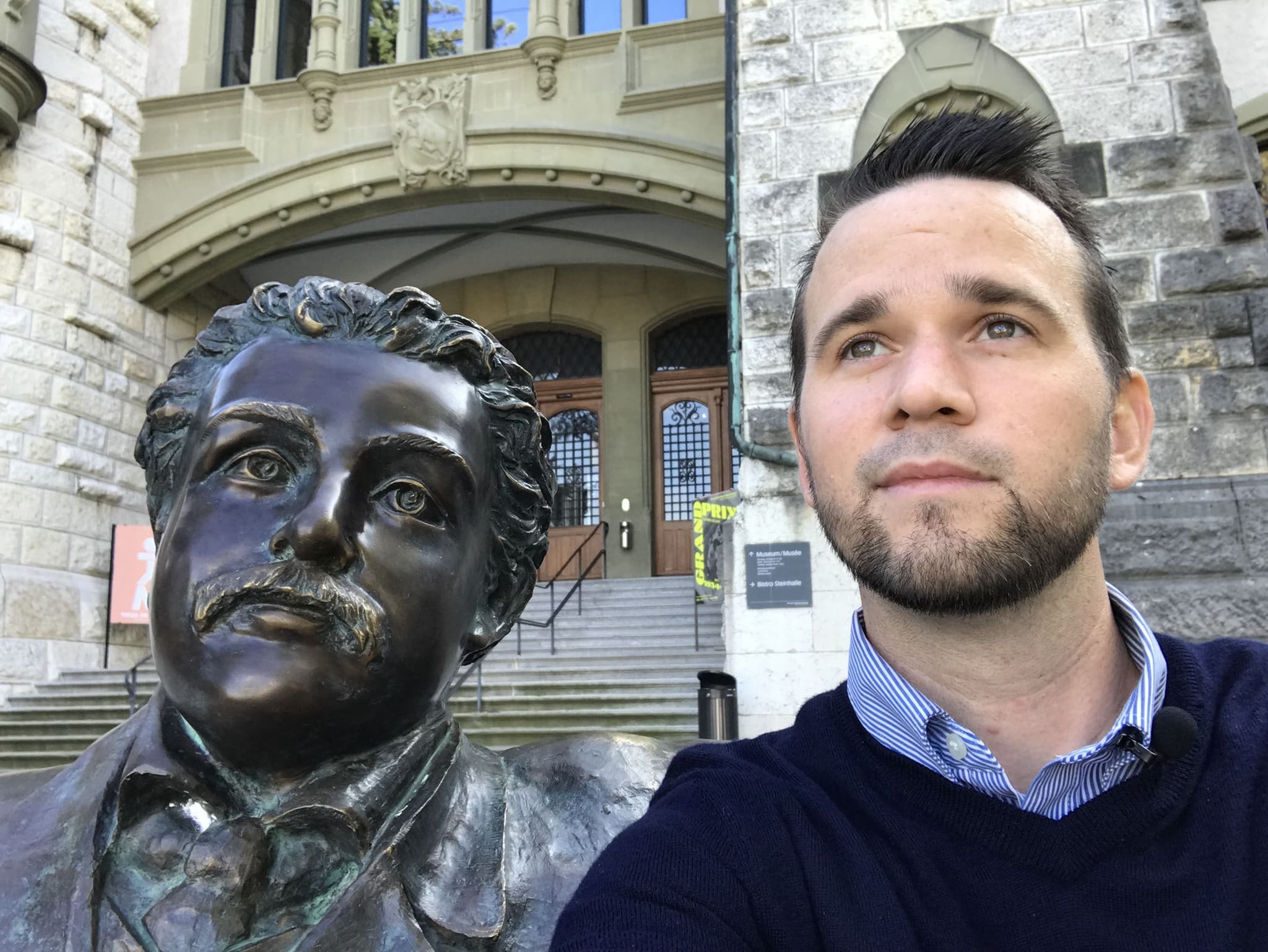 After walking and biking around the old town, we headed for some nature. Nature trails surround and intermix with Bern, and I was lucky enough to be with someone that knew them well. We biked around the river that runs through the city, around the hilly terrain through wooded trails, and then finally up to the largest hill around the city, the Gurten. The Gurten is really a small mountain, and from here you have gorgeous views of Bern and the surrounding countryside. Let me tell you having those 'e-bikes' for this ride up was a godsend. There are easier ways to get up the mountain but walking or biking is the most rewarding as it makes you feel you've earned it…even if you cheat a little with pedal assist bikes 😊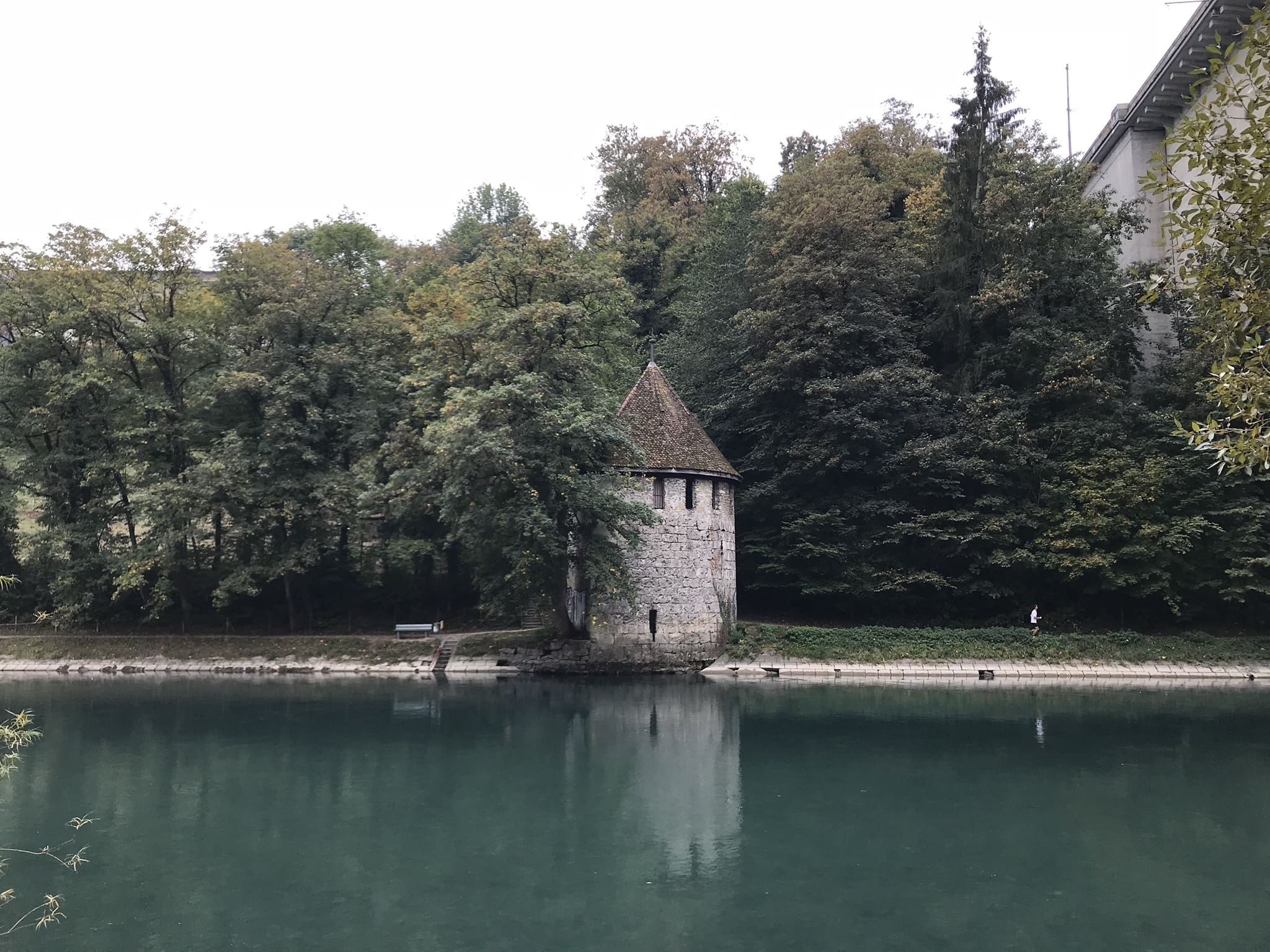 So after that long day of sightseeing and exploring, we capped it off with a nice dinner in a local restaurant. This little place called Lotschberg, is one of those places that you must try while in Bern. They have the BEST local Swiss dishes, especially famous for raclette. Many of you probably know of the Swiss fondue the country is known for, but I find less people have heard of the even tastier raclette. Raclette is also a Swiss prepared cheese dish, but instead of dipping bread into a sauce pan you receive melted cheese with spices and roasted potatoes….soooo good I can't even tell you!
We had a great dinner with my friend and two of his buddies, one of which was working for the Swiss Bank so there was much to discuss. It's these moments that I find are the most intriguing and stay with me for life. Sharing a special moment with new people from different backgrounds and walks of life stays with you far longer than the attractions you visited and the souvenirs you bought.
Stay safe and keep dreaming!
Day 1: Dinner on the Appian Way
There we were on the oldest road in Rome, and really one of the oldest continuously used roads in the world, taking in the ancient ruins, charming restaurants, old churches, magical flora, and quaint villas that have been in the same family for generations.
The Appian Way, built by Appius Claudius in the 4th century B.C. was a main thoroughfare in ancient Rome used by traders, merchants, soldiers, aristocrats, soldiers, and just everyday people. Walking down the near 2,500 year old ancient road sends chills down our spine as we remember this was the same road Julius Caesar and Augustus, the first emperor of Rome, would have walked down.

Tonight, we are here on the Appian for a private dinner in a local Roman home. As part of an exclusive small group tour throughout Italy, we were invited to take part in something truly special. A local Roman was kind enough to extend an invite to her villa to experience an authentic Roman meal in the traditional way.
There we were in a 300 year old Italian villa directly on the Appian Way that had been passed down in the family for generations. We were greeted at the door with hugs and kisses, "baci", only to find her beautiful garden adorned with tables, chairs, and wonderful plates of food. What an ambiance!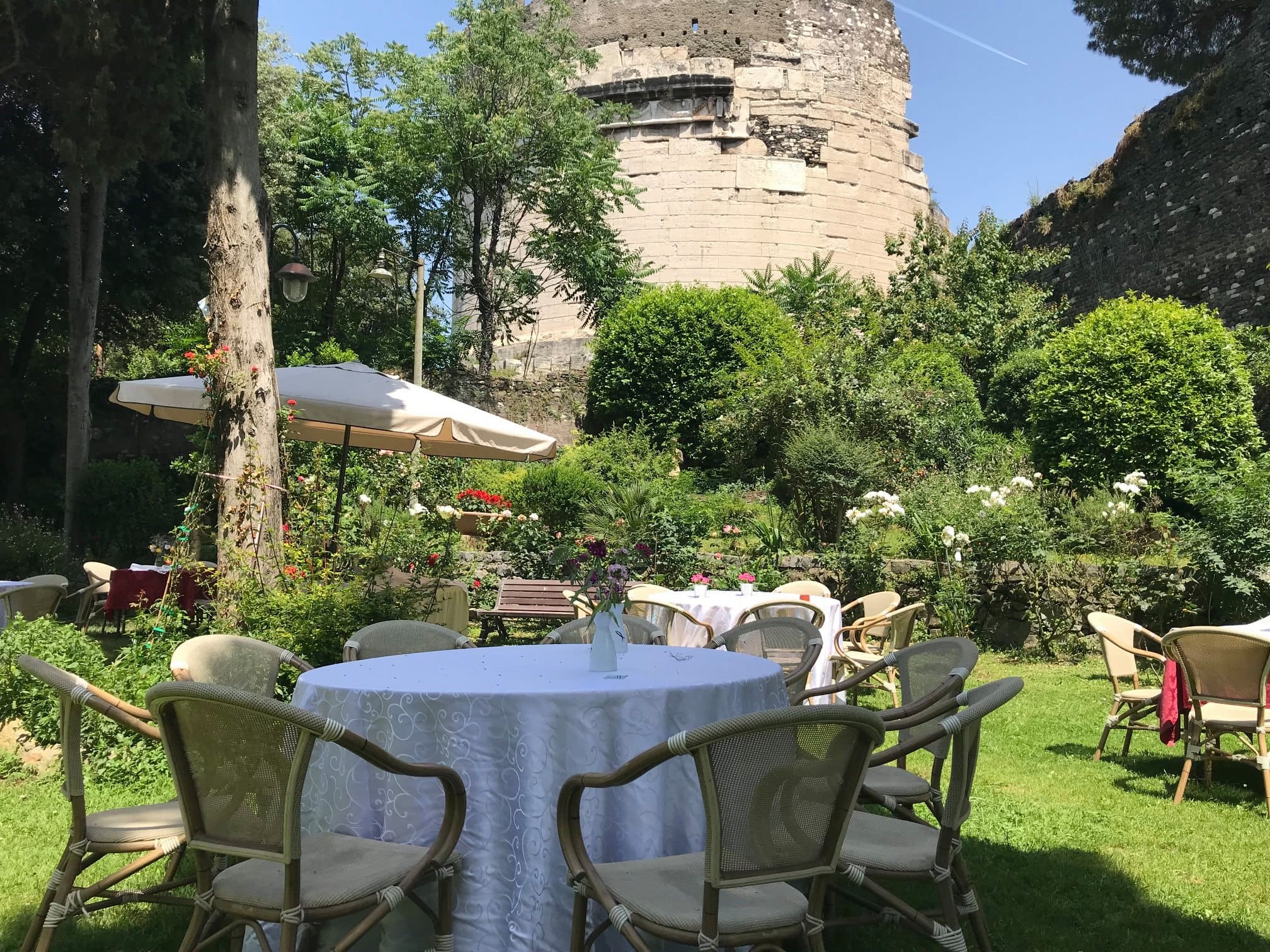 We ate the amazing dishes that were prepared for us, drank some local Italian wine, and swapped our favorite travel stories back and forth. The coolest part of the evening may have been when the host brought out her personal books and artifacts highlighting all that has been uncovered in that area. We were able to physically touch, learn, and be apart of the amazing history that helped shape the western world!